Lucky ready for patrol thanks to Flathead High School automotive students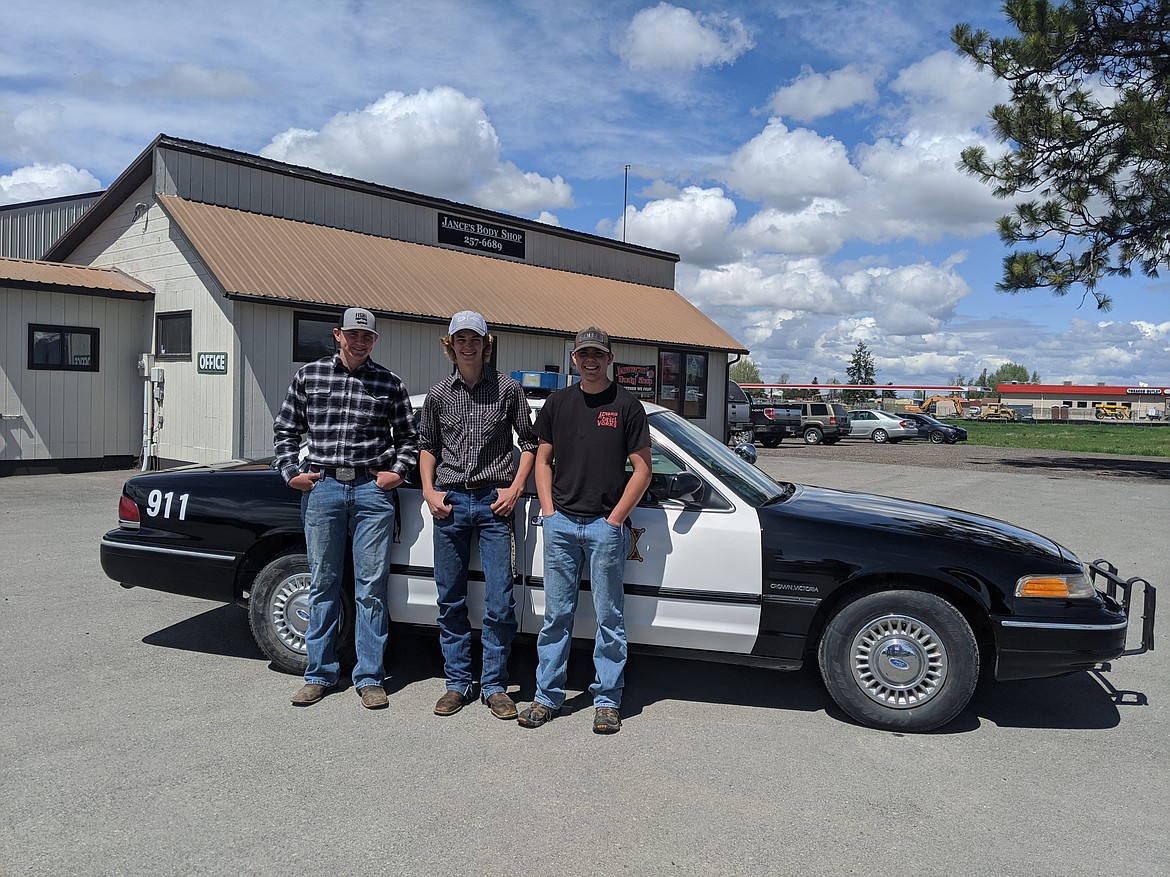 Lucky, the decoy patrol car, is pictured in front of Jance's Body Shop with the Flathead High School auto department students who fixed him up. From left are Ayden Driear, Kaj Haagerup and Matthew Dall. (Courtesy Lakeside Somers Chamber of Commerce)
by
The Daily Inter Lake
|
May 28, 2020 4:30 PM
Lucky, the patrol car that never sleeps, has been given a second chance to get back on the force thanks to the efforts of three Flathead High School automotive department students.
Ayden Driear, Kaj Haagerup, Matthew Dall completed much-needed repairs last winter to keep Lucky looking patrol-ready. Lucky is a decoy police car that is stationed along U.S. 93 in the summer months to help remind drivers to slow down as they pass through Lakeside and Somers.
Traffic and pedestrian accidents are not in short supply on the busy corridor of U.S. 93 and every year there are multiple accidents involving both vehicles and pedestrians. With growing, active summer destinations such as the Somers Boat Launch and Volunteer Park, there is likely to be a continued increase of vehicle and foot traffic in these lakeshore communities.
To keep up Lucky's professional appearance, community members came out in droves, offering up donations to give Lucky a facelift just in time for the summer busy season.
A raffle was held for Lucky during Lakeside's annual Winterfest, which generated donations for Lucky's repairs from the Flathead High School Automotive and Art Departments, Jance's Body Shop, Buzy Body, and Sherwin Williams, according to a release issued by the Lakeside Somers Chamber of Commerce.
In January, Driear, Haagerup and Dall ran diagnostics and made recommendations on how to best get Lucky, a 1995 Ford Crown Victoria, back into the line of duty. In their automotive class, the students learned about the design and operation of engines, how a car works and how to identify and maintain key systems under the hood. During the winter semester they put those skills to the test and performed an engine oil change, coolant flush, transmission fluid change, flushed the brake and power steering fluid, cleaned the fuel injection and replaced the battery.
In addition to the mechanical issues, Lucky was in need of exterior renovations including a paint refresh and updated decals. Jance's Body Shop stepped up and donated time and labor to repaint Lucky's ride, while the Flathead High School Art Department created new decals. Sherwin Williams contributed paint to the effort while Buzy Body donated labor to install the decals.
Thanks to the efforts of a number of local businesses and Flathead auto instructor Rob Hunter and his students, deputy Lucky is ready for another season of "patrol" on the busy corridor of U.S. 93.
---