Grassroots group takes on bus safety initiatives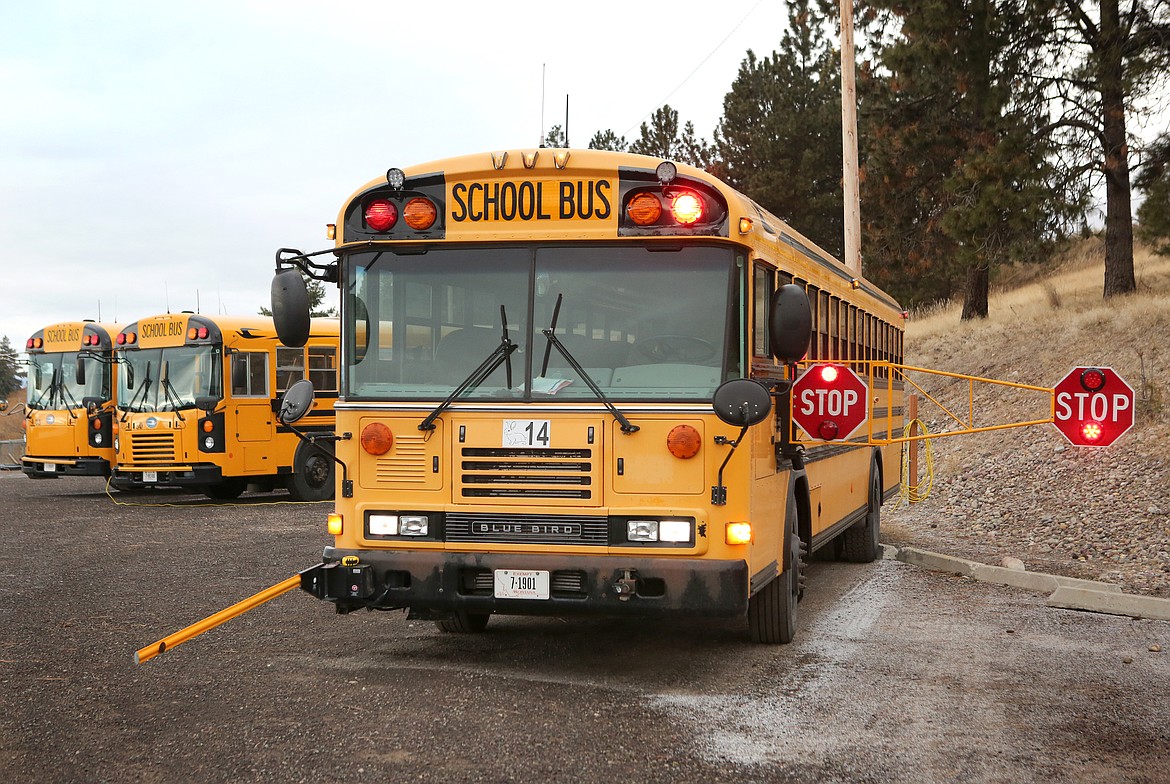 A Bigfork school bus equipped with a more than 6-foot-long stop arm is shown in this Dec. 3, 2019 file photo. Columbia Falls, Kalispell and Whitefish scÔhool districts will benefit from a $5,000 Flathead Electric Cooperative Roundup for Safety grant awarded to the Flathead Community Foundation for the purchase of similar extended stop sign arms to equip on buses. (Mackenzie Reiss/Daily Inter Lake)
by
Hilary Matheson
Daily Inter Lake
|
May 21, 2020 1:00 AM
A small group of community members have rallied around improving school bus safety one person, elected official and school district at a time in response to the tragedy of six-year-old Jordana Hubble.
Hubble is recovering from a traumatic brain injury after being hit by a vehicle when she got off a school bus on U.S. 93 north of Whitefish on Nov. 12, 2019.
Hubble was trying to cross the highway when she was struck by the vehicle that failed to stop, despite the bus' red lights and stop sign arm were fully activated.
Through the efforts of the grassroots group — which is calling itself Jordana's Alliance for Bus Safety — Flathead Electric Cooperative's Roundup for Safety program awarded a $5,000 grant to the Flathead Community Foundation. The funds will be dispersed to Kalispell, Columbia Falls and Whitefish school districts to purchase longer bus stop arms.
By law, motorists in either direction must stop at least 30 feet from a stopped school bus that has its red lights flashing. Motorists may proceed when the bus has turned off its red lights and children have gotten on the bus or safely reached the side of a highway or street. Motorists are also reminded to slow down and proceed with caution when encountering buses displaying yellow flashing lights, which signals they are preparing to stop and load or unload children.
The goal is for Kalispell to equip three buses with extended stop sign arms, and one each for Columbia Falls and Whitefish, according to Dennis "Griz" Woldstad who is spearheading efforts to educate the public and change state school bus safety regulations.
"A community group formed to champion the upgrade of bus stop signs that could help reduce the number of folks that just drive by. The old signs are close to the side of the bus and fold out. These new stop sign arms extend 6 feet, so they come out to the middle of oncoming traffic and they're much harder to ignore," said Flathead Community Foundation Executive Director Tom LePage.
In contrast, traditional stop sign arms extend a couple of feet from a bus.
"Hopefully, school districts can see the improvement and this becomes a standard safety practice for school buses," LePage said. "We're excited to sponsor this project."
Woldstad, who drove buses for 12 years in Kalispell and Columbia Falls, initially became connected with the Hubble family as a customer of the young girl's grandfather who reached out to him after the tragedy.
"I promised as long as I was drawing breath I was going to make it better. I should have done this 20 years ago," said Woldstad, noting "red runners" were a regular occurrence while he was a bus driver.
Woldstad and the grassroots alliance is seeking to educate the public with the slogan: "Please treat crosswalks and school buses like your loved ones are in them! Prevent tragedy!"
The alliance enlisted the assistance of state Rep. Frank Garner, the former Kalispell chief of police who is running for Montana House District 7, to help secure funding in addition to doing educational outreach.
"It's an ad-hoc group whose focus is 'what measures can we take now, not waiting for Legislature to come back in session," Garner said.
"A lot of studies show these longer swing arms significantly reduce cars illegally passing school buses and that's one of our goals," Garner said. "We know reducing those cars that pass buses illegally, will save the lives of kids. It's intended to be a pilot project to show the efficacy of swing arms in each district to have them more widely used across the state and the country."
He noted the success Bigfork School District has had with installing the arms on its buses.
Bigfork School District installed an extended stop sign arm in 2018 after experiencing an increase in vehicles illegally passing buses on route 14, which covered Montana 35 to Woods Bay and down Holt Drive toward Hanging Rock Drive.
"We tried a pilot program back in the fall of 2018 when we experienced an uptick with eight red-runners in just two months on our routes," said district Transportation Director Rob Tracy. "We installed one extended arm on route 14 which had several violators. There was one red runner for the rest of the school year on that route after the extended stop arm was installed."
In November 2019 the district installed seven extended arms at a cost of approximately $1,500 each. The final bus was equipped in January.
"I believe we have had a total of four red-runners for this school year 2019-2020 on all eight routes," Tracy said.
"They work, people notice them and it's was well worth the investment not to mention the peace of mind knowing we are trying to do everything within our power to keep our kids safe," he said.
Since January, Hubble has been recovering at Nexus Children's Hospital in Texas. In June, she turns 7.
Not far from her side is her mother Veronica "Vo" Hubble of Whitefish.
"She's been doing a lot better, making gains all the time," Vo Hubble said during a phone interview with the Daily Inter Lake on Monday. "She's not able to verbalize. She's able to make sounds. She's aware of surroundings and people — she knows me and family on video chat — but what she remembers from day to day sure is hard to say."
About four hours a day Jordana Hubble goes through physical, occupational and speech therapy and her mother tries to keep her busy with different activities the hospital offers.
"She's getting stronger at walking with assistance," Vo Hubble said. "She still gets some tube feeding through her stomach. We're working toward one meal a day by solid food through the mouth."
Vo Hubble said the hope and goal is her daughter will be able to walk and eat more independently and with minimal equipment before going home.
"The doctors know we have limited resources at home," Vo Hubble said.
She doesn't know how much longer it will take, possibly a few months, maybe more. It's dependent on her daughter's progress.
Vo Hubble said it's been a difficult road to be away from her husband and other two children, who sought counseling before getting back on a bus after witnessing the incident.
"They understand me having to be away with their sister," Vo Hubble said. "They're doing all right. I think I'm probably having a harder time being away from the kids. I haven't been away from all of them at once for this long."
With COVID-19, no visitors have been allowed, further isolating the Hubble family. In Texas, mother and daughter keep busy with medical care. In Montana, her husband (works, takes care of homework with school closures). The video and phone calls keep them all connected.
"We're trying to adjust to this new normal," Vo said.
"Each gain she makes gives me a little hope to her having an independent life when she gets older. I don't want to wonder about when I'm much older and — will she — who will take care of her?" Vo Hubble, said pausing, thinking of how to word her thoughts of the future.
"I'm encouraging her and she's pushing herself," Vo Hubble said. "And she's a very strong willed little girl and I have high hopes."
Reporter Hilary Matheson may be reached at 758-4431 or hmatheson@dailyinterlake.com.
---