Brash family devoted to running popular summer event for two decades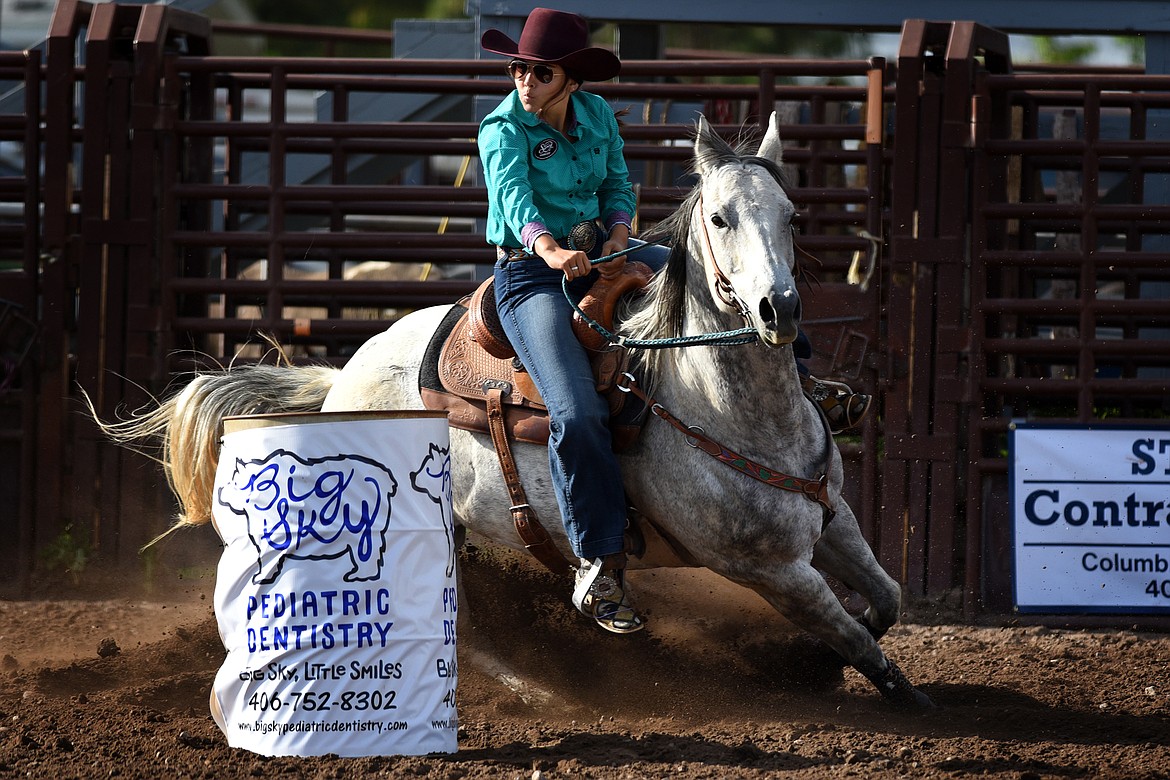 Kaley Conway makes the first turn during the barrel race of a recent Brash Rodeo Summer Series event. (Jeremy Weber photos/Daily Inter Lake)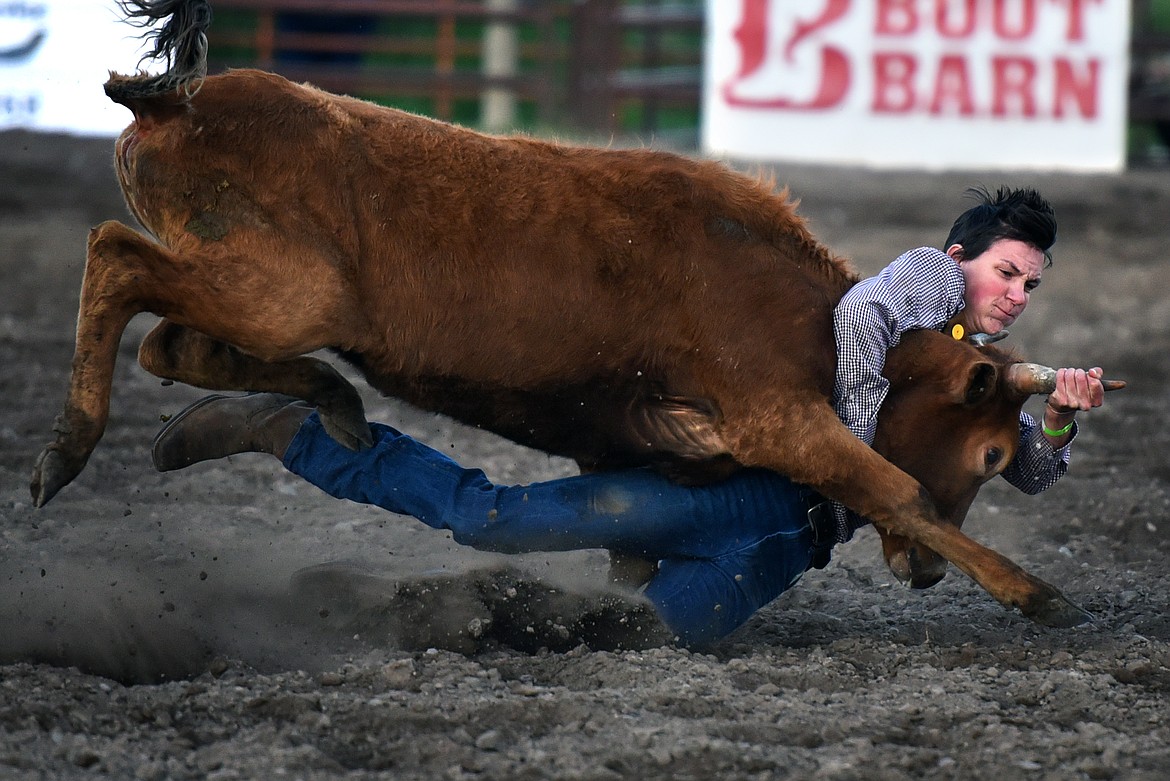 JP Koch-Ford tries his hand at chute dogging in the June 4 Brash Rodeo Summer Series event in Columbia Falls.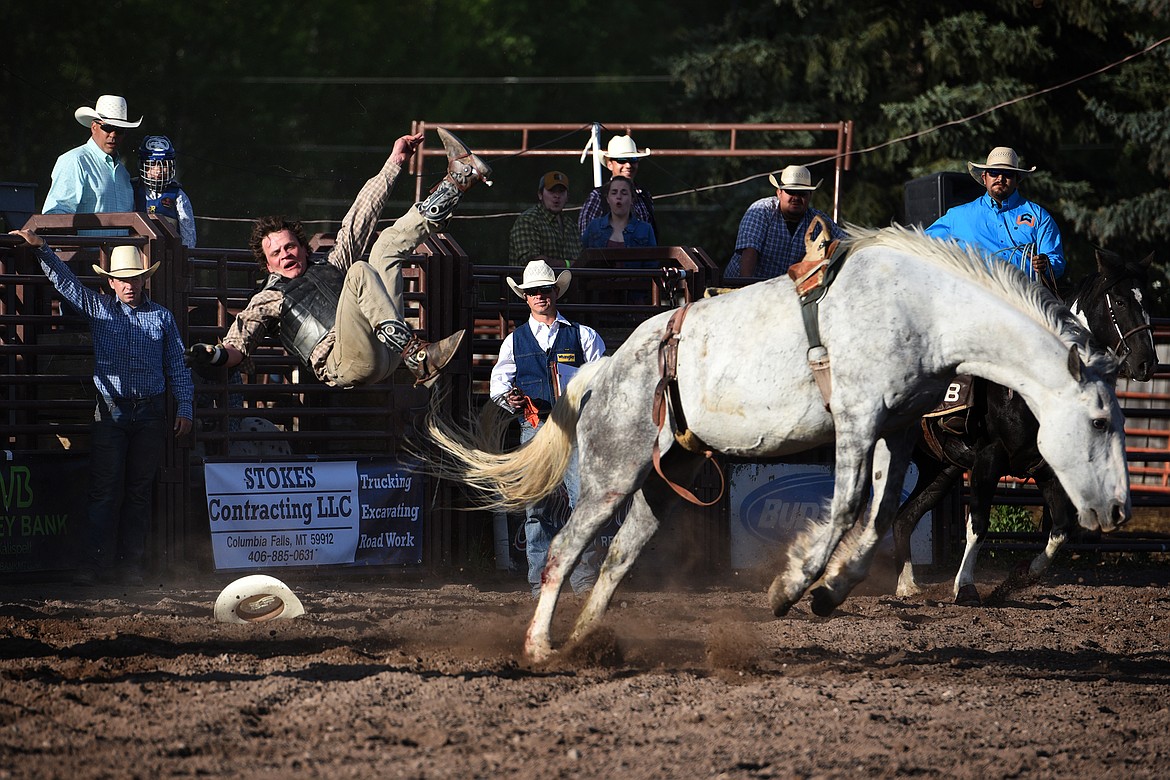 Will Swayze goes flying during the bareback bronc riding portion of the Brash Rodeo Summer Series. (Jeremy Weber/Daily Inter Lake)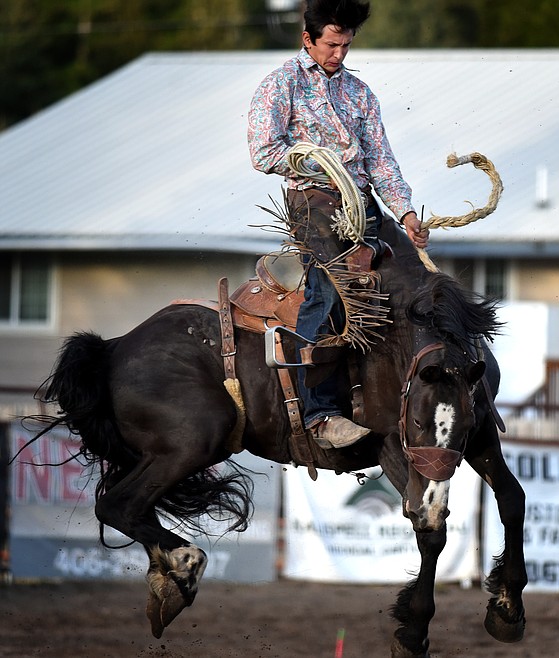 Devyn Campbell holds on during the ranch bronc riding at the Brash Rodeo Summer Series.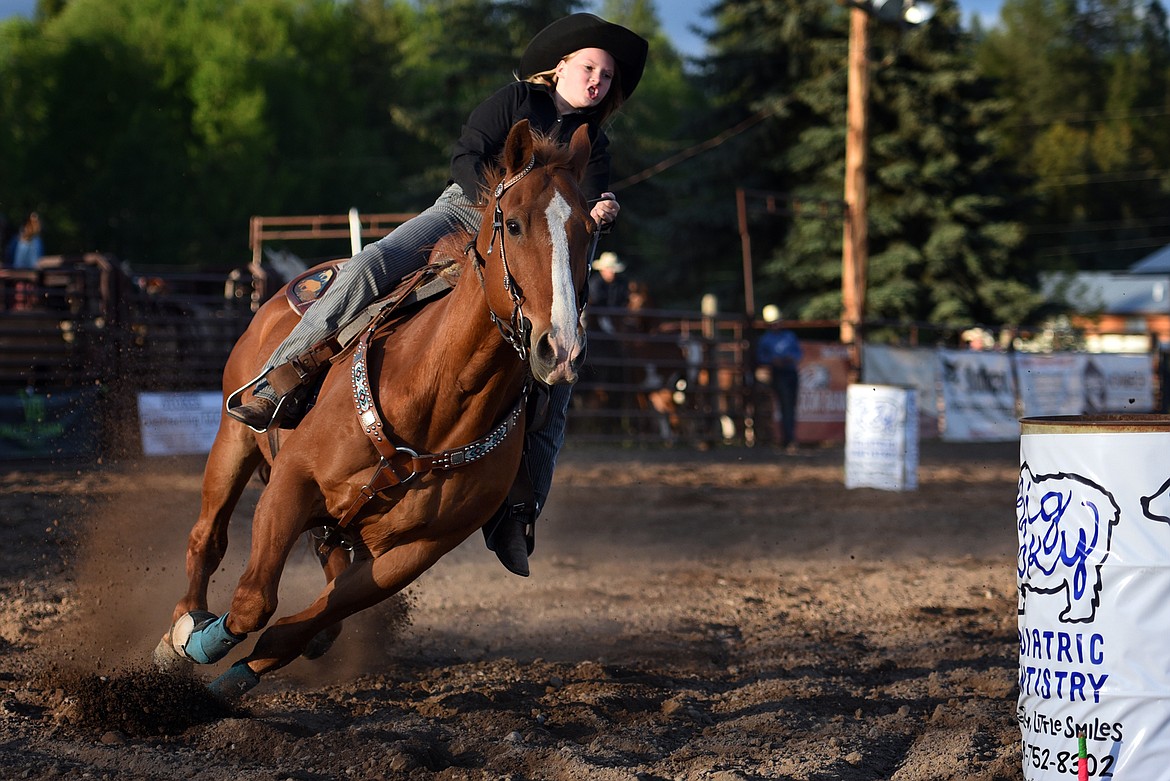 Zoey Bruyer heads for the final turn in peewee barrel racing. (Jeremy Weber/Daily Inter Lake)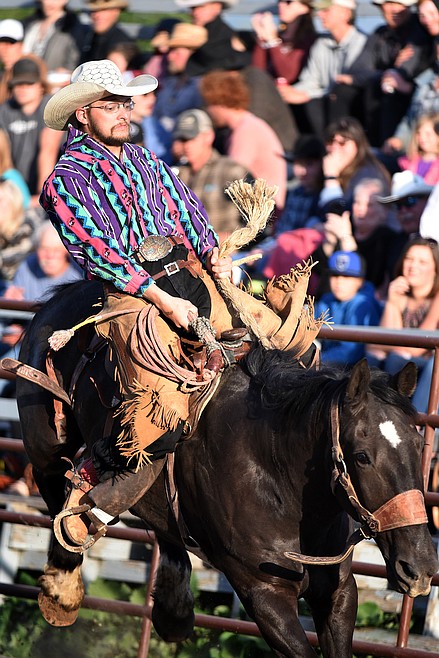 Dustin Morigeau thrills the crowd duing the saddle bronc event.
Dylann Billington leaves the gate during the ladies breakaway roping. (Jeremy Weber/Daily Inter Lake)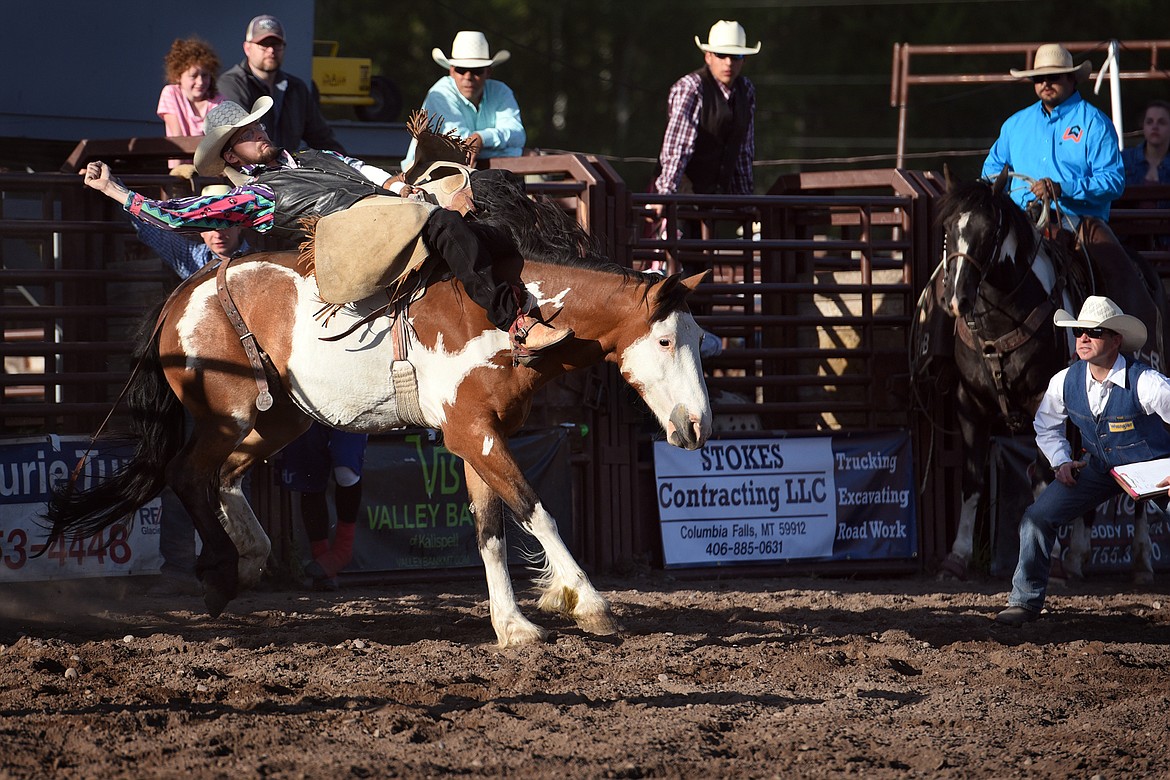 Dustin Morigeau comes out of the gate during ranch bronc riding.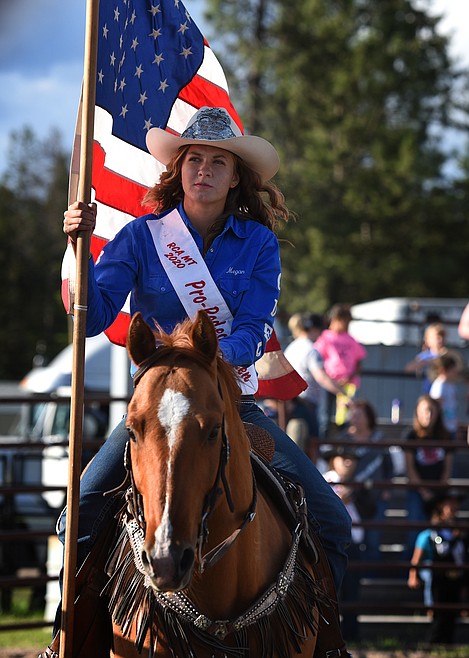 Megan Tutvedt, Rodeo Champions of America 2020 Queen for Montana, brings the American flag into the area on her horse, Peppy. (Jeremy Weber/Daily Inter Lake)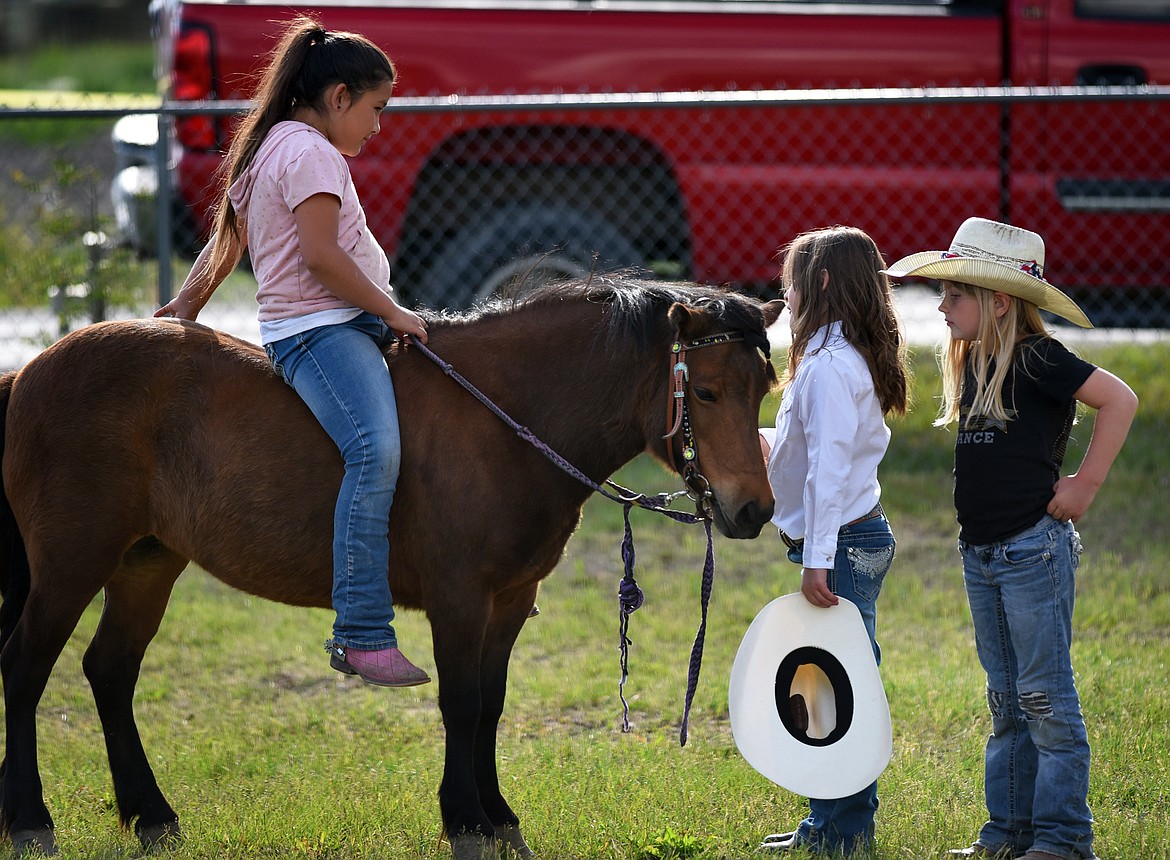 Young rodeo fans get together outside of the arena.
Previous
Next
by
Jeremy Weber
Daily Inter Lake
|
June 21, 2020 1:00 AM
For Vance Brash and his family, rodeo is a way of life.
He and his family have owned and operated the Brash Rodeo for 20 years, bringing bull riding, bronc busting, barrel racing and more to Columbia Falls, Kalispell and Hot Springs. With Vance's parents manning the ticket booth, his son working as a pickup man and his fiance acting as the rodeo secretary, everyone in the family takes on a variety of tasks to keep the operation running smoothly.
"To run this place, you have to be a mechanic, a carpenter and welder and so much more. There is a lot to take care of, that's for sure," Brash said.
Twenty years ago, when Brash first approached his friend Dick Sapa with the idea of hosting a rodeo behind the Blue Moon Nite Club in Columbia Falls, his friend was unsure.
"I approached Dick about the idea for all this about 20 years ago and his response was to ask me if I was crazy," Brash said. "He eventually came around and helped us get started and we have been going ever since."
After helping to get the rodeo up and running in its first year, Sapa bought the arena prior to the second season and still owns it today.
From the beginning, Brash Rodeo has striven to produce a unique, up-close rodeo experience that is inviting to both fans and competitors. With spectator seating located just feet from the arena, fans really feel like they are part of the action while the open rodeo (unsanctioned by any rodeo association) format draws competitors of all ages and skill levels.
"At this rodeo, you will see a first-time competitor competing right alongside former world champions. We are very proud to be able to say that. It's a neat mix and it doesn't happen at a lot of rodeos and it makes us unique," Brash said. "Also, this rodeo is definitely an up-close and personal experience. At most rodeos, you don't get to sit as close to the arena as you can here. You might end up with cow crap in your beer, but it's all good. It's amazing how many people think that makes it more fun."
Rodeo judge Eric Christison added his own observation.
"We strive to put on a great performance with our livestock and we get to showcase professional cowboys and newcomers at the same time," Christison said. "This is a place where amateurs can learn and professionals can polish their skills,"
With COVID-19 shutting down many rodeo events across the state, Brash Rodeo's Summer Series Rodeo behind the Blue Moon in Columbia Falls was proud to be the first rodeo to open its gates to the public in May, drawing more than 200 competitors and hundreds of fans at its first rodeo. After obtaining permission from the City-County Health Department to resume operation, the rodeo finished up the final two postponed events of the Winter Series rodeo before playing host to the Brash Rodeo Summer Series every week.
"We had some issues working with the health department; they didn't really know what to tell us," Brash said. "They had their orders from the governor and nobody was willing to commit to anything. We finally just said that we were going to open up and they said OK."
According to Brash, this season's attendance has been a little slow but has been increasing with every rodeo. In the past, the Summer Series has drawn an average of 500 spectators with as many as 1,200 in the peak months of July and August.
While the rodeo is no longer requiring competitors to wear masks when not in the act of competing, it is still taking safety very seriously, providing hand sanitation stations and encouraging social distancing.
"We are trying to do it right and we take the threat seriously, but it is still Montana and we want our rodeo," Brash said. "It will be interesting to see what happens with the rest of this summer. I'm guessing that we are going to get a lot of local tourists from Montana and the surrounding states. We will have to see who all else makes the trip out here."
For more information about the rodeo schedule and ticket prices, visit the Brash Rodeo website at https://glaciercountryrodeo.com.
Reporter Jeremy Weber may be reached at 758-4446 or jweber@dailyinterlake.com.
---