Sports card store busier than ever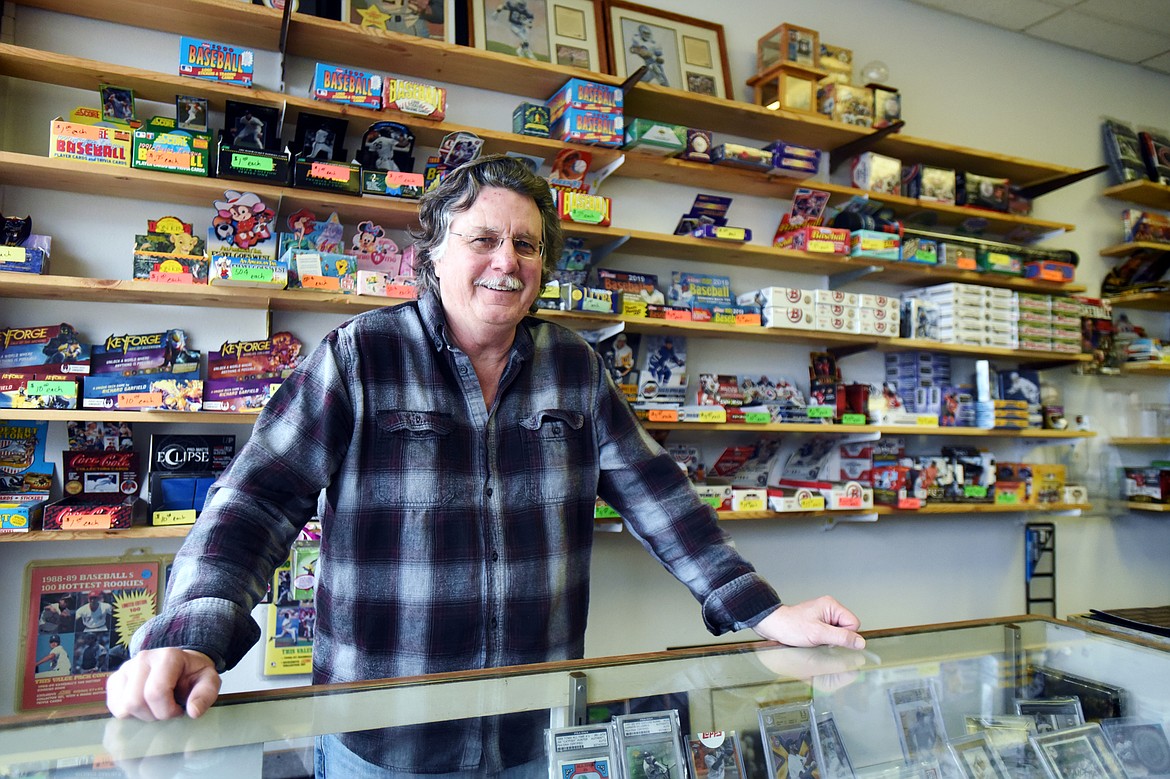 Tony Sibert is the owner of Sports Cards Plus in Evergreen. (Casey Kreider/Daily Inter Lake)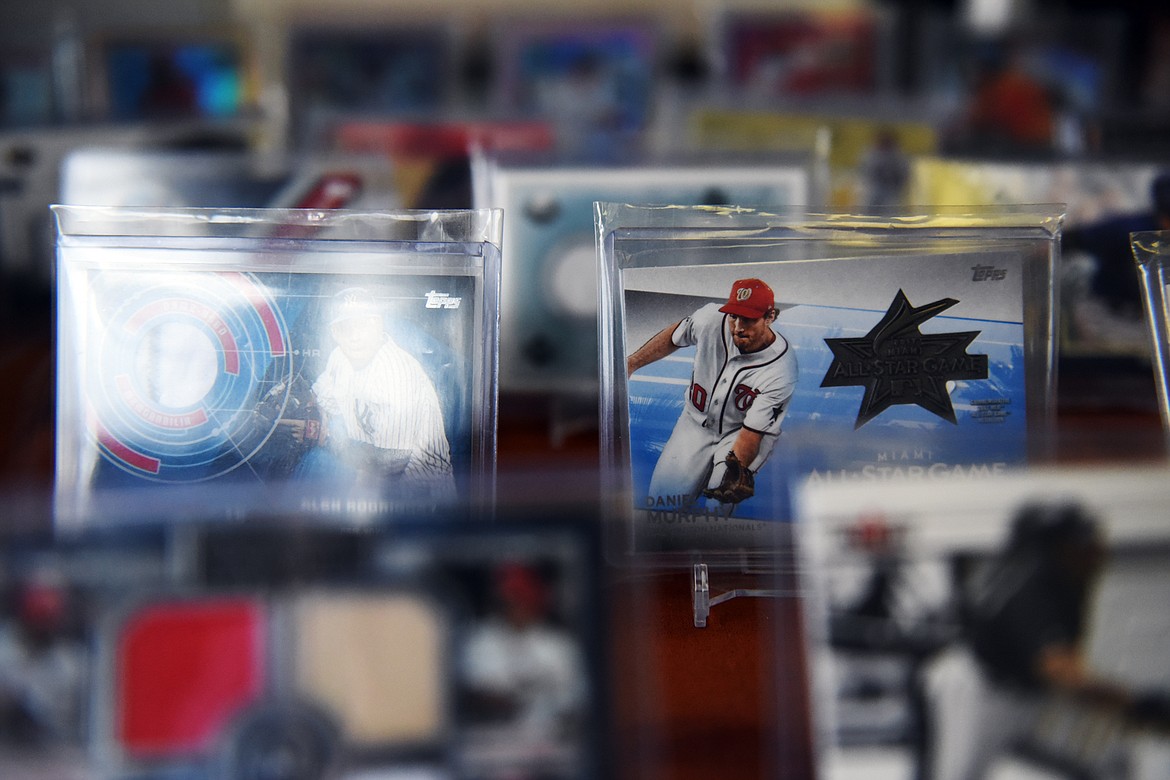 Sports cards reflect the light inside a display case at Sports Cards Plus in Evergreen on Wednesday, June 10. (Casey Kreider/Daily Inter Lake)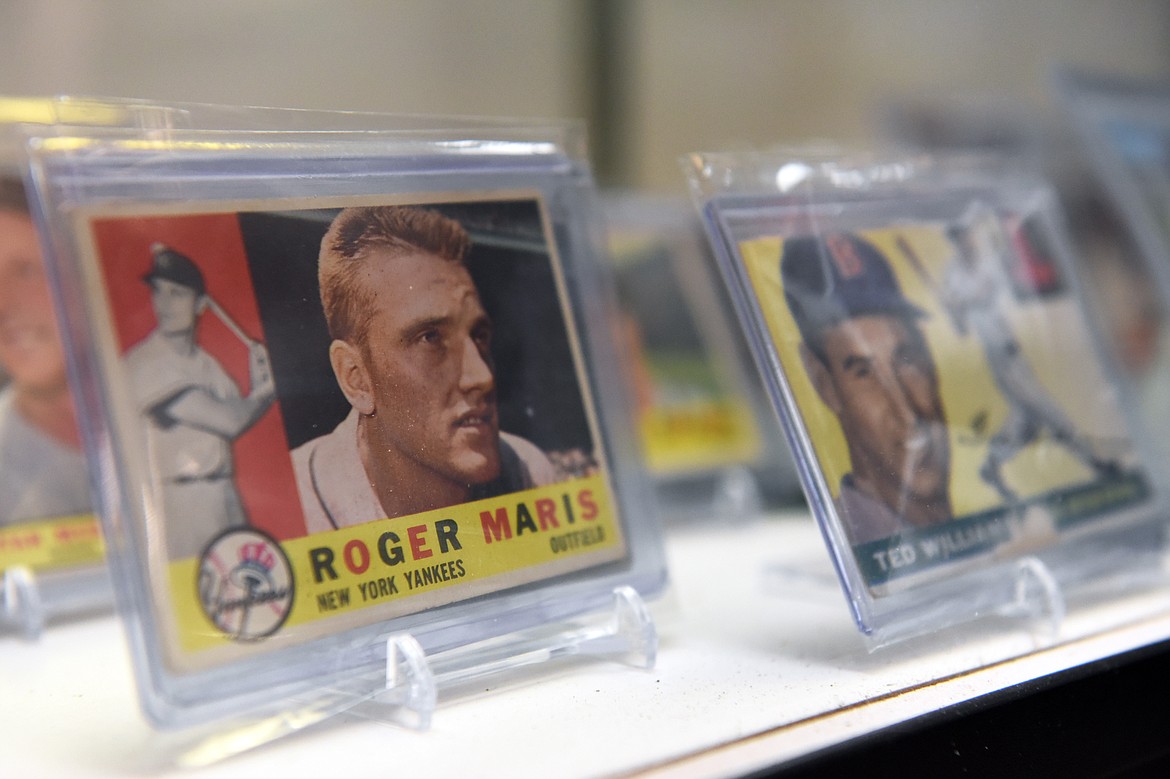 A 1960 Topps Roger Maris card and a 1955 Topps Ted Williams card for sale at Sports Cards Plus in Evergreen on Wednesday, June 10. (Casey Kreider/Daily Inter Lake)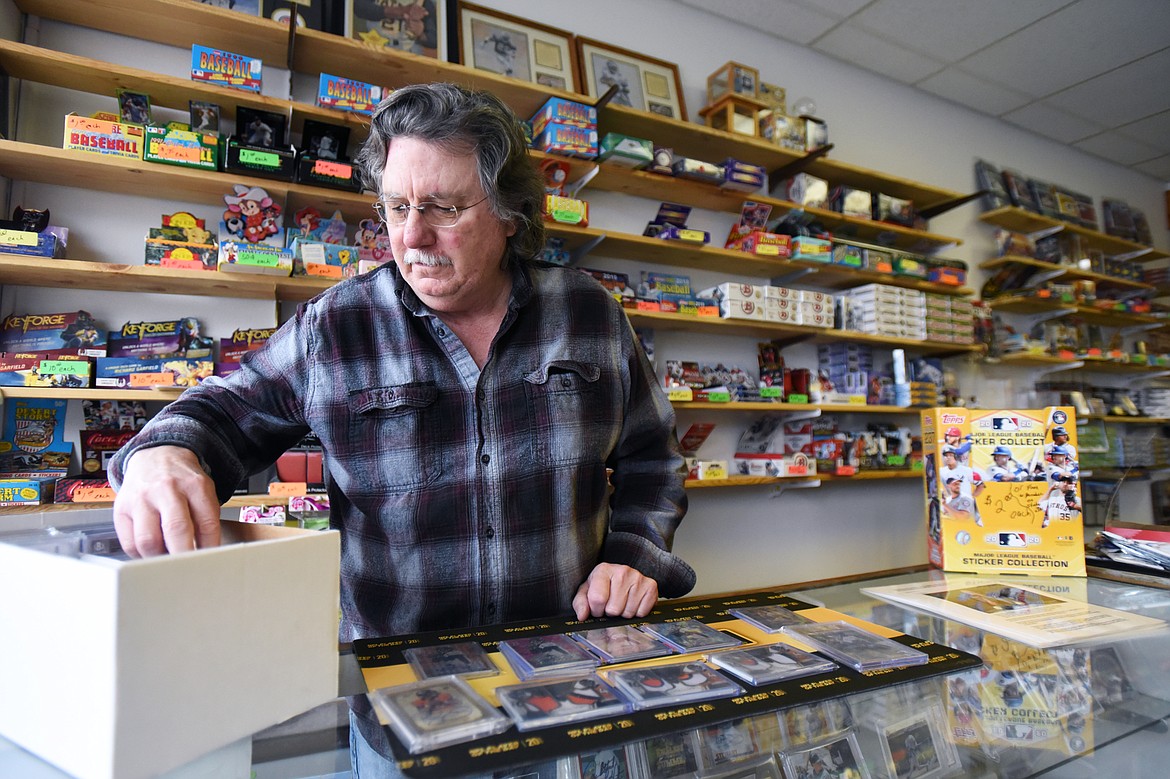 Tony Sibert, owner at Sports Cards Plus, sorts through cards at the front counter in Evergreen on Wednesday, June 10. (Casey Kreider/Daily Inter Lake)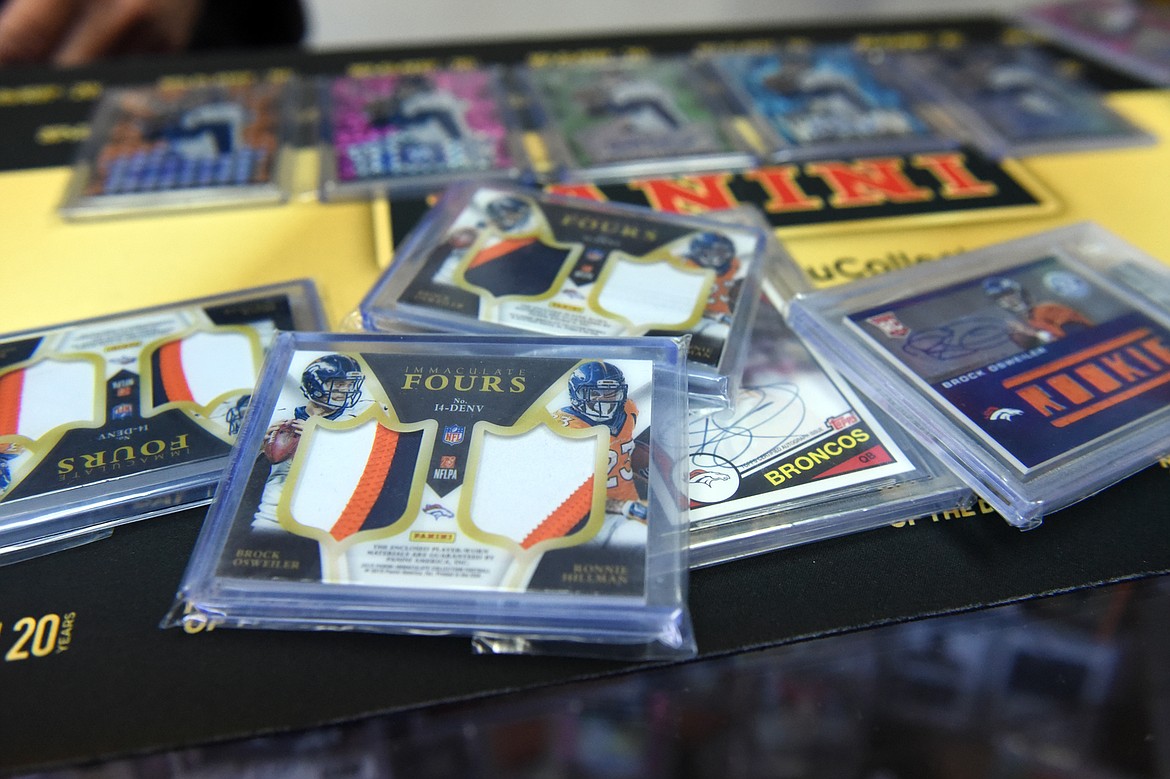 An Immaculate Fours card at Sports Cards Plus containing a small piece of jersey of four former Denver Broncos football players: Brock Osweiler, Ronnie Hillman, Cody Latimer and Emmanuel Sanders. (Casey Kreider/Daily Inter Lake)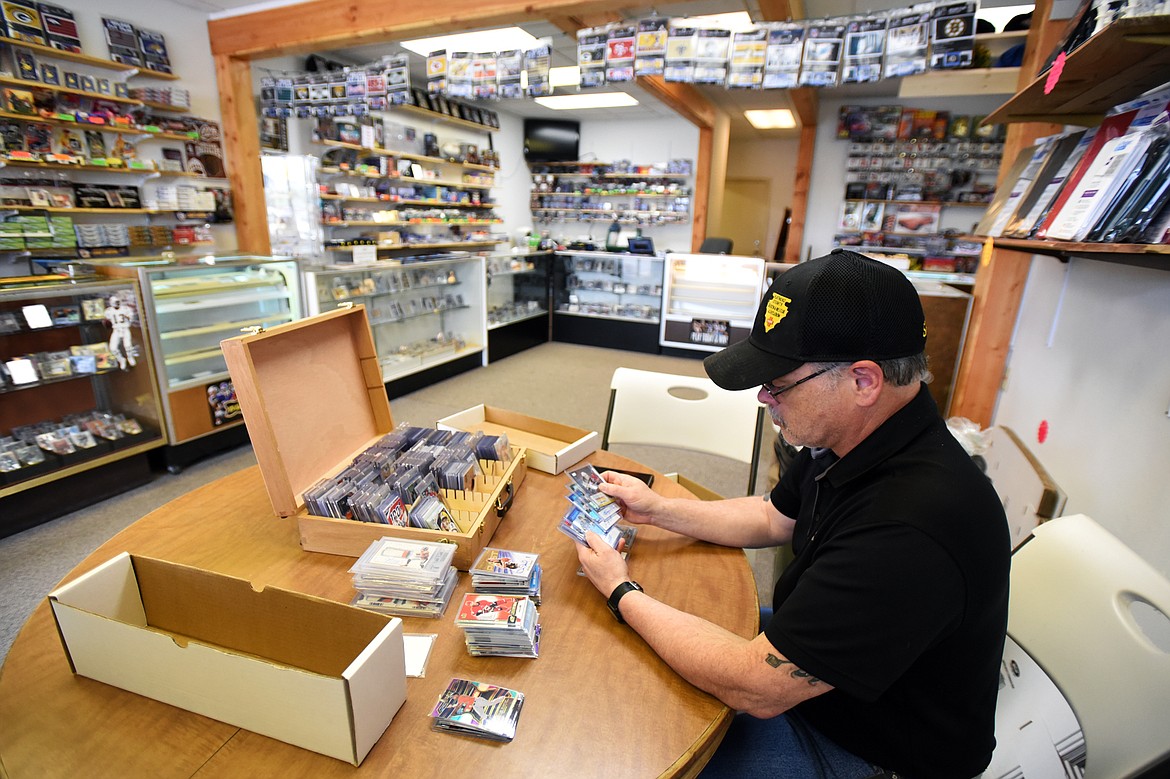 Jan Roth, a regular customer at Sports Cards Plus, sorts through his cards before listing them for sale online on eBay and social media channels such as Facebook on Wednesday, June 10. (Casey Kreider/Daily Inter Lake)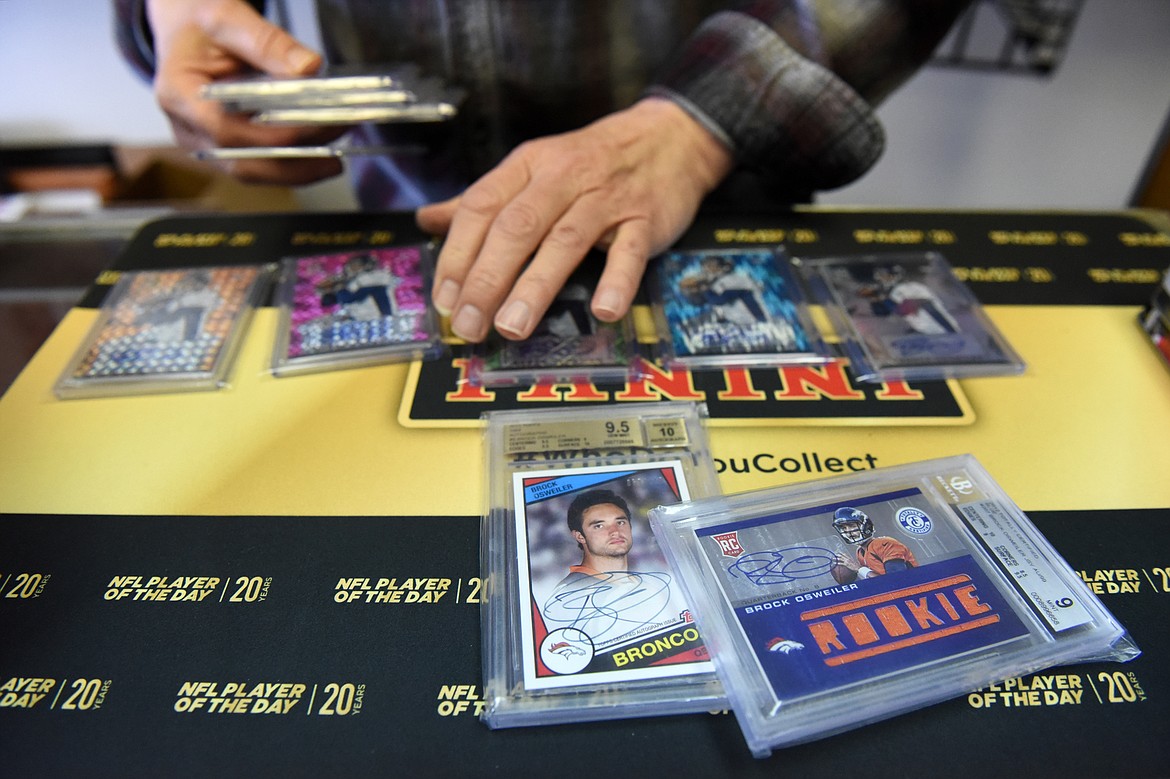 Tony Sibert sorts through a collection of signed Brock Osweiler cards at Sports Cards Plus.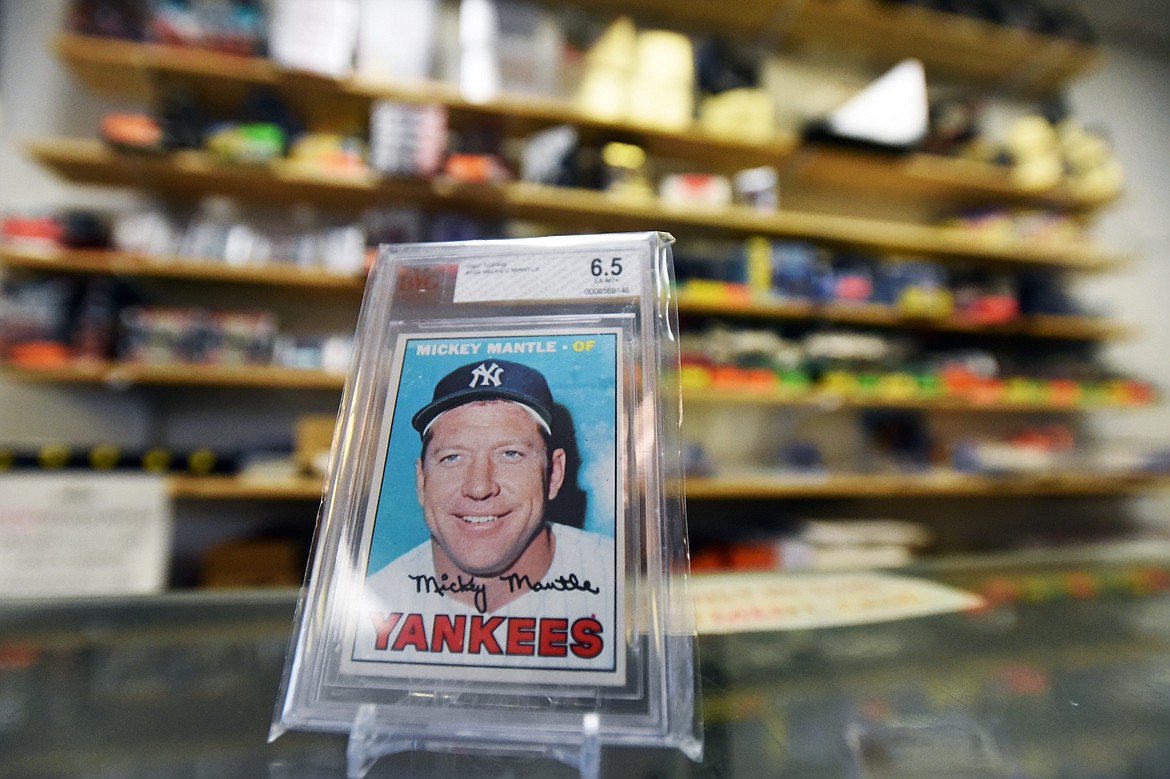 A Topps 1967 Mickey Mantle card for sale at Sports Cards Plus in Evergreen.
Previous
Next
by
Bret Anne Serbin
Daily Inter Lake
|
June 14, 2020 1:00 AM
Success is in the cards for Tony Sibert, the owner of Sports Cards Plus in Evergreen. Despite widespread economic hardship for many local retailers due to COVID-19, business is booming at the sports card store.
"The card market exploded when all this took off," Sibert said. "It's huge."
Sibert has run collectibles stores around the valley off and on for about 15 years, starting in the 1990s. He said the interest in cards has never been this intense in all of his time in the industry.
Sports Cards Plus—which moved to Evergreen from Columbia Falls in September—recently has been buzzing with card owners hoping to make a few quick bucks by selling their memorabilia and stimulus check recipients looking to spend some of their sudden cash. Sibert was so inundated he had to put a limit on purchases and even close the store for a few weeks.
"I ran out of product," he said. "They wiped me out."
It's an absolutely unprecedented situation in an industry that has been around for decades. During the COVID-19 shelter-in-place directives throughout the country, the top card-producing companies halted their production for five weeks. Sibert said it was the first time production has ever stalled for so long in the one hundred or so years that sports cards have been printed.
The shortage sent the price of cards skyrocketing. Sibert said he has lately seen cards selling for as much as five times their suggested retail value. At his Evergreen store, he said he typically sells a few cards valued in the hundreds of dollars every day, and every week he usually makes at least one sale in the thousand-dollar range.
It's quite a surprise for a business owner that many people expected to strike out years ago.
Sibert started his first store in Evergreen in 1990. At the time, he remembered sports cards sellers setting up shop on practically every corner and cards being mass-produced around the country.
"Most people thought the store would be gone in a year," Sibert recalled.
That prediction came true for a lot of Sibert's colleagues, but his business has persisted through a few location changes and unexpected trends. Sports Cards Plus is now one of only four hobby card shops in the state, and Sibert doesn't see any signs of business slowing down.
"Everyone thought the market was dead," he pointed out, but Sports Cards Plus is alive and well.
Based on his experience, Sibert believes the next generation will help keep the trend alive. He said some of his most dedicated, knowledgeable shoppers are "8-, 9-, 10-year-old kids."
"They know their stuff," he noted. He said buying, selling and trading cards is a unique way for young people to earn some money and learn skills such as math and money management. He remembered one teenager who used $125 in birthday money to pull two cards worth $1,000 each, and another young enthusiast collected throughout high school to graduate with funds to put toward college tuition.
It can be a lucrative and exciting pastime for those who know just how to pick them by identifying future Hall-of-Famers or hopping on the bandwagon of growing sports, like soccer, ahead of the curve. But Sibert said there's also plenty of opportunity for card buyers who want to beef up their decks "just for fun."
Sibert got his start with the store because he thought trading cards was a fun hobby. He said he never anticipated how the market, or his store, would take off. "It blew up. I had no idea," he said.
It's become so popular that Sibert plans on helping to bring one of the leaders in the card world to Kalispell later this year at an event he expects to attract more than 1,000 people. Beckett, the leading authority in the sports card industry, was scheduled to come to a card show at the Kalispell Center Mall in April before coronavirus pushed back those plans.
Sibert still hopes to reschedule the show for later this year, because the California company's first visit to Northwest Montana would be a groundbreaking event for card enthusiasts throughout the region. "It's going to be a big deal," he said. "There's nothing that can even compare."
Sports Cards Plus is located at 1420 Montana 35, Suite 101. Hours are 11 a.m. to 6 p.m., Tuesday through Saturday.
Reporter Bret Anne Serbin may be reached at (406)-758-4459 or bserbin@dailyinterlake.com.
---