Organic enterprise thrives in Mission Valley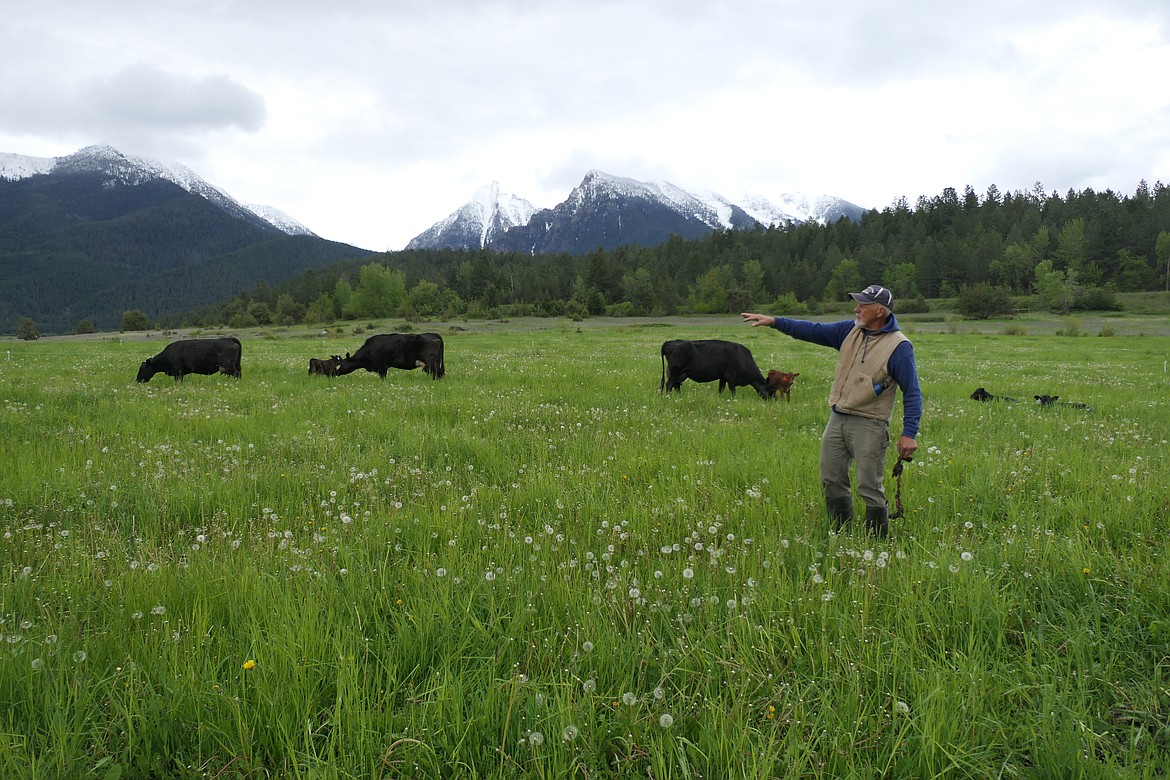 Tom Pavlock moves electric fence every day to manage an intensive grazing system that improves the forage on Foothill Farm in the MIsson Valley. (Carolyn Hidy photos/Lake County Leader)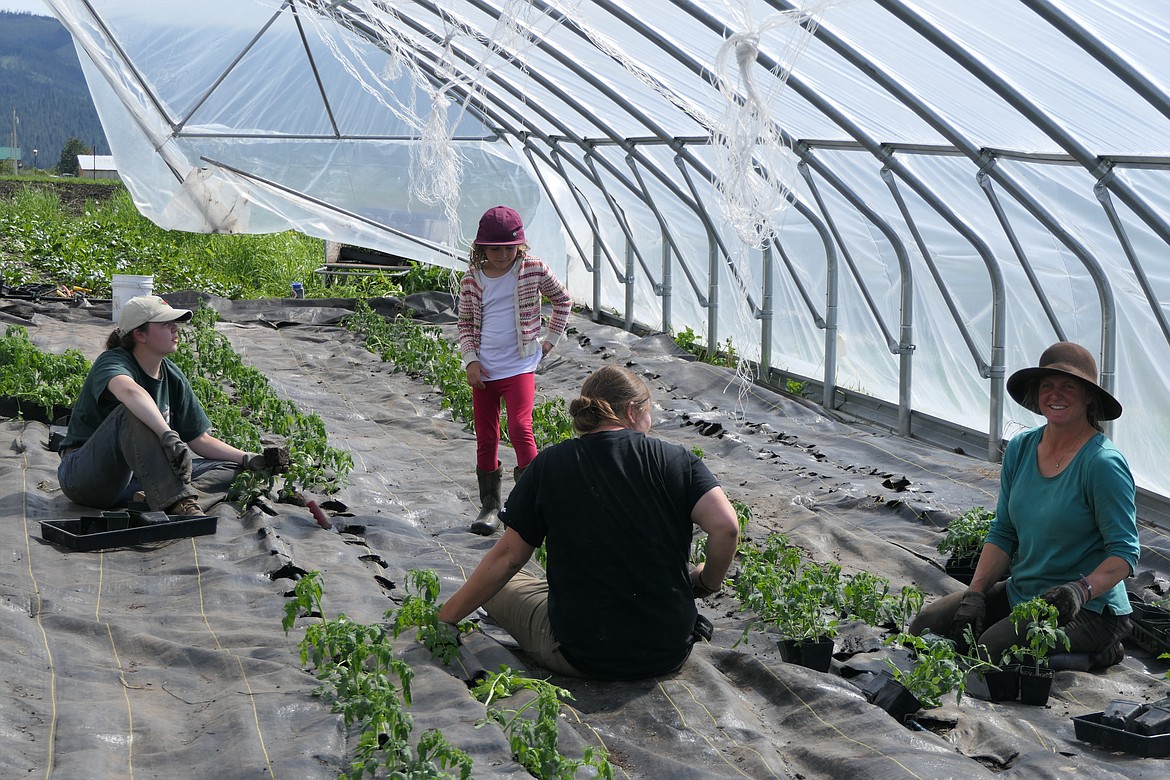 A friendly, enthusiastic crew plants hundreds of heirloom tomato plants in a hoop-style greenhouse at Foothill Farm near St. Ignatius. From left, are Anna Schraufnagel (intern), Maude Pavlock, Halley Saul (intern), Julie Pavlock.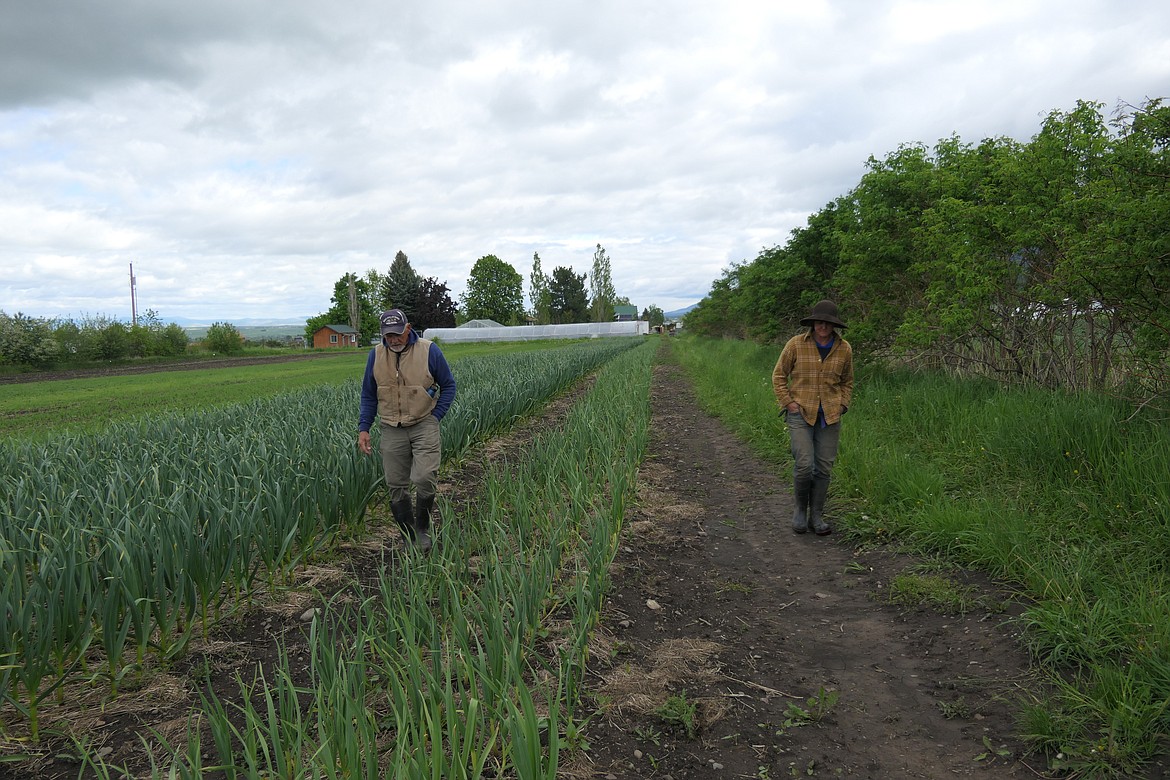 Julie Pavlock and her father, Tom, bring a sense of calm happiness to the daily farm labor.
Julie Pavlock and her father, Tom, discuss what to plant next on a morning stroll through the garlic patch. Foothill farm grows five garlic varieties.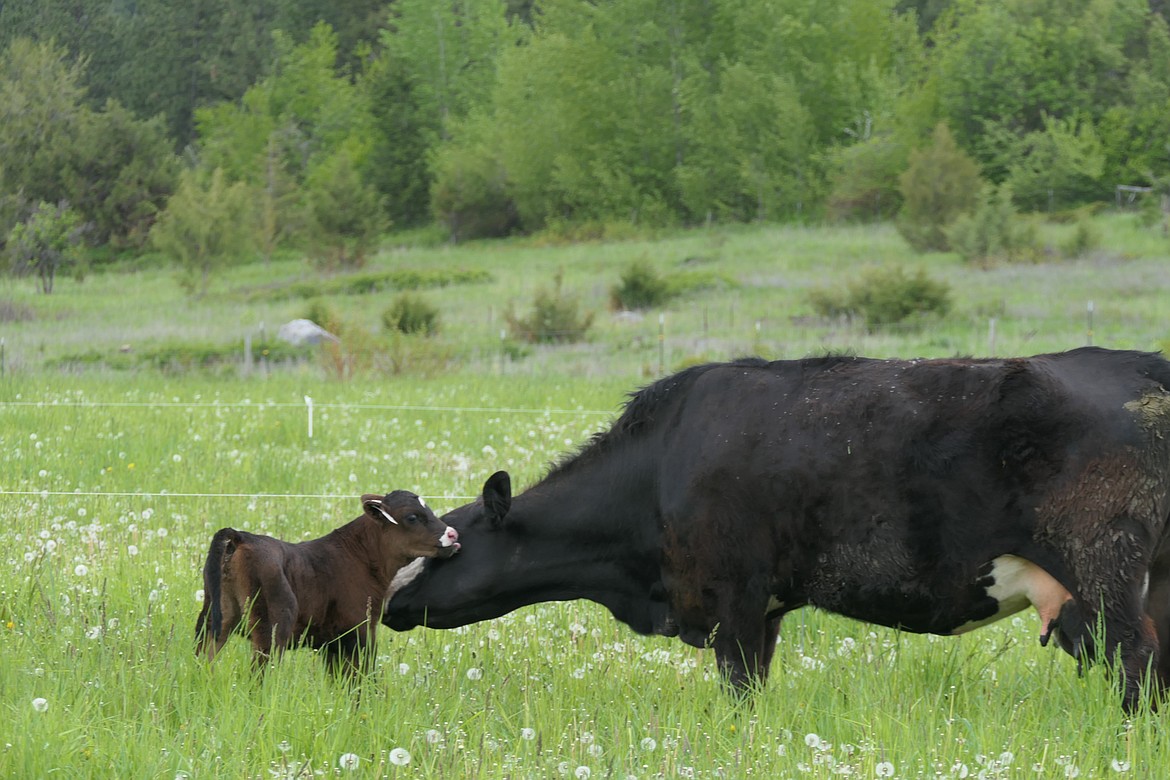 An idyllic life growing up in belly-deep grass on Foothill Farm.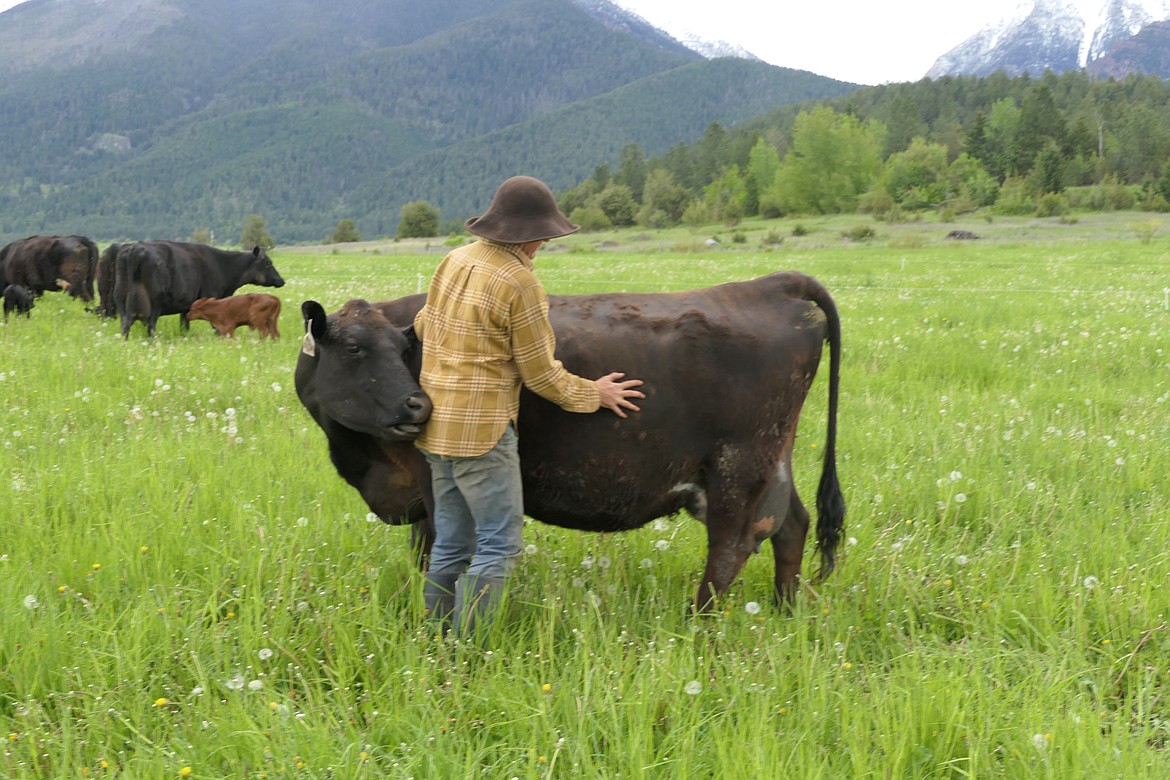 One of Julie Pavlock's angus/angus-cross herd thoroughly enjoys a loving all-over scratch.
Previous
Next
by
Carolyn Hidy
Lake County Leader
|
June 7, 2020 2:46 AM
Fresh, locally grown food has long been popular throughout Mission Valley. Farmers markets flourish all summer with vegetables, fruits, herbs, flowers, baked goods, and even fresh meats and cheeses. Local butchers, and even some supermarkets, feature local foods.
Foothill Farm owner Julie Pavlock finds that Western Montana Growers Cooperative is another helpful outlet that directly links local growers and buyers. Pavlock is one of many growers working with the co-op's CSA, or Community Supported Agriculture program that offers curbside delivery of farm-fresh food every week of harvest season.
Vegetable production at Foothill Farm is well underway this spring. In its 16th season, the organic farm has well-established systems for seed starts, greenhouse and field crops including hybrid and heirloom tomatoes, garlic, squash, onions, potatoes, kale, chard and more. Grass-fed beef cattle graze nearby in a scenic and lush pasture at the base of the Mission Mountains.
Pavlock always loved farms and animals but did not grow up farming. With little experience with equipment or livestock, "it was daunting," she said. In the beginning, she started out plowing, cultivating, and pulling only with draft horses; the farm still has one workhorse, and now a tractor.
Among the many people who helped along the way, Julie credits the Natural Resource Conservation Service for expertise and funding help, and Mission Mountain Food Enterprise Center in Ronan and others for classes they offered.
Whatever she did, it must have paid off, as Pavlock is now a farmer that others come to learn from. Every season, she appreciates the interns who find their way from across the country to Foothill Farm, providing much of the farm's labor. Websites such as farmlinkmontana.org link these beginning farmers to mentors such as Pavlock, and to resources to help them get started in the fulfilling, but hard work of growing. Travis Lemke, one of several agricultural specialists with the Conservation Service, calls Pavlock a "rock star" of organic farming, and names several farms in the region started by people who interned with her.
The farm is a wonderful place for Pavlock's young daughters, Evelyn and Maude, who really enjoy helping. They both make products to sell at the Mission Falls Market (St. Ignatius farmers market), such as soaps and bouquets. Pavlock's sisters and their families often help out when they can. Their father, Tom, is a full-time partner in the operation.
"This has been really great to be able to work together with him," Pavlock said. "It's a gift for me."
Tom, a military veteran and retired businessman, looks comfortable on the tractor but spends most of his time managing the beef operation. With assistance from the Natural Resource Conservation Service, the Pavlocks developed an intensive grazing rotation system. By moving electric fencing every day, small portions of the pasture are grazed at a time, and the cattle learn to eat grass and weeds, rather than just selecting the "candy," as Tom calls it. Over time, the pasture has become more productive, with very few weed difficulties. "We don't grow cows, we grow grass," Tom quips.
Working through the growers cooperative, much of Foothill Farm's market typically has been wholesale to restaurants and grocery stores. However, with the restaurant business affected by the coronavirus concerns, many people are looking to purchase local food more directly. CSAs provide a way for consumers to purchase a "share" of the harvest, with delivery of in-season produce each week. The model can offer farmers more predictability than selling only through farmers markets, as they grow to fulfill a set contract with the CSA.
"CSAs are coming into their heyday," Pavlock said. "With supply chains interrupted, it can be hard for consumers to get the food they are looking for. With the CSA, they know it comes from close by, and has been touched by very few people along the way. And it makes sure the money is going to local businesses, not large corporations."
Grass-fed beef from Foothill Farm is also available through the co-op, and with stores now selling it at $6 per pound, the local meat is comparably priced.
"There is tons of interest in our beef," Pavlock said. "It may be partly a fear of a meat shortage, but also, people are wanting to support the small producers around them, and they like the quality." She says it can be "tricky" to make money selling beef on the large commercial market, as prices fluctuate, while the local market is more steady.
For more information about purchasing locally grown foods, visit wmgcoop.com or call Julie Pavlock at 531-5852.
---