Court filings show Whitefish man had threatened to murder ex-wife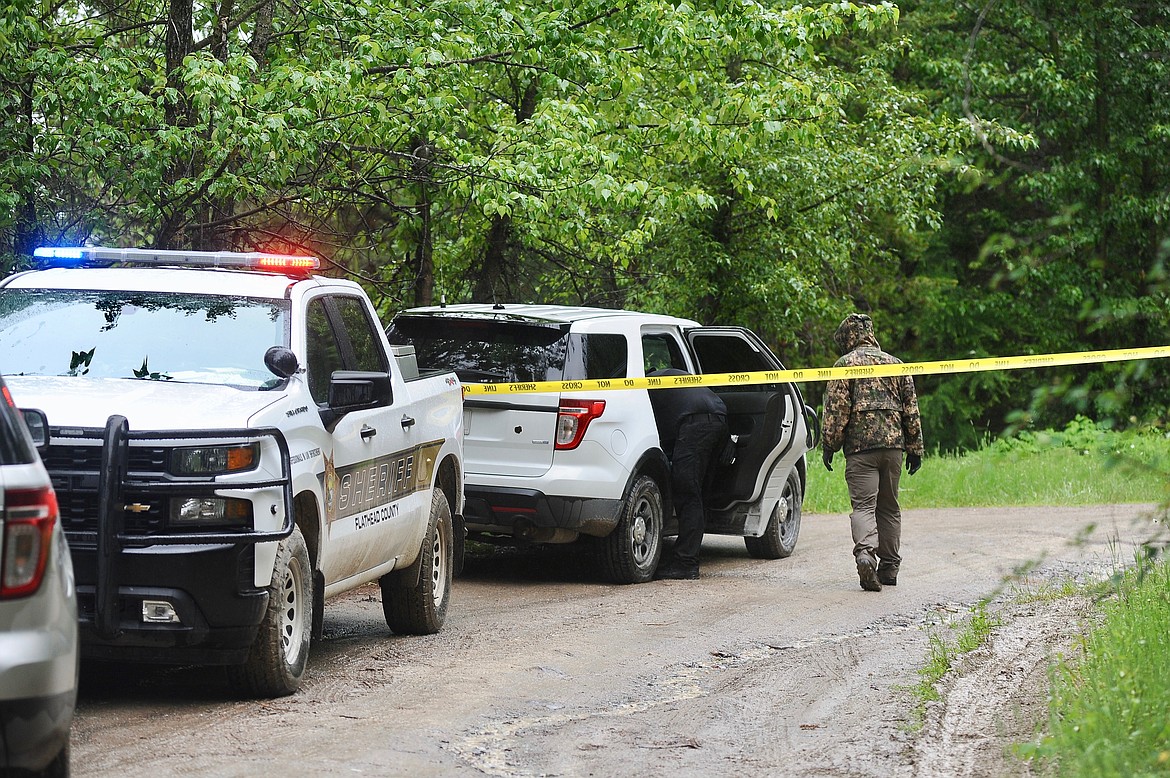 Crime tape is strung across Old Church Road in Olney on Tuesday where Flathead County Sheriff's Office officials were investigating the scene of an alleged homicide. (Matt Baldwin/Daily Inter Lake)
by
Scott Shindledecker
Daily Inter Lake
|
July 1, 2020 9:57 AM
The Whitefish man accused of brutally murdering his ex-wife, daughter and another man near Olney early Tuesday morning had told the woman he would kill her this summer, court filings state.
According to law enforcement, Kameron Chad Barge, 39, stabbed to death his ex-wife, Emily Lynn Barge, 42, her 3-year-old daughter Piper Jocelyn Barge, and Cody Brian Nevins, 41, at their home on Old Church Road.
Emily Barge's 8-year-old daughter was found safe and she is in the care of Child Protective Services.
The body of Kameron Barge was found away from the crime scene. Flathead County Sheriff Brian Heino said the man drove from the home and was later found about a half mile from the truck, dead of an apparent gunshot wound.
According to court documents filed May 26, 2020, Kameron Barge allegedly told Emily Barge ­— who went by the name Emily Mohler — he was going to murder her this summer. She filed a petition for a temporary restraining order against Kameron after a reported incident on Memorial Day, May 25, at Stillwater Lake.
Emily's petition explained Kameron's alleged threats.
"He grabbed my hoodie and twisted it tight around my neck and then threw me to the ground, screaming insults," Emily wrote. "He said he 'was going to murder me this summer.'"
Emily wrote the alleged abuse happened in front of her two daughters, ages 3 and 8.
Emily and Kameron were scheduled to appear in Flathead County District Court Tuesday afternoon in the final hearing on their divorce. Emily had filed for divorce from Kameron in August 2019. Judge Dan Wilson had approved the dissolution of the marriage earlier this year.
The hearing was scheduled the same day the three murders occurred early that morning.
Other court documents filed in 2019 allege several domestic violence incidents dating back to 2012, two years before their marriage on Sept. 1, 2014.
On Aug. 2, 2019, Emily filed a request for a temporary order of protection against Kameron. Judge Wilson approved it on the same day.
In the petition, Emily wanted protection for herself and her four children, two of whom were described as Kameron's stepsons.
Emily wrote Kameron threw her to the ground on Aug. 1, 2019, causing skinned knees and elbows and bruised ribs. Also detailed in the document were incidents dating back to 2012. She alleged Kameron destroyed several TVs, skateboards, toys and other items.
In 2015, Emily reported that Kameron beat her up and fractured her skull in two places. From 2015 to the date of the petition for the restraining order, she said he killed a kitten by throwing it against a basement wall, threw baited mouse traps at his daughters, pushed her around, tried to rape her and tossed her cellphone into the woods at any chance.
In Judge Wilson's order, Kameron had to remain at least 1,500 feet from the family members.
On Aug. 7, 2019, Emily filed for divorce from Kameron.
Then, on Oct. 28, 2019, Emily filed to drop the order of protection against Kameron.
She wrote "The threat of violence is no longer present, they were living separately and emotions have calmed."
On October 30, 2019, the order of protection was vacated and the petition was dismissed in District Court.
But following the alleged Memorial Day incident at Stillwater Lake, Emily filed for a another order of protection. In the request, she asked the court to order Kameron to complete violence counseling. She also asked that Kameron still have parenting time with the kids.
Judge Wilson approved the temporary order on May 27, 2020.
His order said Kameron was not allowed to threaten or commit acts of violence against Emily and both daughters or harass, call, email or contact all three.
Kameron was also not permitted to take the children out of Flathead County and Montana and he had to remain at least 1,000 feet from them.
A June 11 court hearing made the order of protection permanent until Oct. 11, 2020.
Heino said all four deceased people were taken to the Montana State Crime Lab as the investigation continues.
"It's a horrific scene, one of the worst I've seen," Heino said. "This heinous crime is unexplainable. Our thoughts and prayers go to the family. This has shocked our staff, our community and has left more questions then answers. I ask that the community support the family. The loss of any loved one is hard, but the loss of a child and a family is unexplainable."
According to court documents and social media pages, Emily Barge was a self-employed goldsmith and photographer.
Kameron was a landscaper who was the founder and owner of Sacred Space Landscaping. On his LinkedIn page, he was also listed as a photographer and filmmaker and involved in multimedia production.
Both were native Montanans.
— The Abbie Shelter is the primary service provider for victims of domestic and sexual violence in the Flathead Valley. People can call the Violence Free Crisis Line at 752-7273.
A memorial fund has been set up for Emily's family.
People can donate to Cody Nevins Family fund here.
Reporter Scott Shindledecker may be reached at 758-4441 or sshindledecker@dailyinterlake.com
---