Raceway Park to permanently close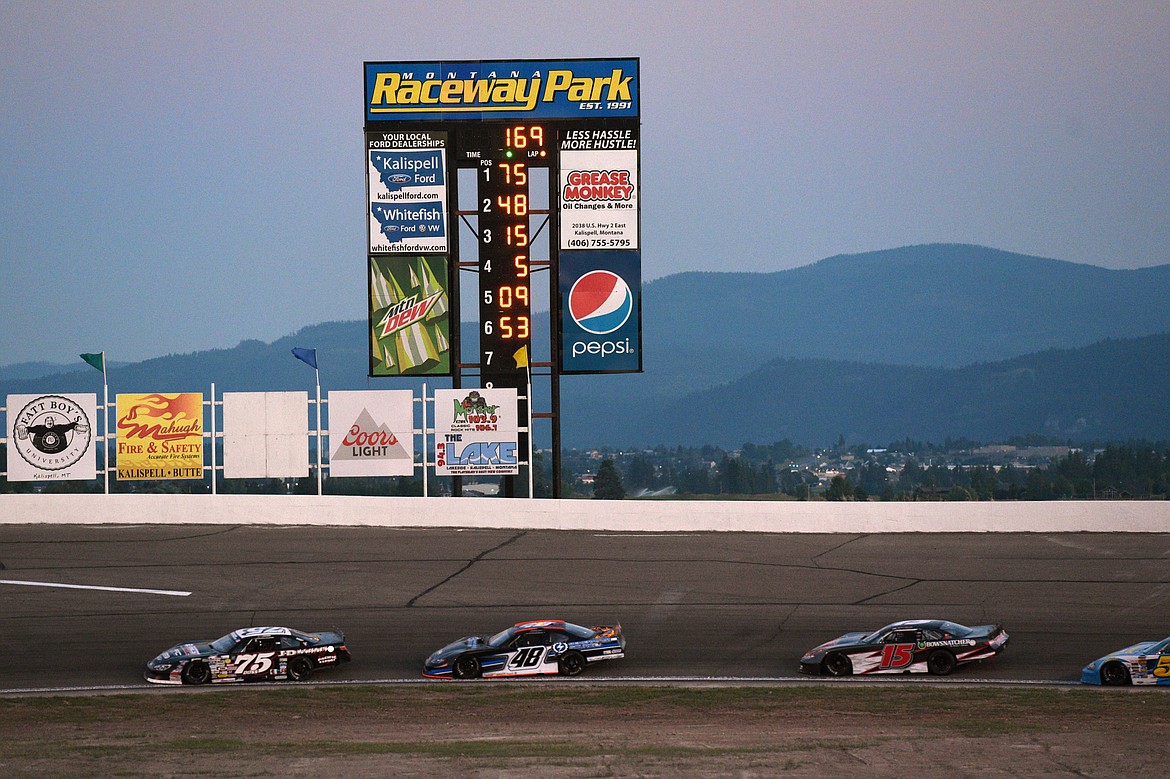 Jeremy Doss in the No. 75 car leads the pack early in the Montana 200 at Montana Raceway Park on Saturday night. (Casey Kreider/Daily Inter Lake)
by
Colin Gaiser
Daily Inter Lake
|
May 28, 2020 1:00 AM
Raceway Park has closed for good due to the "unsurvivable economic impact" of the COVID-19 pandemic, according to a Tuesday statement posted on the racetrack's website.
Thornton Motorsports LLC had already decided to close the racetrack — which opened in 1991 between Kalispell and Whitefish — for the entirety of the 2020 season.
"Through 30 years of racing as a cornerstone facility in the northwest there has been a lot of ups and down," the company stated in a message signed by "The Thornton Family."
"This is not an easy decision like any decision where we know there will be heavy hearts but for the past few years there has been constant vandalism, declining fan bases and support … We want to wish all of our supporters the best of luck in all of your future endeavors."
The racetrack has held the annual Montana 200 since its opening and hosted performances from artists including Alice Cooper, Eddie Money and the Blue Öyster Cult.
In 2018, Thornton Motorsports sought to build a 57-lot subdivision on the 40-acre property where the racetrack is located, but the county commission denied a preliminary plat for the subdivision.
Commissioners Phil Mitchell and Gary Krueger voted to deny during a March 2018 meeting, while Pamela Holmquist voted in favor. Mitchell and Krueger shared concerns over safety and wanted a firm plan for access to the subdivision via Church Drive rather than U.S. 93.
In October 2018, the company sued the Flathead County commissioners for rejecting its proposal, alleging the denial was an abuse of discretion. The lawsuit also said the decision was "random, unreasonable and seemingly unmotivated," according to reporting from the Inter Lake at the time.
The commissioners' decision was upheld in court in 2019.
Reporter Colin Gaiser may be reached at cgaiser@dailyinterlake.com
---