Potter's Field, MudMan owe $150k in wage claims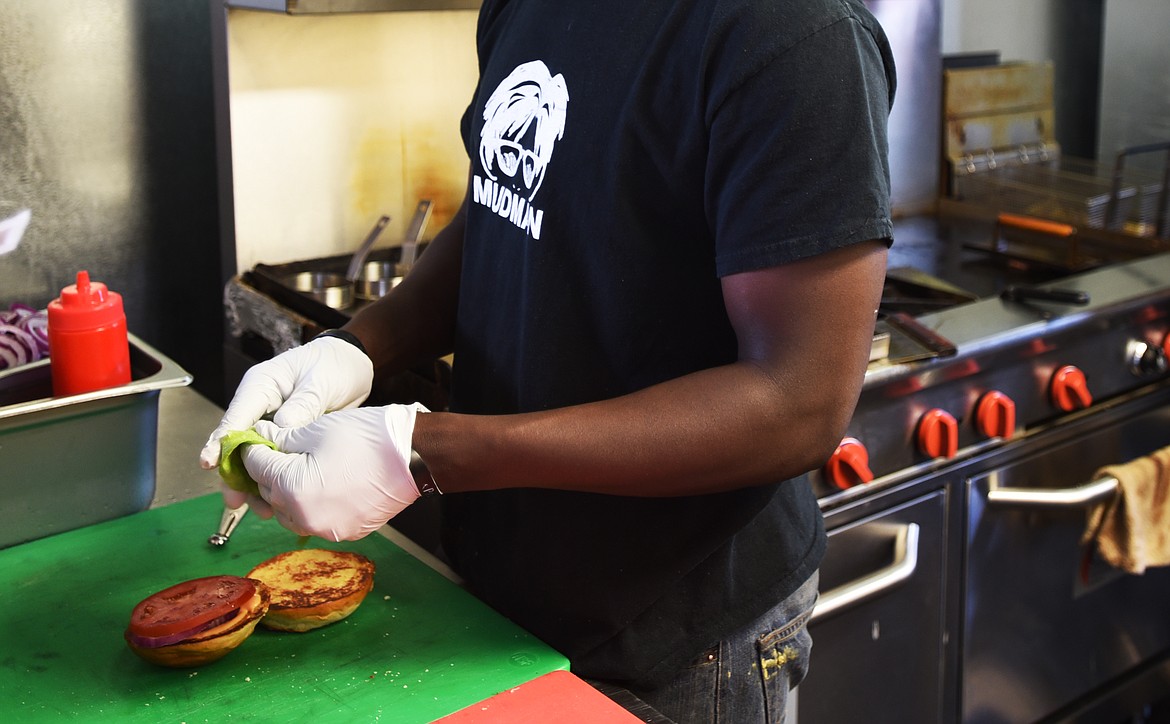 File photograph of the MudMan Burgers location in Happy Valley in 2016. (Brenda Ahearn/Daily Inter Lake FILE)
by
Kianna Gardner
Daily Inter Lake
|
May 28, 2020 1:00 AM
The founders of MudMan Burgers and two nonprofit organizations associated with the local restaurant chain have filed a redetermination request with the state for multiple wage claims brought against them last year.
According to Montana Department of Labor and Industry documents, Michael "Mike" and Pamela "Pam" Rozell owe more than $150,000 in wage claims, which they have now asked the department to reevaluate. The total back pay is spread across six separate wage claims, ranging from about $336 to more than $62,000.
A seventh individual submitted one as well, but the department ultimately determined the Rozells did not owe on the claim. The person had alleged Potter's Field Ranch, MudMan Burgers and by ownership association, the Rozells, owed about $8,550 in combined regular and overtime wages. A handful of others submitted claims as well, but those fell outside of the statute of limitations.
Investigation documents give insight to some of the working conditions former ministry members, employees and interns endured during their time with Potter's Field Ranch and MudMan Burgers.
One individual detailed how he averaged 73.5 hours of work per week, often starting at 8 a.m. and ending as late as 10 p.m. Another person said she did not receive her allotment of tips, even though a customer service guide said those funds would go to employees. Potter's Field explained tips "were plowed back into the general missions fund," but the department ultimately found nearly $6,600 in tips alone were "improperly withheld" and are therefore due.
Those are just several details of two of the seven claims.
The deadline for either party to request a redetermination with the department was May 22, according to Lauren Lewis, a public information officer with the Montana Department of Labor and Industry. The one individual whose claim was denied sent in a request and the Rozells submitted requests for the remaining six claims.
According to an explanation document filed by Potter's Field Ranch legal counsel, Sharon DiMuro, the reasons for seeking redetermination are extensive.
Among other arguments, DiMuro touches heavily on the difference between a donor and/or participant and an intern, which she states was "a term used by Potter's Field, not intended to be a legal definition as defined by the FLSA (Fair Labor Standards Act)."
The filing begins by stating every intern "came to Potter's Field with an expression of desire to donate their time and energies in service of God, through Potter's Field. They didn't come to serve Potter's Field. They didn't come to work in a stable or a burger joint or an art gallery. They came to serve God as an act of sacrifice and worship, in the same way that they would worship through the giving of their tithes and offerings (money). So we could legitimately call them Donor/Participants rather than 'Interns' and it would be synonymous with their identity in relation to Potter's Field."
Upon conclusion, DiMuro states the donors/participants, according to Montana state law, are "persons who are not regular employees of a nonprofit organization and who voluntarily offer their services to a nonprofit organization on a fully or partially reimbursed basis."
DiMuro did not respond to a request for comment on the wage claims or the redetermination requests.
ALL PERSONS involved in the claims, according to documents, were either involved specifically with Potter's Field Ranch Inc. - the nonprofit under which MudMan Burgers previously operated as a doing-business-as entity - or were part of the ministry's former IGNITE internship program.
As a part of the internship program, which is described in a MudMan Handbook provided to the Daily Inter lake, members would sign on to work 40 hours per week at a designated MudMan location and anything over that would be considered volunteer work.
However, when the ministry and burger chain shuttered last summer amid a deluge of allegations against the Rozells, many of those allegations were centered around issues related to MudMan. Interns told the Daily Inter Lake last year their 40-hour work weeks would often top 70 to 80 hours, and that they sometimes worked for as little as $2 to $3 an hour - instances that have now been documented in the wage claims.
According to investigation documents, Potter's Field alleged interns voluntarily entered into the agreement for the IGNITE internship program. Both Montana and federal law allows parties to enter into their own employment agreement as long as the regular rate equates to or exceeds the applicable minimum wage. And according to Montana state law, "any agreement which evades or violates the Wage Payment Act is unlawful and void."
The minimum wage in 2019, the year the claims were filed, was $8.50 per hour.
Earlier this year, when DiMuro announced the Columbia Falls and Kalispell MudMan Burgers locations would be reopening, she told the Daily Inter Lake they anticipated the pending wage claim investigations would not hinder the relaunch. This is because MudMan Burgers now operates as an independent for-profit business as opposed to a doing-business-as arm under Potter's Field Ranch nonprofit organization.
DiMuro explained the decision behind the relaunch was so that the Rozells could become "primary donors" to Potter's Field Kids by donating 50 cents from every burger sold to support the program. The program supports children in other countries such as Uganda, Guatemala and Costa Rica, but leaders from other churches formerly affiliated with Potter's Field allege the program isn't helping nearly as many kids as it used to and that donations aren't being used appropriately.
The Columbia Falls MudMan location officially opened its drive-through window in early May, but to a small group of protesters. The Kalispell location has yet to open its doors.
Reporter Kianna Gardner can be reached at 758-4407 or kgardner@dailyinterlake.com
---