'My life changed in a second': Bigfork senior overcomes cancer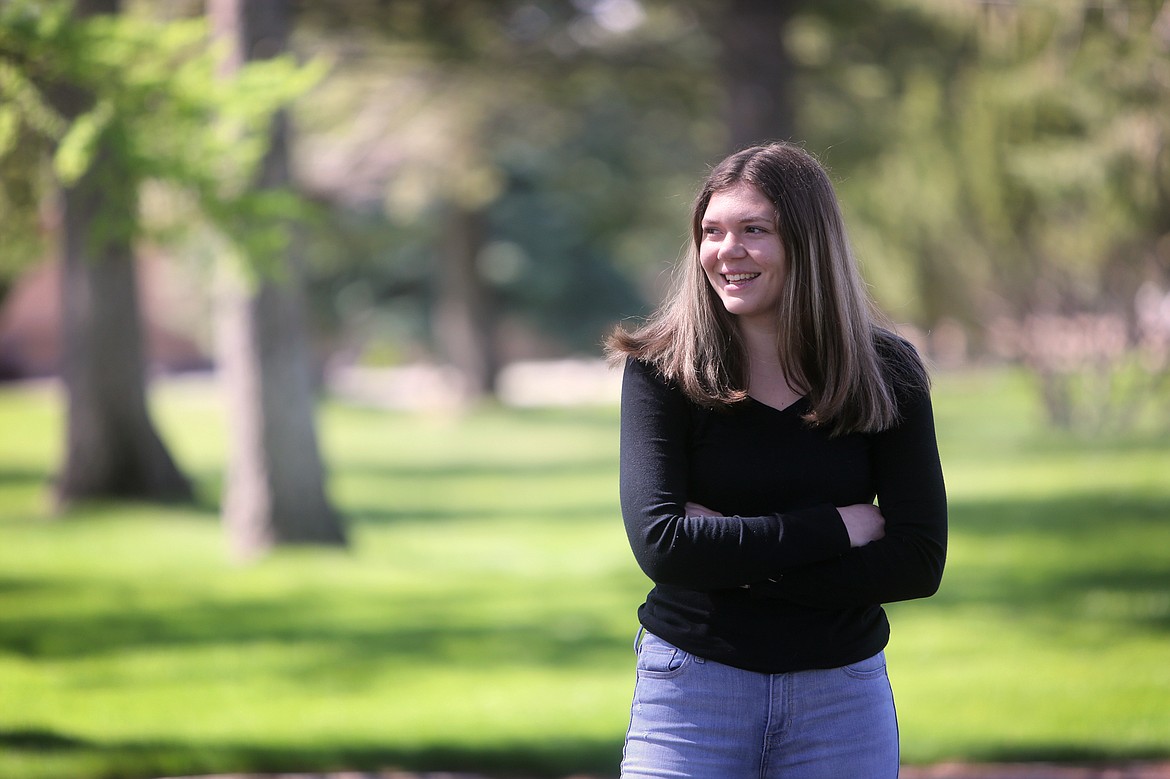 Bigfork's Carly Stodghill survived cancer and a pandemic during her high school career and will start her next chapter at Boise State University this fall. (Mackenzie Reiss/Daily Inter Lake)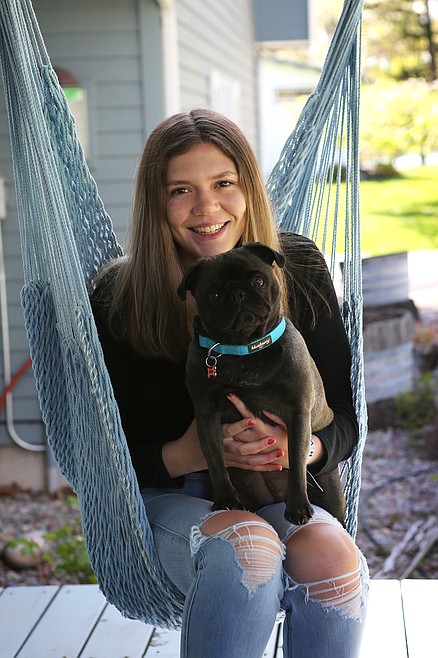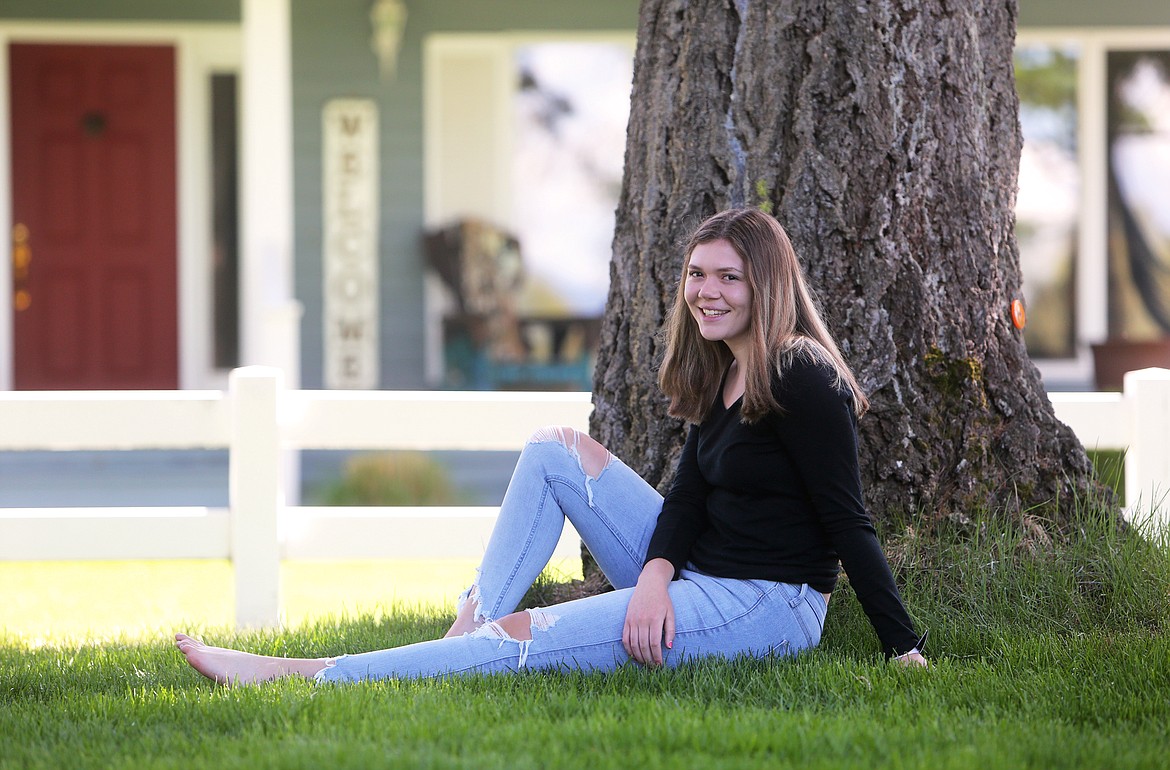 Bigfork's Carly Stodghill survived cancer and a pandemic during her high school career and will start her next chapter at Boise State University this fall. (Mackenzie Reiss/Daily Inter Lake)
Previous
Next
by
MACKENZIE REISS
Bigfork Eagle
|
May 28, 2020 1:00 AM
[Today the Inter Lake begins a week-long series spotlighting standout graduates with the Class of 2020.]
Up until her sophomore year of high school, Carly Stodghill lived a fairly ordinary life.
She attended Bigfork High School where she was a member of the National Honor Society and Partners Club for Special Olympics. She played volleyball and golf and had an after school job at Eagle Bend Golf Club a few days a week, cleaning clubs and carts in the bag room.
She liked math, her friends and her long brown hair that ran halfway down her back.
But in July of 2017, things started to change.
Stodghill noticed a pain beneath her left arm and had doctors check it out when she went in for a routine physical. They wanted a closer look after her initial exam so she had an ultrasound and then surgery — her first — so they could remove it.
Stodghill was certain that with the offending matter gone from her body, she'd be fine.
She was 15 years old, after all, and an athlete.
But when she walked into the doctor's office after her surgery, she was met with silence.
For what seemed like a small eternity, the surgeon simply stared at her, saying nothing.
"It felt like the silence lasted forever," Stodghill remembered. "I knew what was coming at that point."
Cancer.
A scan later revealed she had Stage II Non-Hodgkin's lymphoma and that one of her lymph nodes had grown larger than a golf ball in size.
"My life was totally normal five minutes before I walked into that room. Then it just changed in a second," she said. "Honestly, my first thought was my hair. I was like, 'I'm going to lose my hair my sophomore year of high school.'"
Things moved quickly after that. Within 10 days, Stodghill had another procedure and began chemotherapy. Her second surgery was for the implantation of a port in her chest through which her doctors would administer her chemo medication. She had chemotherapy once a week at The Rock Medical Center in Kalispell for eight hours in the first session and two to three hours in the sessions to follow.
The first day she went in, Stodghill didn't know what to expect. Her mom had brought bags of things to keep her entertained, but she didn't touch any of it. She felt too nauseous and ended up spending the night in the hospital. She fared better in subsequent treatments, but occasionally had to miss a day or two of school — and sometimes as many as three or four days per week. But through it all, Stodghill tried to keep a positive attitude. She had to drop an advanced math class and her grades didn't quite meet her expectations, but Stodghill didn't give up.
"I didn't want to be down in the process because I knew it would make it worse," she said.
She even kept her job at the golf course.
"I found that if I kept myself busy I would spend less time thinking about what was actually going on in my life," Stodghill said.
She also found solace in fellow Valkyrie and cancer survivor, Rakiah Grende. Grende could relate to Stodghill's journey since she'd faced her own fight with cancer after being diagnosed during her sophomore year with a teratoma — a large tumor attached to her right ovary.
"She was the best person to talk to because she knew exactly what was happening," Stodghill said.
Stodghill also found inspiration in another chemo patient, a younger girl who had been undergoing treatment for 28 months.
"I've never seen that girl upset, mad — anything. She's just so happy that she gets to live," Stodghill said.
So when she found out that her new friend was being made fun of at school because of her port scar, Stodghill stepped in.
"She was getting made fun of for having a scar because she was only in first grade at the time. I started hanging out with her like once a week," she recalled. "She totally changed my perspective on everything. She never stopped smiling."
Meanwhile, Stodghill faced her own challenges with cancer.
She underwent three months of chemotherapy, and over the course of her treatment, the thing she was dreading most came true: her hair began falling out. During a 6 a.m. shift at the golf course she remembers playing with her hair and watching dejectedly as chunks of it fell out in her hands.
"I couldn't brush it without losing what felt like half my hair. I knew I was at the point that I had to shave it," Stodghill said. "I had to shave my head three days before school started — five days before my 16th birthday."
Her father did the honors and she started her sophomore year with peach fuzz instead of brown locks.
But when fall arrived, good news came with it.
In October, Stodghill had an appointment where she'd find out for certain if she was cancer free. The results took a long time to arrive and instead of just sitting there, Stodghill opted to pass the time at a school volleyball game with her friends. They took a break to make a Dairy Queen run partway through, and that's when her mom called.
"She said I was cancer free," Stodghill said, tearing up. "I think I was, like in shock. It was so weird to hear that I was done, it was over. At first it didn't hit me … and then someone hugged me and I started crying."
Word spread quickly among her peers and the school even announced her news at the volleyball game.
While she surpassed one hurdle, another lay waiting in her senior year -- COVID-19.
The pandemic, which resulted in the cancellation of high school hallmarks like prom, and her senior golf season, hit hard, she said. Before the coronavirus, she had planned to graduate early but reconsidered after deciding she didn't want to miss out on these once-in-a-lifetime experiences with her friends.
Even though her senior year is far from what she imagined, Stodghill is already looking ahead to the next chapter. She'll start college this fall at Boise State University where she hopes to explore studies in math and perhaps, education. Her major isn't set in stone, but that's OK. If life has taught her anything so far, it's that the only thing certain is change. And that you keep going, even when the going is rougher than you ever imagined.
"I know everybody says this, but you definitely can't take life for granted," she said. "My life literally changed in a second."
Bigfork High School will hold an outdoor graduation ceremony on the high school football field at 11 a.m. Saturday, June 6. Families will be asked to call the high school to reserve their seating area, which will abide by social distancing guidelines. To help limit large crowds, each graduate will receive four tickets for family members, High School Principal Mark Hansen wrote in a May 21 email.
For those who are unable to attend the ceremony in person, they will be able to follow the graduation ceremony online at www.bigforkschools.org.
Reporter Mackenzie Reiss can be reached at mreiss@dailyinterlake.com or (406) 758-4433.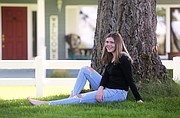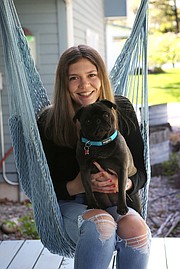 ---