'Play in your backyard' program urges people to explore locally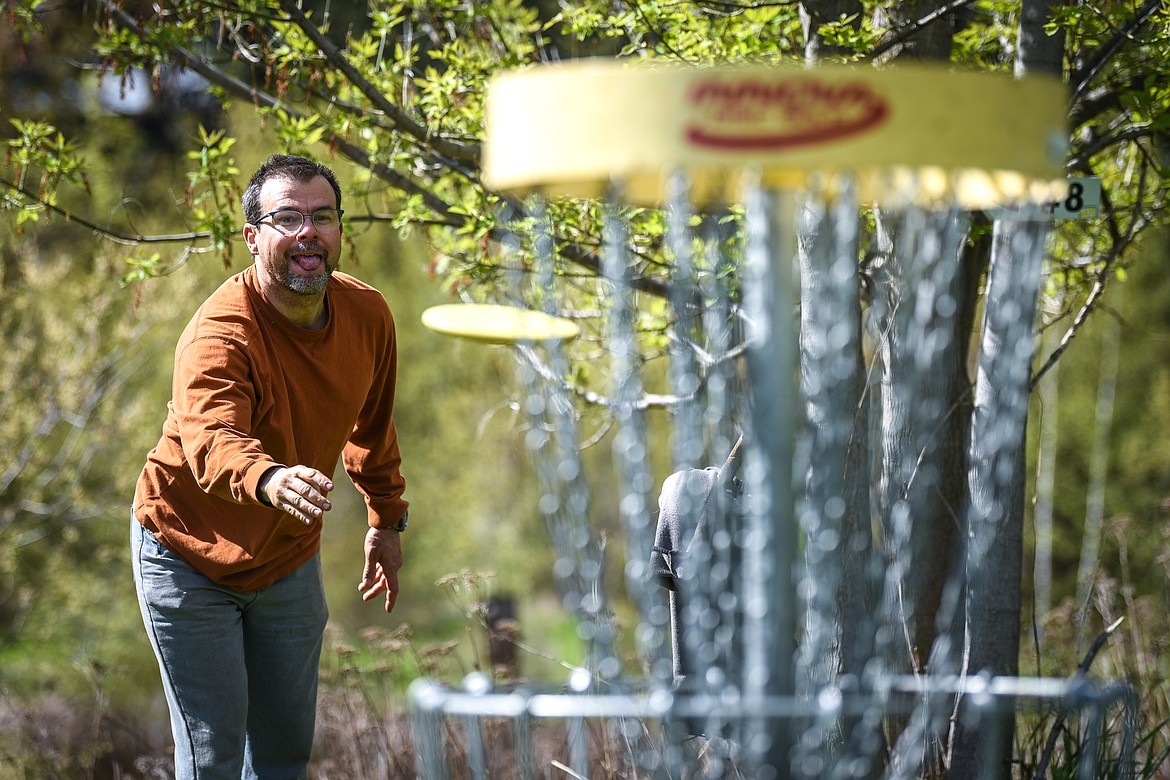 Danny Stoner of Kalispell plays a round of disc golf at Lawrence Park on Saturday, May 16. Local tourism groups are encouraging Flathead Valley residents to take advantage of local attractions this summer. (Casey Kreider/Daily Inter Lake)
by
Bret Anne Serbin
Daily Inter Lake
|
May 26, 2020 1:00 AM
Members of the local tourism industry hope to see a lot more Montana license plates at restaurants, trailheads and other local attractions this summer. Since the COVID-19 pandemic is expected to curtail out-of-state visitor numbers this season, local organizations are encouraging Montanans to take advantage of "touristy" opportunities in their own backyards.
"We have over a million people who come to visit us every summer, but we don't take advantage of what's right here," observed Carol Beck-Edgar from the Flathead Valley Convention and Visitors Bureau. She urged locals: "If you want to take a raft trip, if you want to rent a kayak, this is the time to do it."
Numerous local businesses and chambers of commerce are offering promotions for locals this summer, like discounts for outfitter trips, spa packages and even lodging.
The idea is to introduce in-state customers to the opportunities waiting just under their noses, while also supporting the businesses that will likely be hard-hit by the slow tourist season this year.
"My message is: the tourism industry needs our help this summer," Beck-Edgar said. She was particularly worried about the impact of a drop in Canadian visitors and people who normally take weekend trips from nearby states like Washington.
So to make up for these normal sources of tourism revenue, she decided, "it makes sense that we market once again to our own people more."
She pointed out the Flathead Valley can make a great road trip destination for in-state travelers, a trend that she remembered being a lot more popular when she was growing up in Great Falls in the 1950s and 60s. "Remember that trip you took with your family?" she reminded Montanans from across the state. "Come on over and play for the weekend!"
The Columbia Falls Chamber of Commerce's "explore your own backyard" initiative is intended to encourage Montanans to do exactly that.
"Support local, vacation local, stay local," urged Chamber Executive Director Laura Gadwa. After all, she pointed out, "you can have the vacation of lifetime right here in your own backyard."
More than 40 "tourist attractions" in Columbia Falls have coupons available on the chamber's website for Montana residents with in-state IDs. Locals can find discounts to places like Glacier Ziplines, Glacier Guides Montana Raft, Odd Fellows Coffeehouse and many more businesses at: https://www.columbiafallschamber.org/explore-your-own-backyard/
"A lot of people don't know what we have right here," Gadwa noted, and she hopes the exposure from this program will change that.
She realized that the Columbia Falls tourism industry will suffer from the impacts of the pandemic, especially the closure of Glacier National Park. Even with the support of local customers, she admitted, "we're never going to match those numbers" from a normal tourist season.
But she said, "We're doing what we can to fill a gap for now."
in Bigfork, Chamber Executive Director Rebekah King is ramping up a similar initiative to support Bigfork businesses that depend so heavily on summer visitors. In the next few weeks, the chamber will provide locals with gift cards to Bigfork outfitters, boat charters and stores that normally cater more to out-of-town customers.
"Really support these businesses this year," she urged valley residents. "Tourist-based businesses are really a part of our community."
Plus, she pointed out, "Since we're likely not going to have that huge tourism year, it's a great opportunity for locals to go out and support it…with fewer people in the valley it's going to be easier to get out and explore, hopefully."
She highlighted Bigfork attractions like the Bigfork Summer Playhouse, which is usually frequented by a much higher percentage of tourists than locals. "Locals don't go as much," she realized. "There so many people who've never experienced it."
So she encouraged valley residents to try out new experiences like the playhouse and to "kind of be a tourist in your own town."
Reporter Bret Anne Serbin may be reached at (406)-758-4459 or bserbin@dailyinterlake.com.
---