Gone but not forgotten: Cemetery association maintains historic graveyard
Maynard Rost, left, and Arlene Wilson clean off the gravestone of Rost's grandparents and Wilson's great great grandparents, Inger D. Amundson Rost and Carl Ludwig Rost, who were the original homesteaders on the Swan River, during the annual cleanup at Lone Pine Cemetery in Bigfork on Friday, May 15. (Casey Kreider/Daily Inter Lake)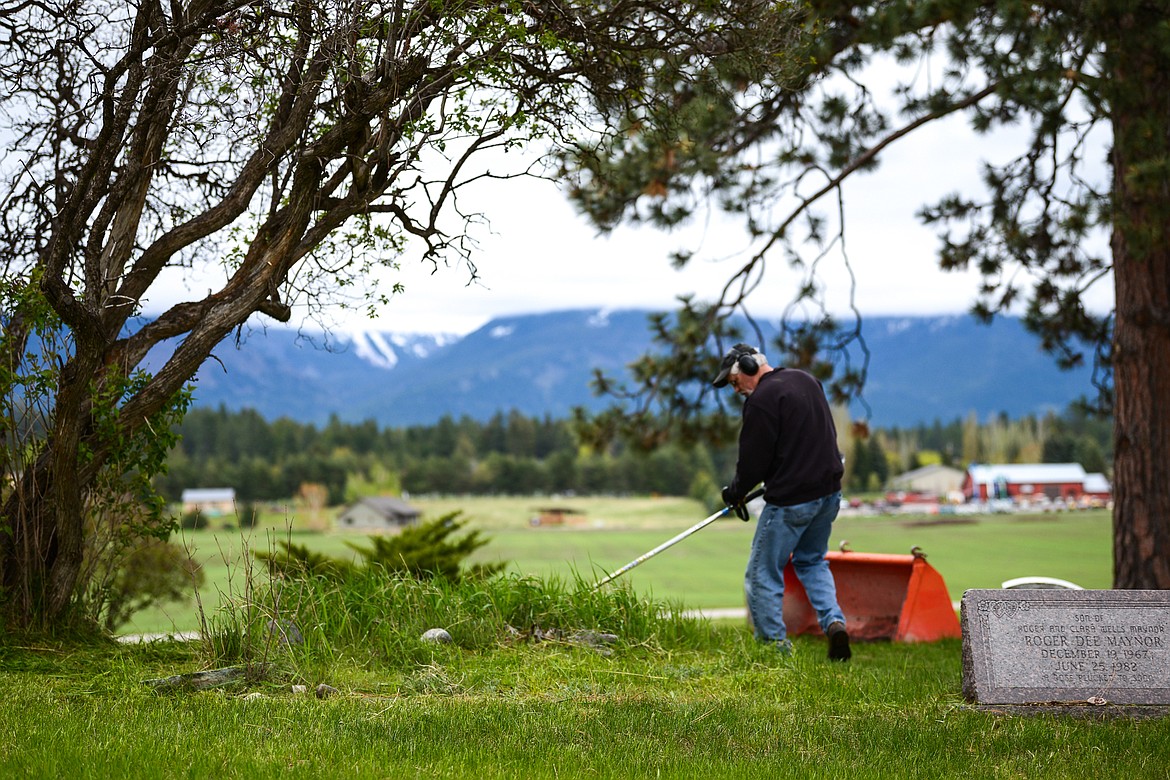 Tom Maxwell uses a weedwacker around a group of gravestones during the annual cleanup at Lone Pine Cemetery in Bigfork on Friday, May 15. (Casey Kreider/Daily Inter Lake)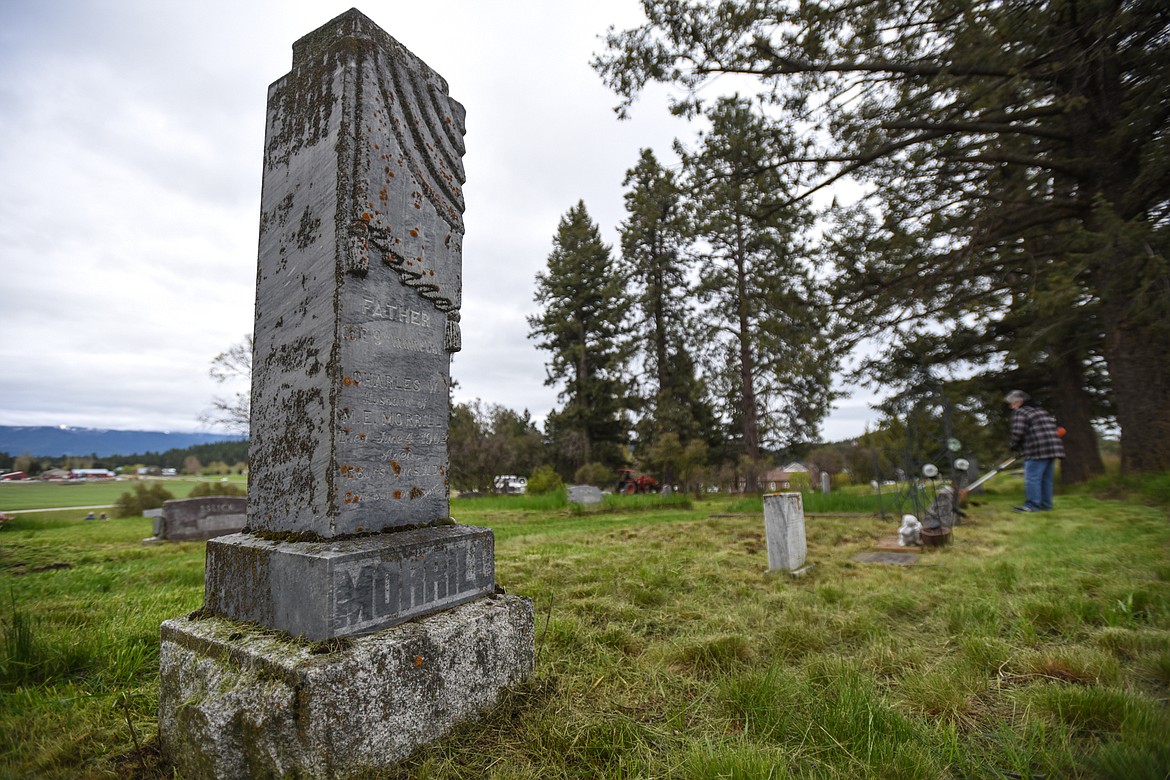 The gravestone of Charles W. Morrill, a U.S. Army veteran of the Civil War, at Lone Pine Cemetery in Bigfork on Friday, May 15. (Casey Kreider/Daily Inter Lake)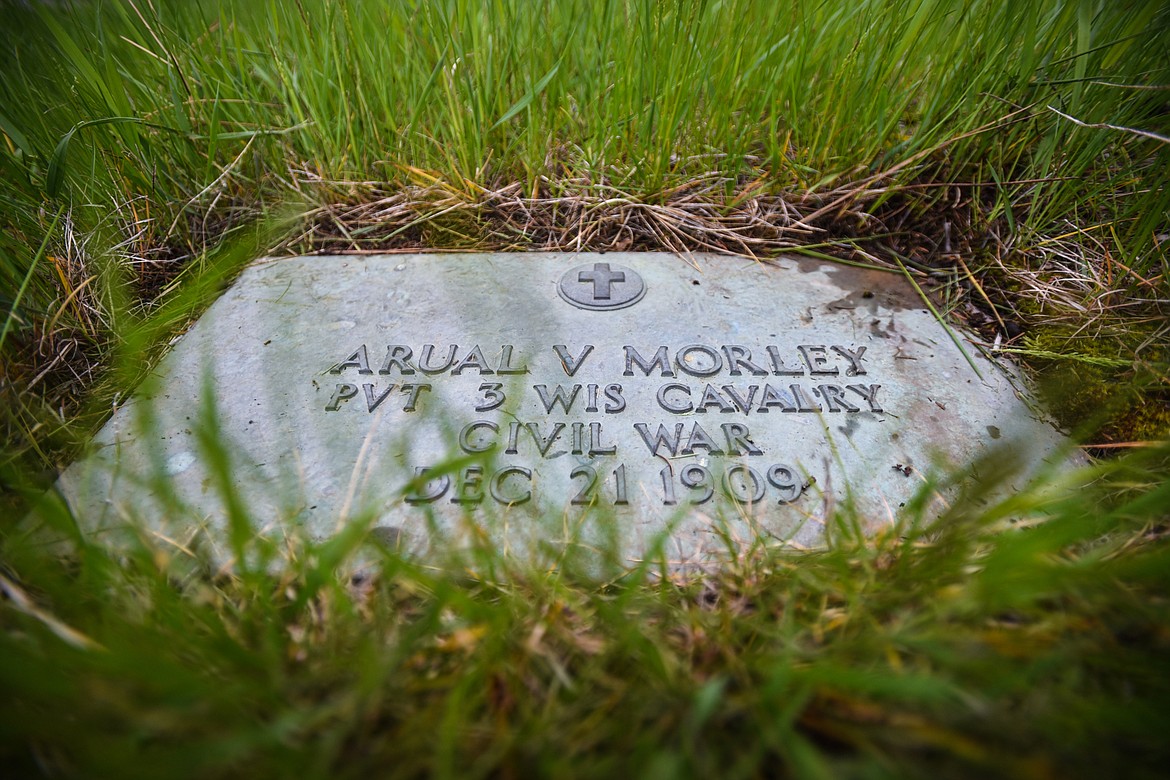 The gravestone of Arual V. Morley, a U.S. Army veteran of the Civil War, at Lone Pine Cemetery in Bigfork on Friday, May 15. (Casey Kreider/Daily Inter Lake)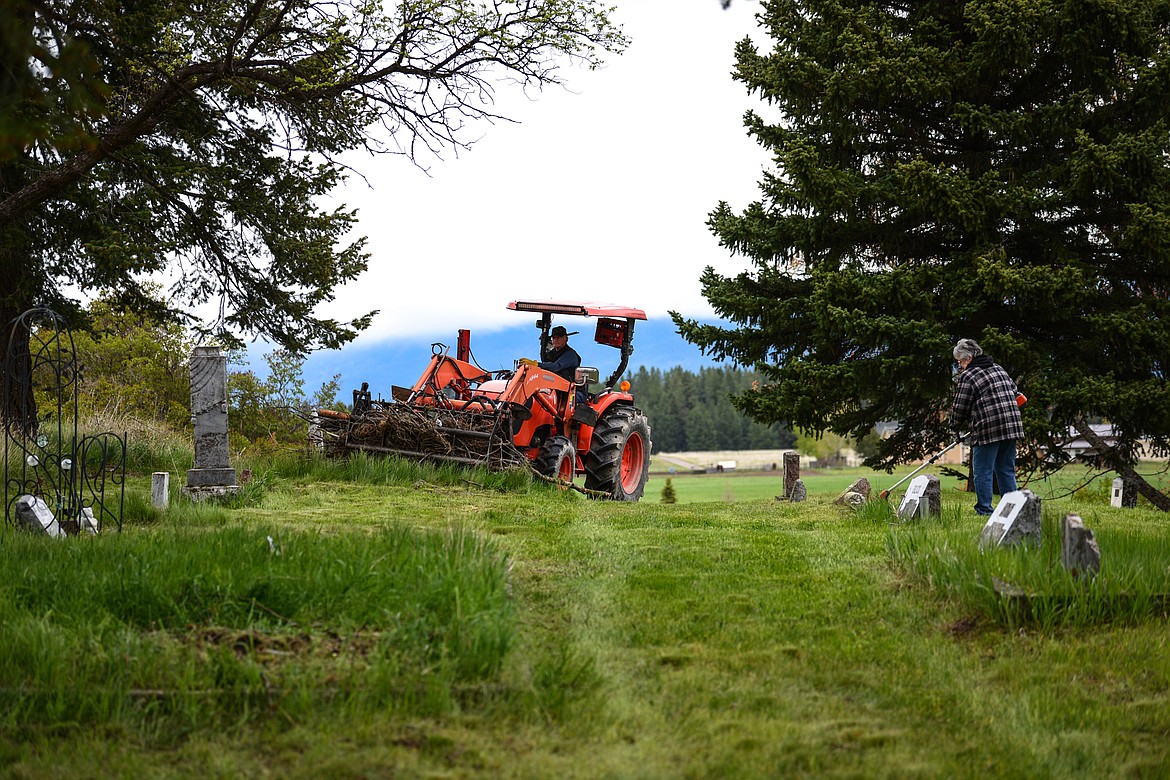 Tim Darr scoops up piles up debris while Jessie Wade uses a weedwacker around gravestones during the annual cleanup at Lone Pine Cemetery in Bigfork on Friday, May 15. (Casey Kreider/Daily Inter Lake)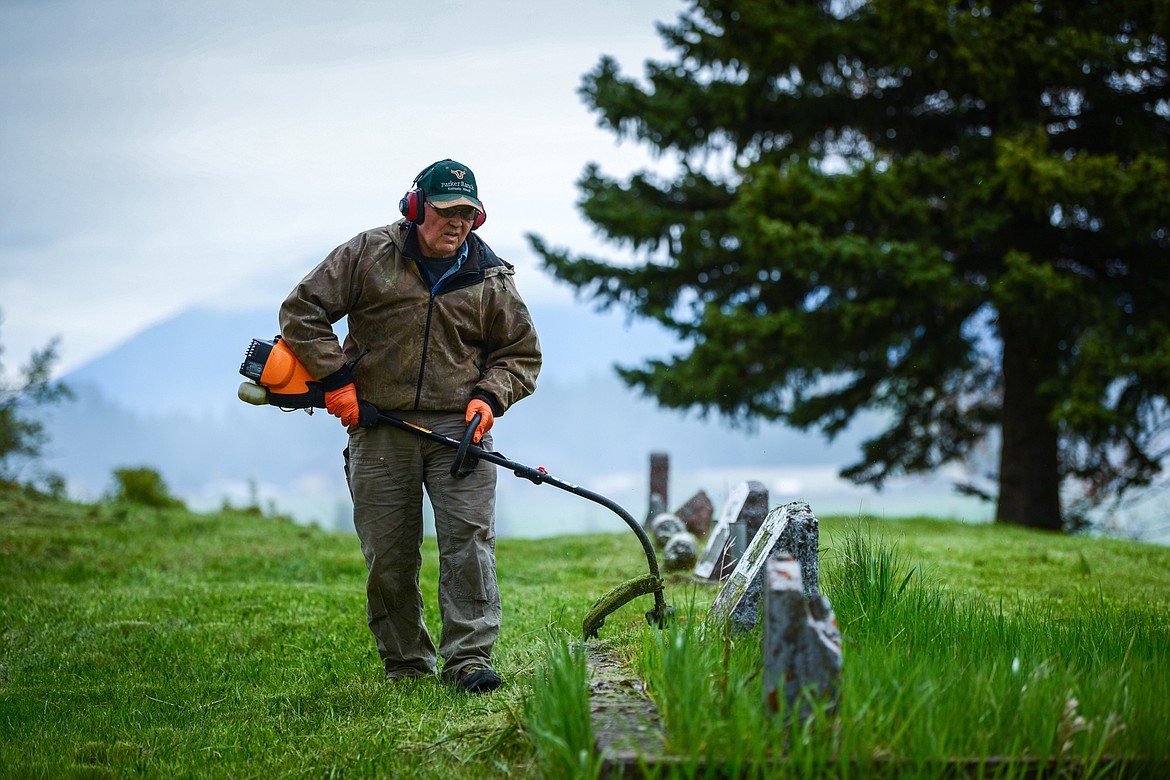 Bill Morton uses a weedwacker around a group of gravestones during the annual cleanup at Lone Pine Cemetery in Bigfork on Friday, May 15. (Casey Kreider/Daily Inter Lake)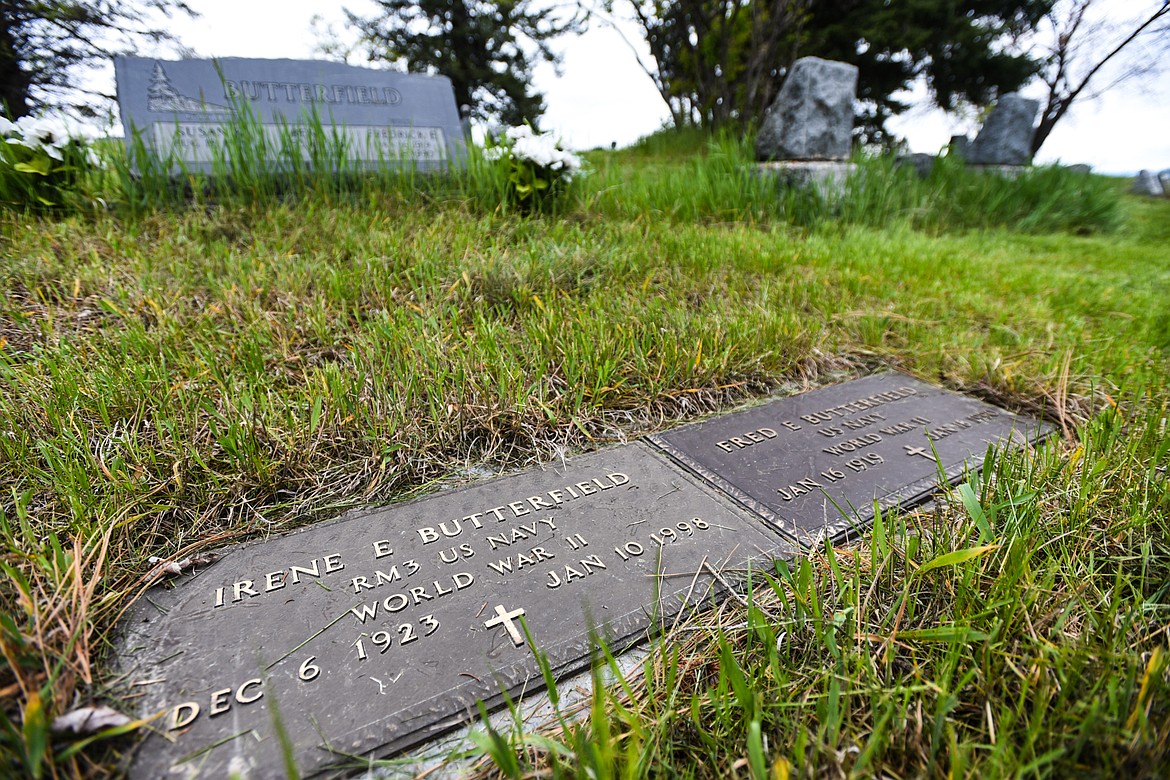 The gravestones of Irene E. and Fred E. Butterfield, U.S. Navy veterans of World War II and husband and wife, at Lone Pine Cemetery in Bigfork on Friday, May 15. (Casey Kreider/Daily Inter Lake)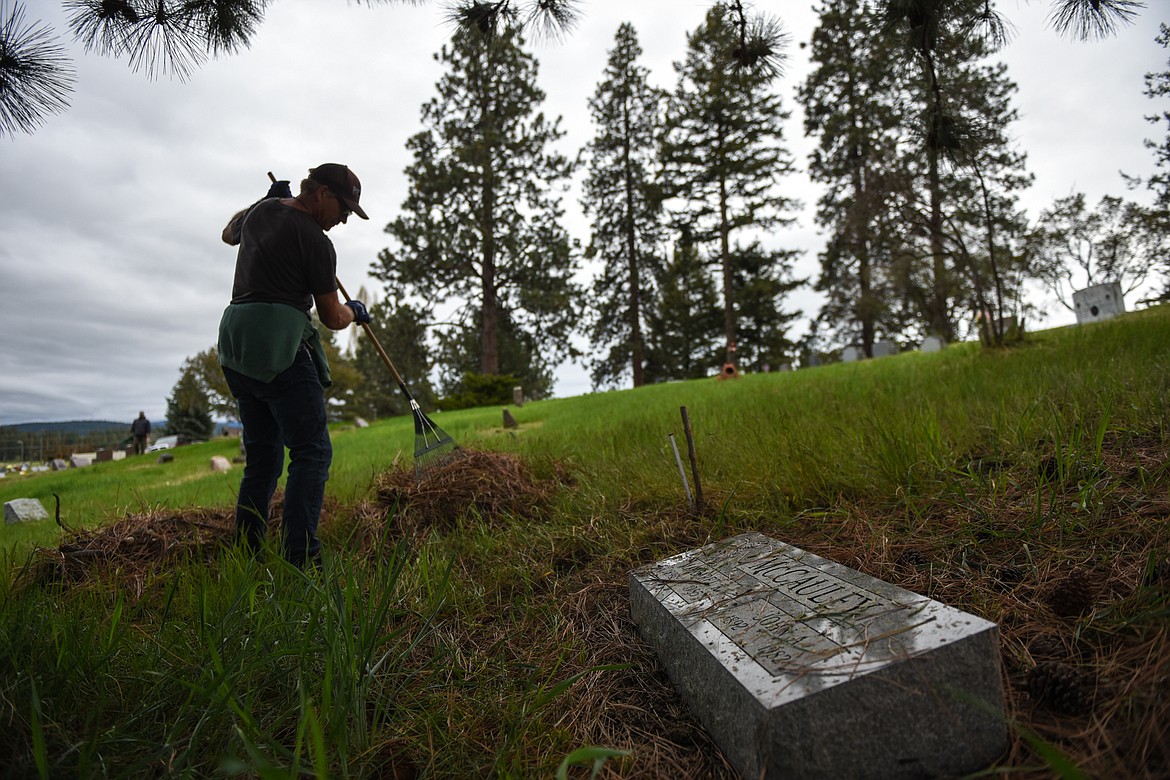 Page Rost rakes debris into piles during the annual cleanup at Lone Pine Cemetery in Bigfork on Friday, May 15. (Casey Kreider/Daily Inter Lake)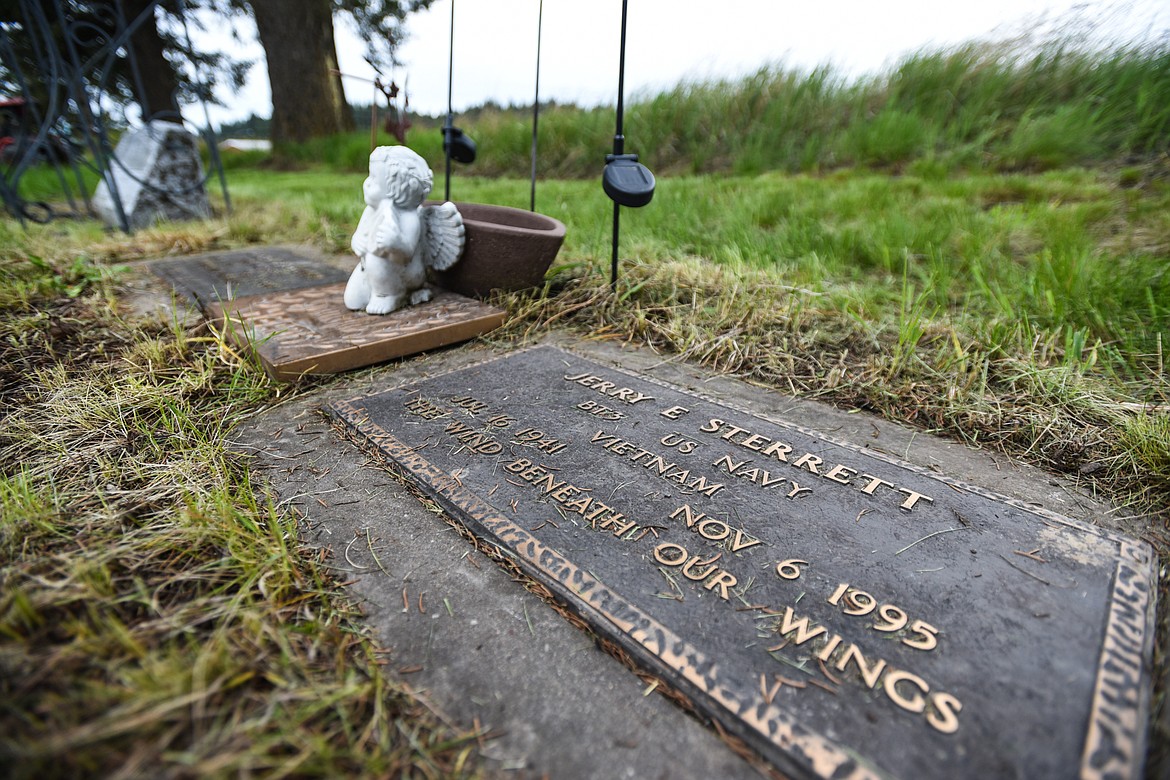 The gravestone of Jerry E. Sterrett, a U.S. Navy veteran of the Vietnam War, is shown at Lone Pine Cemetery in Bigfork on Friday, May 15. (Casey Kreider/Daily Inter Lake)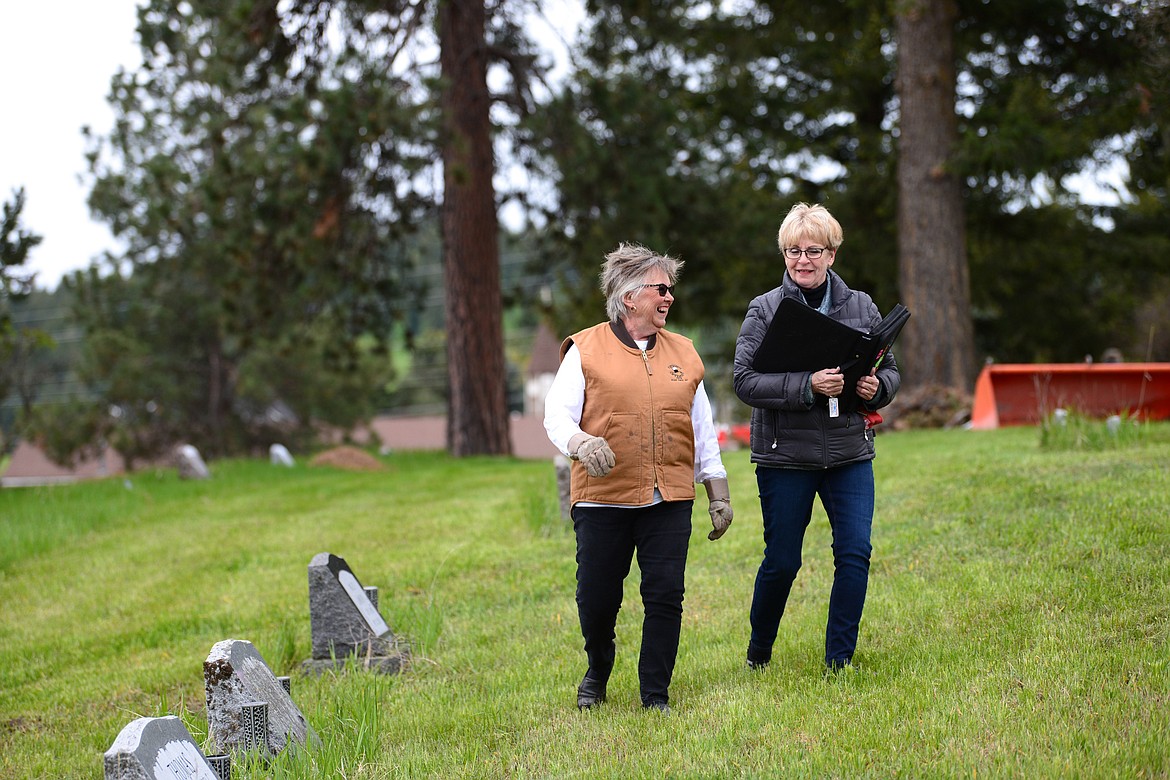 Arlene Wilson, left, and Darlene Smith take a break from cleaning up debris at Lone Pine Cemetery in Bigfork on Friday, May 15. (Casey Kreider/Daily Inter Lake)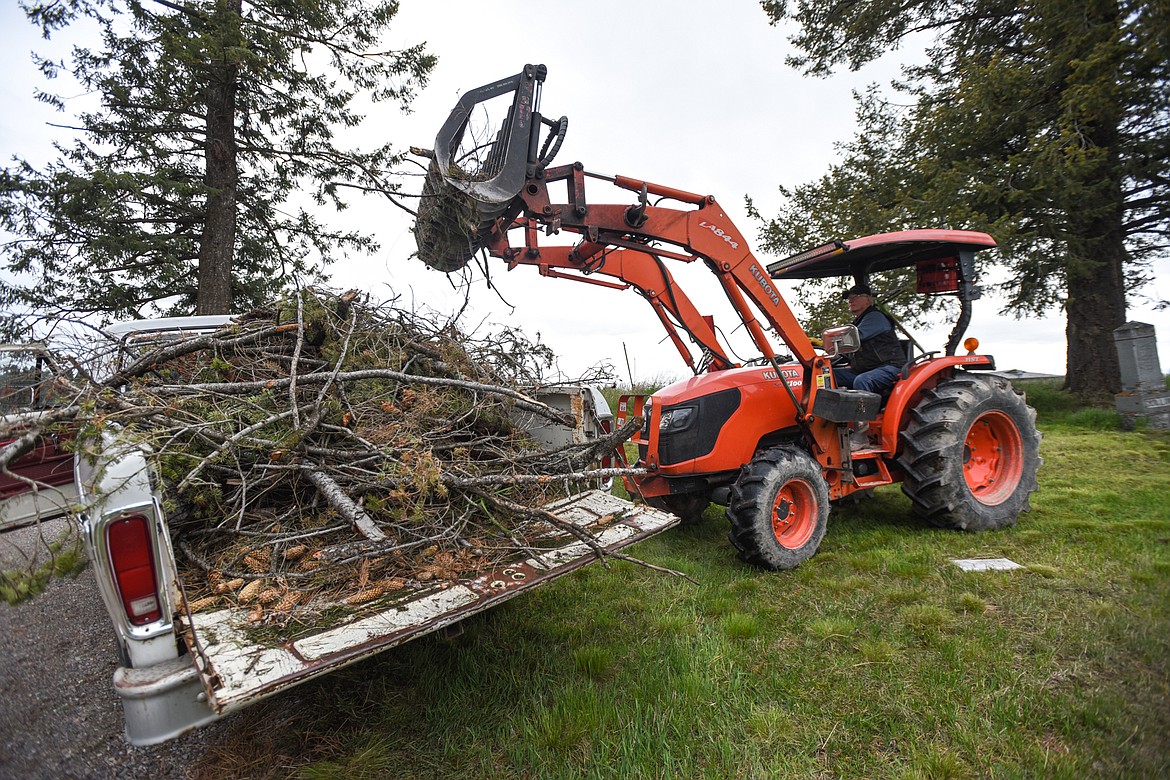 Tim Darr scoops up piles of debris during the annual cleanup at Lone Pine Cemetery in Bigfork on Friday, May 15. (Casey Kreider/Daily Inter Lake)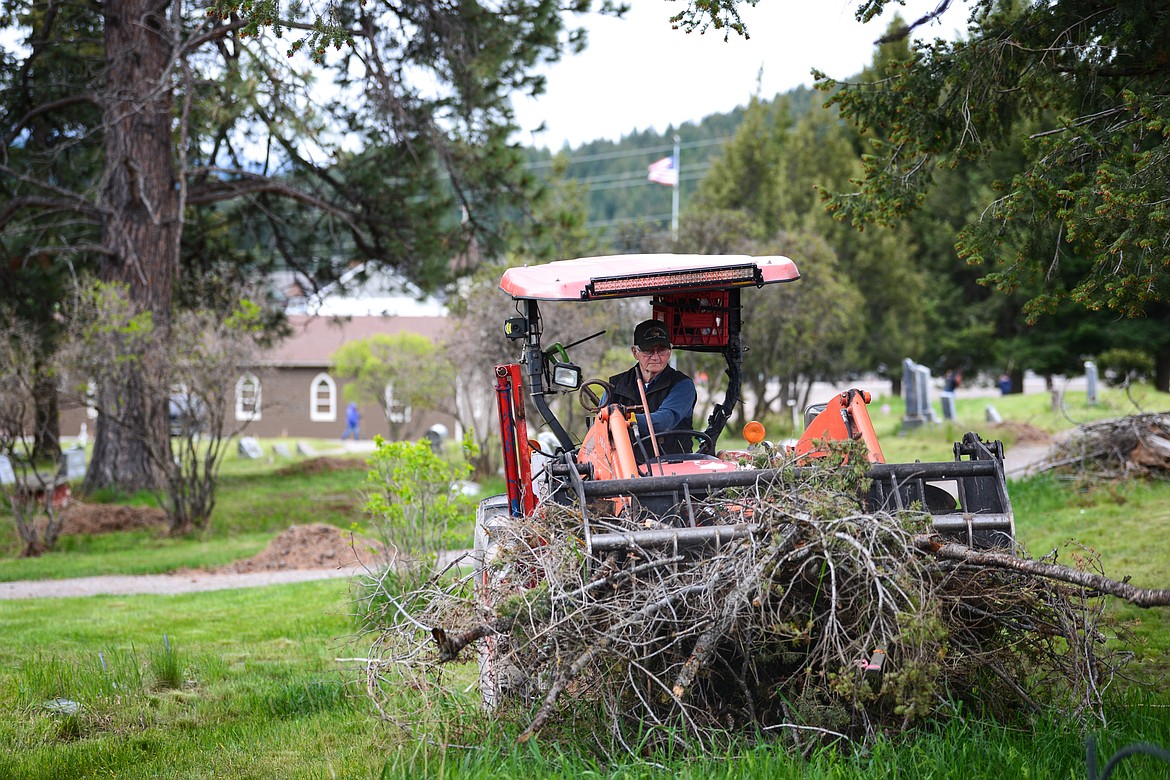 Tim Darr scoops up piles of debris during the annual cleanup at Lone Pine Cemetery in Bigfork on Friday, May 15. (Casey Kreider/Daily Inter Lake)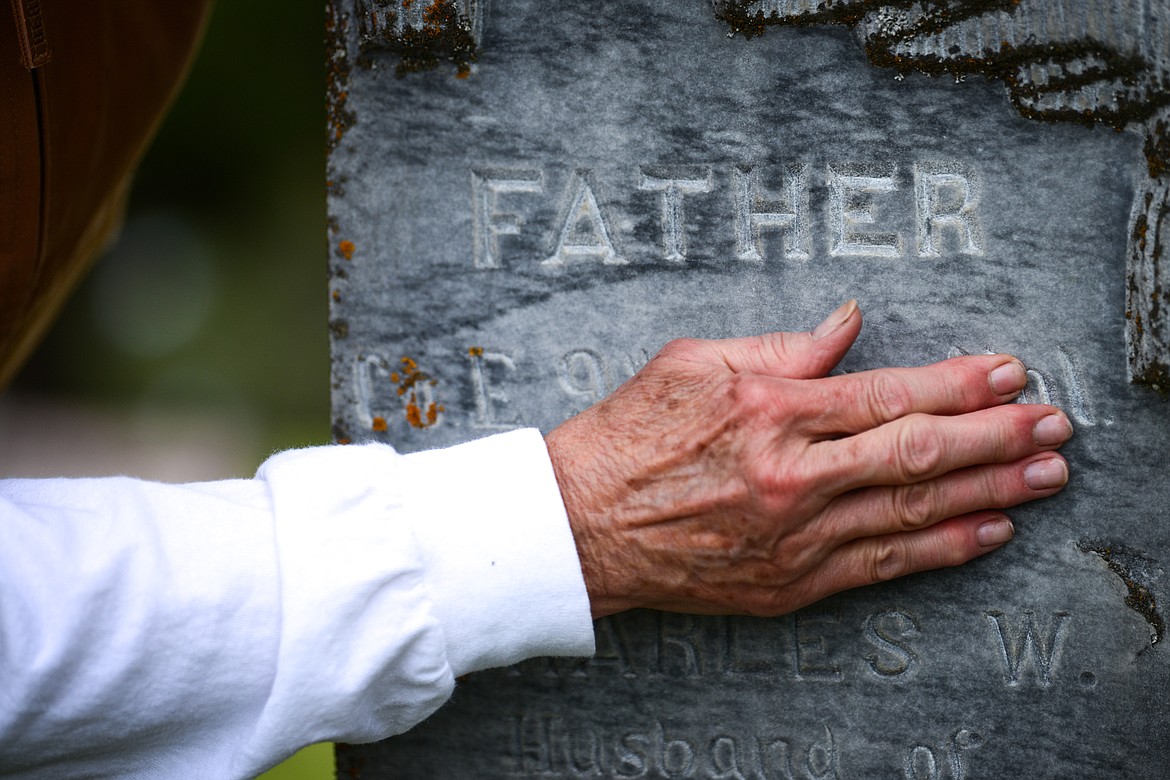 Arlene Wilson cleans debris off the lettering of a gravestone belonging to Charles W. Morrill, a U.S. Army veteran of the Civil War, at Lone Pine Cemetery in Bigfork on Friday, May 15. (Casey Kreider/Daily Inter Lake)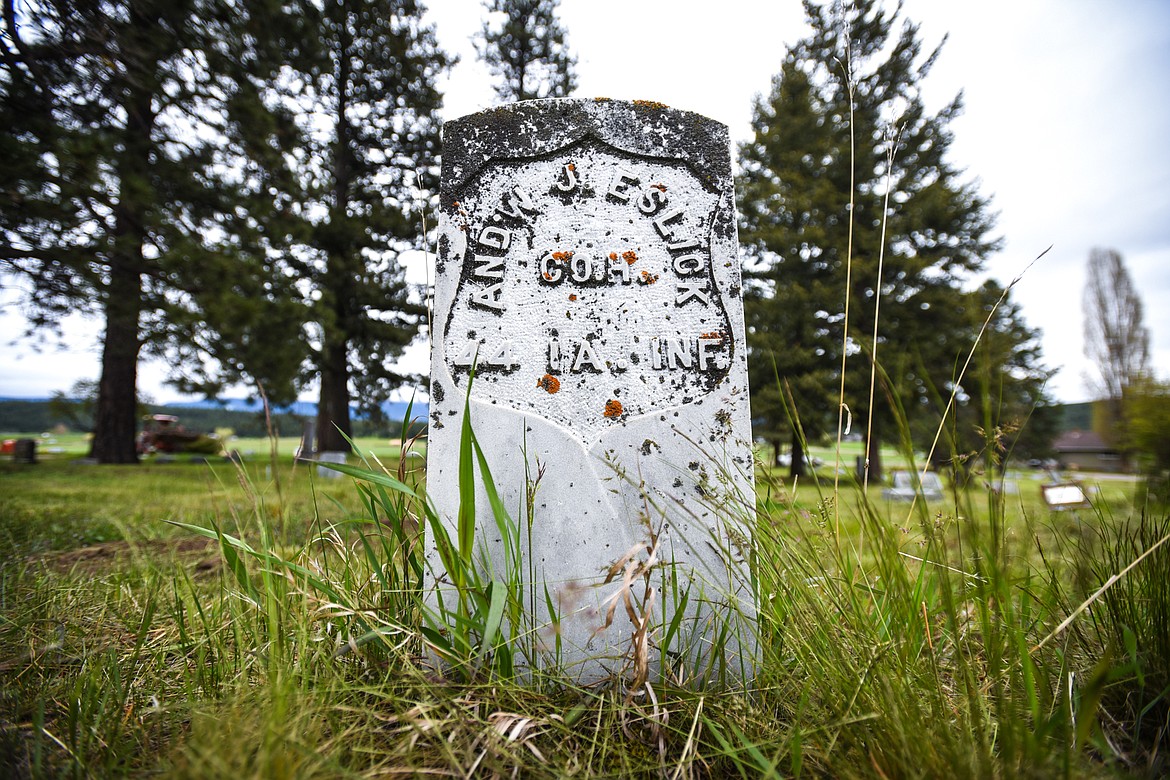 The gravestone of Andrew J. Eslick, a U.S. Army veteran of the Civil War, at Lone Pine Cemetery in Bigfork on Friday, May 15.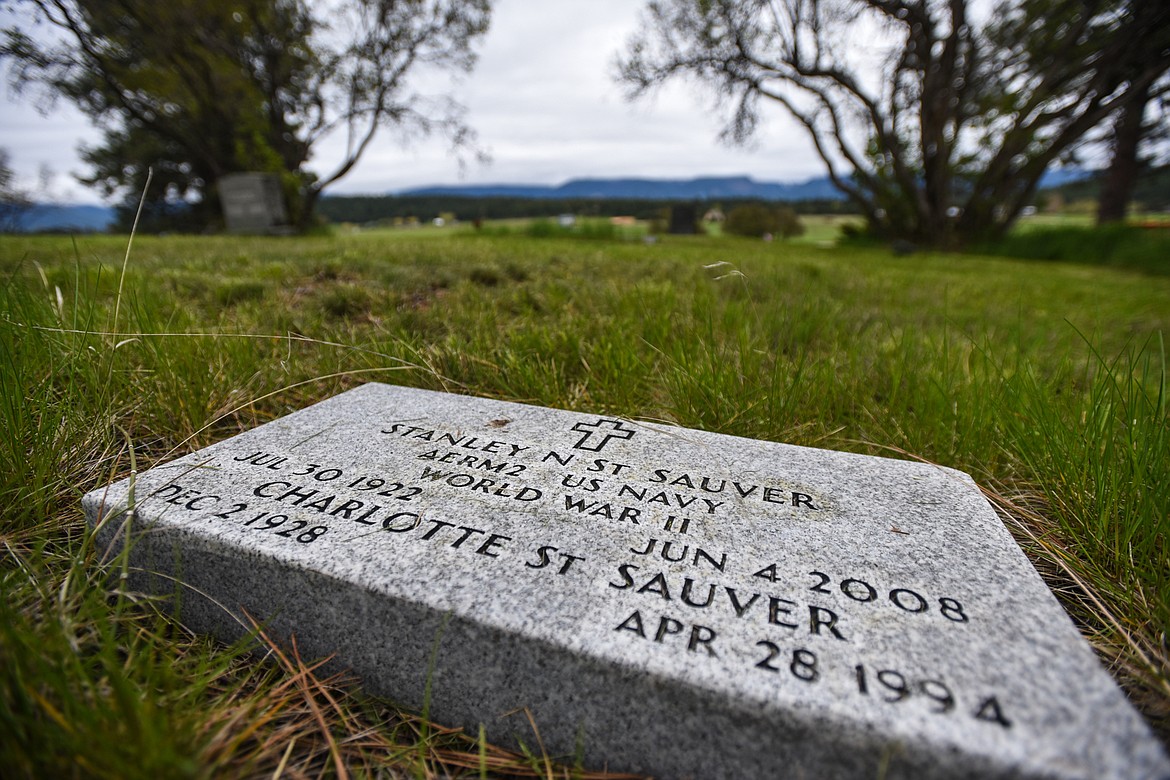 The gravestone of Stanley N. St. Sauver, a U.S. Navy veteran of World War II, and his wife, Charlotte St. Sauver, at the Lone Pine Cemetery in Bigfork on Friday, May 15. (Casey Kreider/Daily Inter Lake)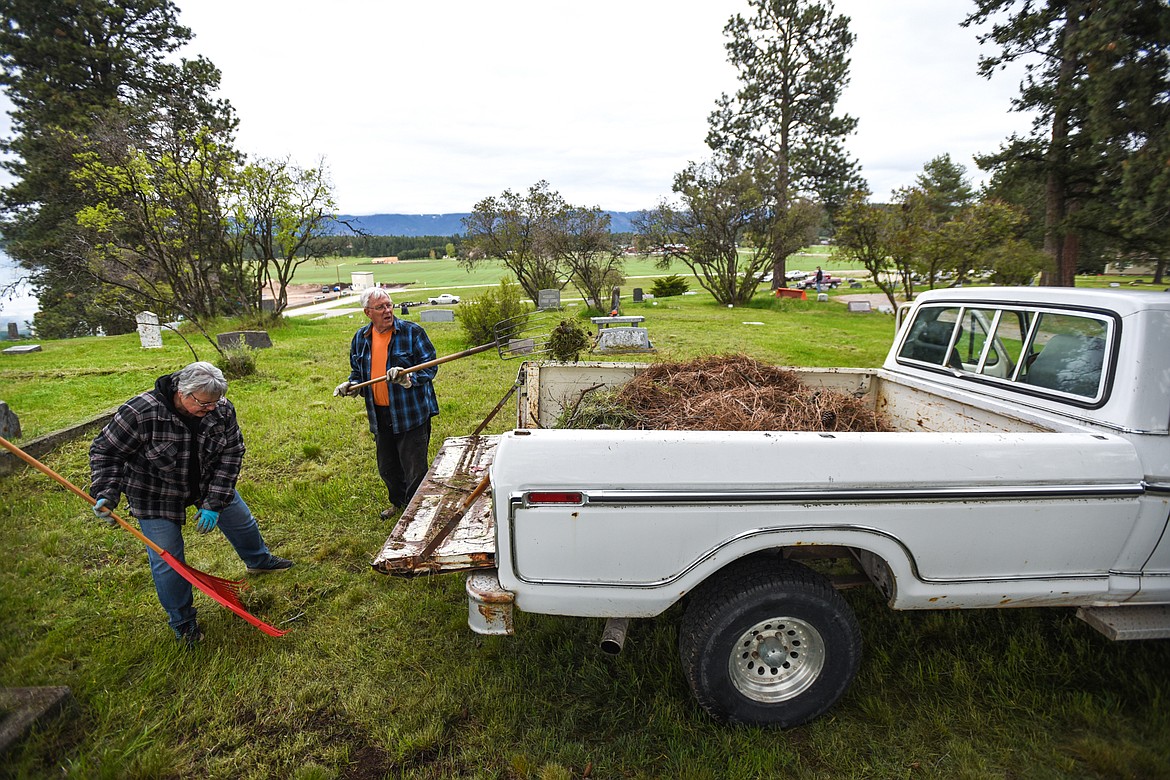 Jessie and Jeff Wade scoop debris into the back of a pickup to be transported to a burn pile during the annual cleanup at Lone Pine Cemetery in Bigfork on Friday, May 15. (Casey Kreider/Daily Inter Lake)
Previous
Next
by
MACKENZIE REISS
Bigfork Eagle
|
May 24, 2020 1:00 AM
One hundred twenty-one years of Bigfork history is laid to rest in Lone Pine Cemetery.
Up a gravel road behind the Real Life Church, the cemetery spans across the hillside, looking out on the Swan Range. For many, a graveyard is a final resting place for their loved ones, visited rarely and thought of even less. But for the eight members of the Lone Pine Cemetery Association, the cemetery holds a different meaning. It's a showcase of Bigfork-past, including many of their own relatives, along with some of the area's original homesteaders and veterans from the Civil War through WWII.
At Lone Pine, local history lives on thanks to this small group of dedicated individuals, who not only maintain the facility, but keep detailed records on its inhabitants. The Lone Pine Cemetery Association was formed Feb. 13, 1917, and has since organized a group of volunteers to clean the site each spring. They also ensure the grounds are mowed regularly and have taken on larger projects like expanding and graveling the roadways throughout the cemetery.
"We all have relatives up there and it's been such a big part of the community. We wanted to see it maintained, and it hadn't been kept up," Arlene Wilson, secretary/treasurer for the association, said. "Old plastic flowers blown around, pine cones and pine needles everywhere and it wasn't getting mowed on a regular basis."
About six years ago, the cemetery was beginning to deteriorate, and a group of concerned citizens held a meeting to discuss the future of the site. Many of the then-board members were getting older and were finding it increasingly difficult to keep up with the demands of the graveyard, she said. But as they stepped down from their volunteer positions, the next generation stepped up, with Wilson among them.
In addition to expanding and improving the cemetery roads, the group is also planning to install a flagpole, plant bushes along the perimeter and start a baby garden — a special memorial area for infants, babies born prematurely and miscarriages.
The baby garden, to be named Heaven's Gain, will be surrounded by 100-year-old wrought iron fencing and will likely be ready next year. A local woman who had lost a child approached the association with the idea of starting the garden.
"There aren't a lot of places available for someone who has a miscarriage," Wilson noted.
The cemetery itself was founded April 3, 1899, by Thomas and Fannie Collins, and back then. the land was likely used as a family plot. The Collins family later gifted the cemetery to a local church, according to Wilson's research, by selling them the property for $1. Today, Lone Pine has 5,500 plots and has been added on to twice over the course of its existence. The original acre-and-a-half is located on the northwest side of the property.
Part of the role of the cemetery association is to keep track of burial dates and the deceased, however, historic records are hit or miss, Wilson explained, as the record keeping was done by volunteers and changed hands multiple times.
"Some of the records were very detailed and others were very random," she said.
"There are plots up there that we know there are bodies in, but we don't know who," board member Jeff Wade saide.
They do know that some of the graves are occupied by significant people in Bigfork's history. Homesteaders like Carl Rost and his wife, Ingar, are buried at Lone Pine.
"Their great-grandson and great-great-grandson were up at the cemetery cleaning up Friday night," Wilson said.
There are also 159 military veterans at Lone Pine, including five who fought in the Civil War. Among them was Andrew Jackson Eslick, who has many descendants still living in the Flathead Valley area, like former superintendent Joe Eslick.
Local business icons such as Eva "Harkness" Gates can also be spotted among the headstones. Gates, whose namesake shop still operates today, started making homemade preserves in 1949 with the excess from her strawberry patch. Her grandchildren and great-grandchildren have continued the family businesses and produce six types of preserves and three varieties of syrups.
To help people navigate the cemetery, Darlene "Weed" Smith is in the process of compiling a list of the deceased in alphabetical order and has enjoyed the research and history in the process.
"I was born and raised here so it's interesting," Smith said. "I was a Weed and my grandma and grandpa had a restaurant in downtown Bigfork when it was just dirt and board sidewalks. Dad and Grandpa would go out and catch fish in the bay for Grandma to cook a meal with."
In addition to keeping records in good order, the association's central effort is a springtime cleanup, which was held on a recent Friday evening. Within a couple of hours, between 20 and 25 people raked and cleared the entire cemetery, the vast majority of whom had family members buried at Lone Pine. For Wilson, it's a means of showing respect for those who've passed on.
"For our parents and grandparents, it was a very big deal," she said. "That was a huge responsibility, to make sure that the graves were clean and taken care of. From their perspective, that's how you respected what those people had done for you."
And for Wilson and the rest of the association, it's a tradition that lives on.
Reporter Mackenzie Reiss may be reached at 758-4433 or mreiss@dailyinterlakecom
---