Board votes to temporarily extend health officer's contract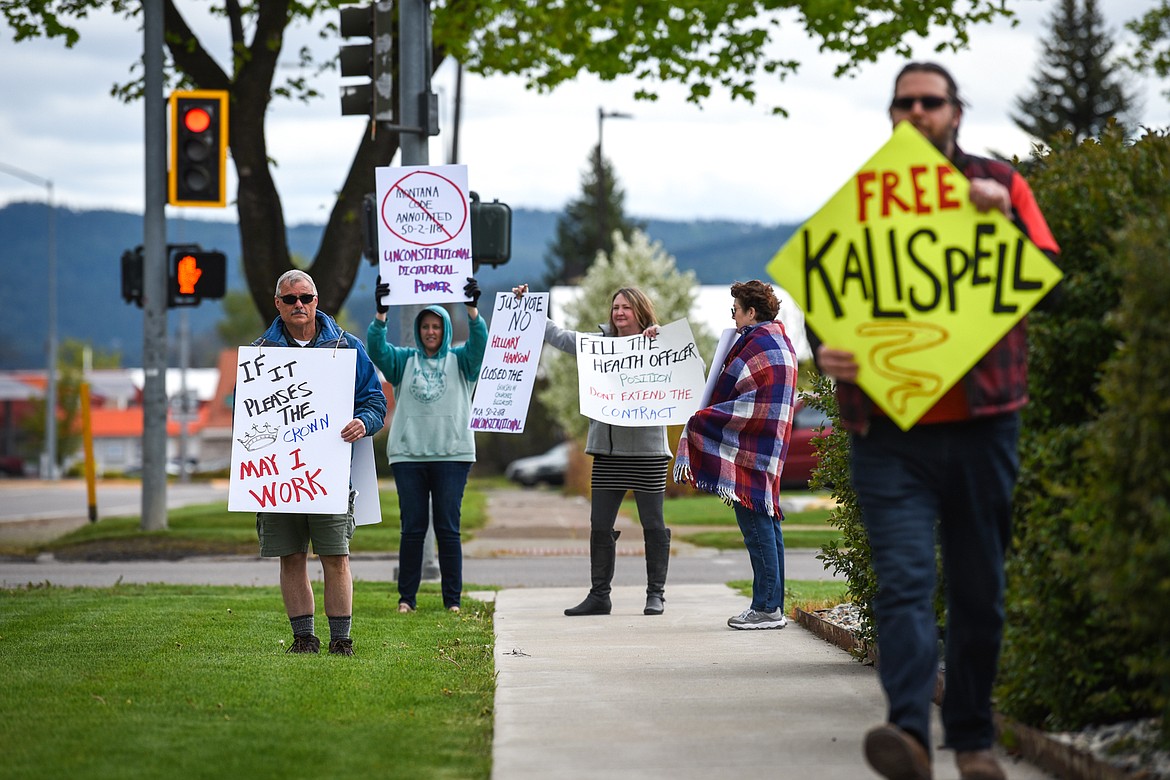 Protesters hold signs along South Main Street at 11th Street West in opposition to Flathead County Public Health Officer Hillary Hanson and the county's COVID-19 pandemic response on Thursday. Hanson serves as the Incident Commander for coronavirus response efforts in the county. (Casey Kreider/Daily Inter Lake)
by
Kianna Gardner
Daily Inter Lake
|
May 23, 2020 1:00 AM
The Flathead City-County Board of Health voted on Thursday to temporarily extend the county public health officer's term to allow more time for a hiring committee and the board to find her replacement - a process members said will take longer than usual due to coronavirus-related setbacks.
The current health officer, Hillary Hanson, announced in early March that she would not be seeking renewal of her contract at the end of her term set to expire June 30. However, she agreed to stay on until her replacement has been found, and according to the new contract, her term was extended through the end of 2020.
In an email to county department heads regarding her decision not to seek a contract renewal, Hanson wrote "please know that this decision has not come easy for me. I love working here and am so proud of how we serve the community. However, I have been provided a unique opportunity to continue my passion in public health but expand it to the state and national level in a consulting position."
Human Resources Director for Flathead County Tammy Skramovsky said the extension will ensure that "there was a continuation of leadership" throughout the duration of the coronavirus outbreak.
Under the terms of the contract extension, Hanson may leave her post at any time so long as she provides two weeks notice.
Skramovsky said it is also likely that Hanson won't continue to serve for the entire additional six months, considering the hiring process is already underway. According to Skramovsky, the job has been posted for about three weeks and the hiring committee has already received 20 applicants. The job posting will close May 25 at 5 p.m.
After the submission deadline, a hiring committee will perform interviews. Once the number of applicants has been reduced to only a handful, the county will run background checks on those individuals.
"Unfortunately this [background checks] takes a long time and drags out the hiring process," Skramovsky told the health board on Thursday. "Typically they only take one to two weeks, but with COVID there is a backlog."
Skramovsky said she estimates the entire hiring process may take up to three months.
HANSON'S CONTRACT extension did not come without a degree of controversy.
During the board meeting, a handful of people gathered outside the health department in Kalispell, holding signs opposing the contract extension and Hanson, who is also serving as the coronavirus incident commander for the county. Aside from the gathering, several individuals submitted written comments against the contract as well. These were read aloud during public comment and those against the new contract mostly cited Hanson's handling of the coronavirus outbreak. One commenter said they were "not impressed with Hillary's performance to date."
In addition, all board members but one voted to approve the contract. Member Dr. Annie Bukacek abstained from voting.
In regards to her decision, Bukacek said the time-line of the decision to extend the contract and the different parties involved with that decision, was confusing. And ultimately, she felt she lacked the information necessary to vote.
"I didn't know this decision was already made. We have a responsibility to vote intelligently and ethically and if we don't have the information, I can't do it. I have to abstain because I wasn't given adequate information," said Bukacek, who joined the board in December.
According to Skramovsky, when Hanson announced she would not seek another term, a personnel committee was formed. The group was tasked with updating the health officer's job description and performing a salary survey to determine a proper salary range prior to the job being posted, and once that information was eventually compiled, it had to first go before the Flathead County Commissioners for approval. However, all of this was underway during the height of the county's outbreak and when it became more of a possibility that Hanson's replacement might not be found by the end of her term, Skarmovsky said a contract extension was pursued.
But among other things, Bukacek said she still wished there had been a special meeting among the board members to discuss the contract and position prior to putting the new contract to a vote on Thursday.
Reporter Kianna Gardner can be reached at 758-4407 or kgardner@dailyinterlake.com
---