Dowler releases cover of Prince's hit '1999'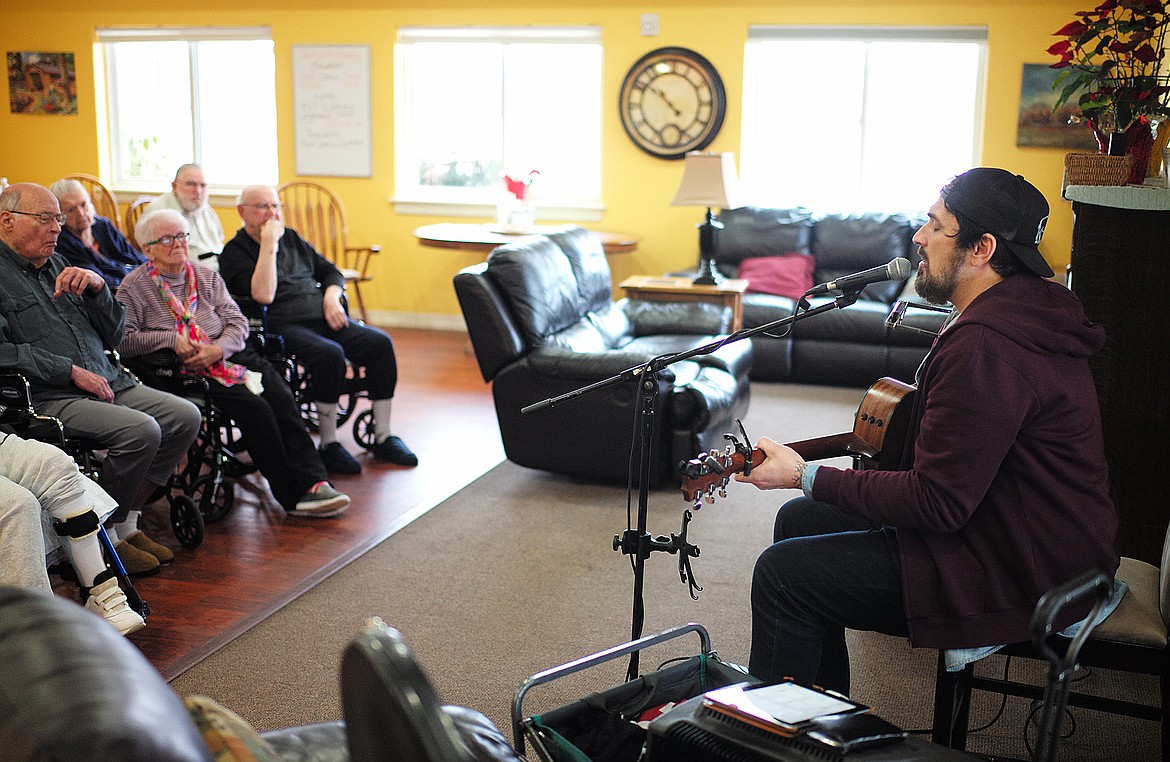 Luke Dowler performs at BeeHive Homes last week. (Photo provided)
Indie-Americana artist Luke Dowler, of Kalispell, presents his stripped-down rendition of Prince's "1999."
"I think we could all use some of his magic right now," Dowler said. "The song is a great reminder that life gets interrupted and disrupted, but we don't have to get caught up in the panic; especially, when circumstances are out of our hands. Take things seriously but remember that life is short and fragile, so enjoy it."
Find Dowler's performance on his YouTube channel at www.YouTube.com/LukeDowler.
The Montana-based vocalist/guitarist was named "an artist you should be listening to" by Paste Magazine and has been featured on HGTV, Without A Trace, Heartland, and used in several independent films. Beyond touring and recording, Dowler has also composed for film and documentaries like "The Forlorned" in 2017 and "Afterlight" in 2018. On the strength of his original songwriting, Dowler represented Montana as the state winner of the Colgate Country music showdown. Now, Dowler is planning releases throughout 2020, starting with "1999," a timeless song that applies to today's trying times.
"I wanted to play '1999' right now, first because it's a fun jam, but for me, it also taps into the reality that the only thing you can control is how you respond to the moment but in the way only Prince could do," Dowler said. "He had a way of working in all the angles into his music. He was a legend."
As part of a military family, Dowler spent his formative years moving often, but always with a guitar in hand. Dowler and some schoolmates formed a punk rock band and decided to have their first show during February in a friend's hay barn. The show packed out, despite the lack of heating at the location. After high school, Dowler fronted the rock band Three Minutes From Home, recording one EP and touring the U.S. and Australia.
Dowler eventually released his first full-length solo record, "Polarized," after signing a deal with an imprint of EMI Records in 2012. Twelve tracks of straightforward rock and roll followed, drawing comparisons to songwriting icons, Springsteen, Petty and even Bob Marley. Dowler tackled social, political, religious issues like human trafficking, homelessness, addiction, suicide, and divisive politics. Departing the Los Angeles based label after the one release, the blue-collar artist began pushing his writing style to find his voice. Dowler self-produced several EPs and singles, releasing them independently from his home in Montana.
Considering himself a working-class songwriter, Dowler toured extensively throughout the US and Canada, also covering ground in Australia and Europe. He has shared the stage with artists like Noah Gunderson, Switchfoot, Tyrone Wells, Rick Springfield, Shenandoah and For King and Country. In 2019, his 120-plus performances included playing Rockwood Music Hall, the Arizona State Fair and touring as an opener with country legend's Shenandoah.
---