Easement rounds off 12,000-acre project on Flathead River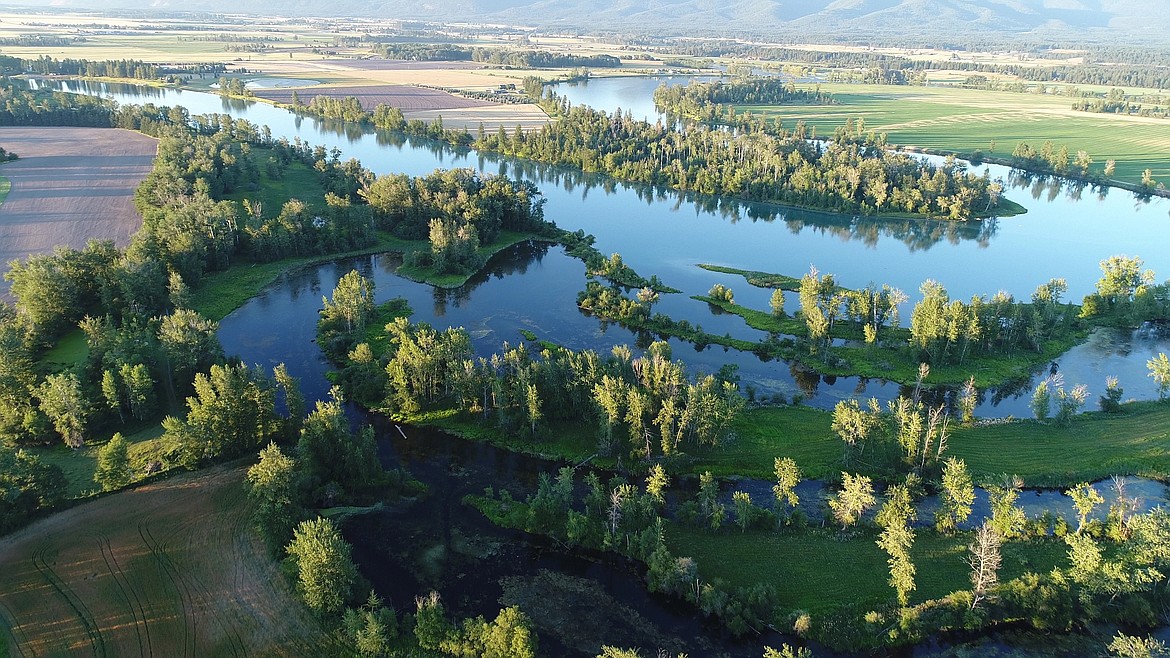 Aerial view of the riparian and wetlands on the Danford property (Photo provided by the Flathead Land Trust)
by
Kianna Gardner
Daily Inter Lake
|
May 20, 2020 1:00 AM
The Flathead Land Trust's "Flathead River Conservation" project was recently completed after a 155-acre parcel was added to a network of conserved land totaling nearing 12,000 acres along the Flathead River.
According to the Flathead Land Trust, the new easement "protects key wetlands and riparian habitat and rich farm soils along a third of a mile of the Flathead River adjacent to 725 acres of conserved private land."
Threatened bull trout and westslope cutthroat trout live in nearby water bodies and thousands of waterfowl enjoy the river and wetlands on the property. And according to the Land Trust, the easement "keeps soils identified as some of the richest in the nation by the Natural Resource Conservation Service in agriculture."
The easement came from the Danford family who had farmed the land for nearly a century. The Danfords chose to donate over a third of the conservation easement through a "bargain sale," the Land Trust noted.
Bob Danford and Terri Peterson said they are "very thankful and fortunate to work with the folks at the Flathead Land Trust that helped us make this ultimate goal come true to perpetually protect and preserve our beloved family farm and its unique wetlands for the future generations to come."
According to Paul Travis, executive director of the Flathead Land Trust, the organization has been working with partners on the Danford family project and other nearby easements for several years now.
As a whole, the Flathead River Conservation project aims to preserve water quality within the Flathead Lake and Flathead River and protect abundant fish and wildlife in the area and rich farm soils. On the Flathead Land Trust's website, the organization describes this project as one that "protects open space in the heart of our valley," and adds that the local water resources are "rare gems unmatched anywhere else in the western United States."
The project was made possible with a $513,000 federal grant from the Natural Resource Conservation Service Agricultural Land Easement Program, which provides funding to farmers to keep their rich land in agriculture.
In order to keep that federal grant, the Flathead Land Trust had to raise a certain amount in non-federal matching funds as well. Through fundraising efforts and partnerships, the organization was able to secure a total of $130,000 in matching funds from organizations including the Flathead Lakers, Cinnabar Foundation, Horne Family Foundation, Charlotte Martin Foundation, Flathead Valley Trout Unlimited and many others.
More than 100 community members also donated to the fund as well.
Reporter Kianna Gardner can be reached at 758-4407 or kgardner@dailyinterlake.com
---