Art a lifetime pursuit for Plains octogenarian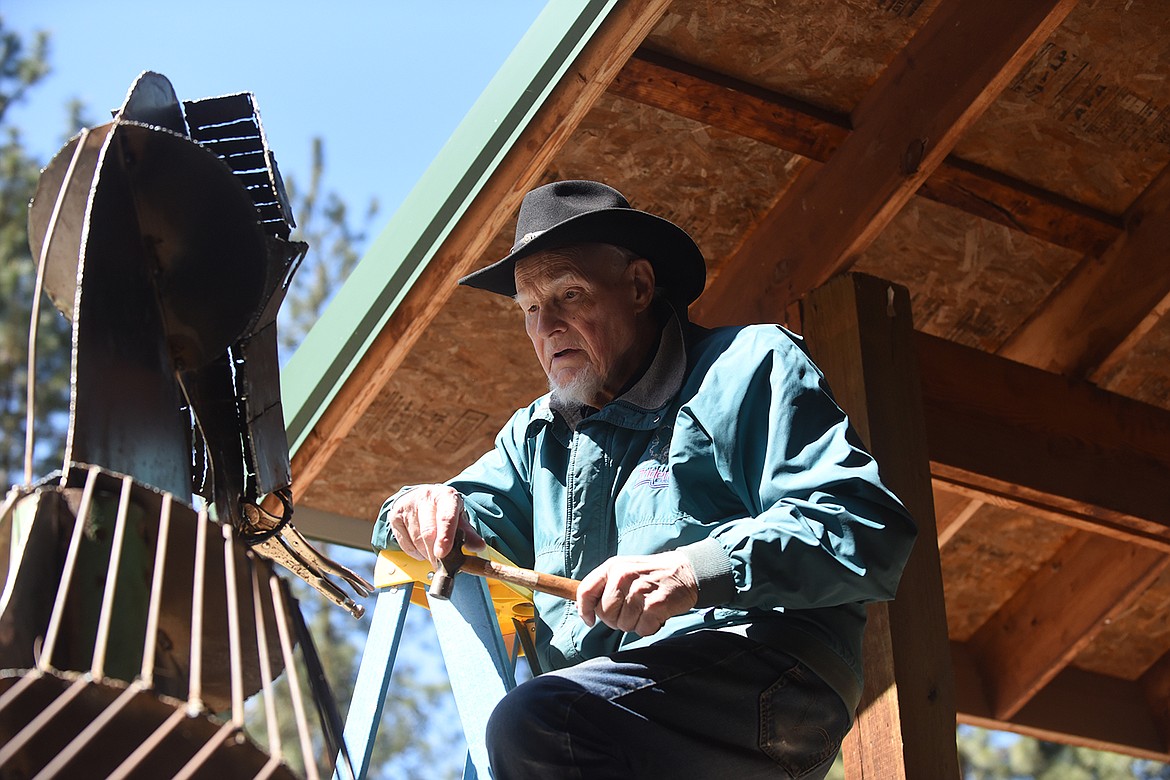 Plains artist Kenton Pies illustrates how he works on a metal horse he is building. Pies has built two horses which are displayed in downtown Plains and he has plans for more. (Scott Shindledecker/Valley Press)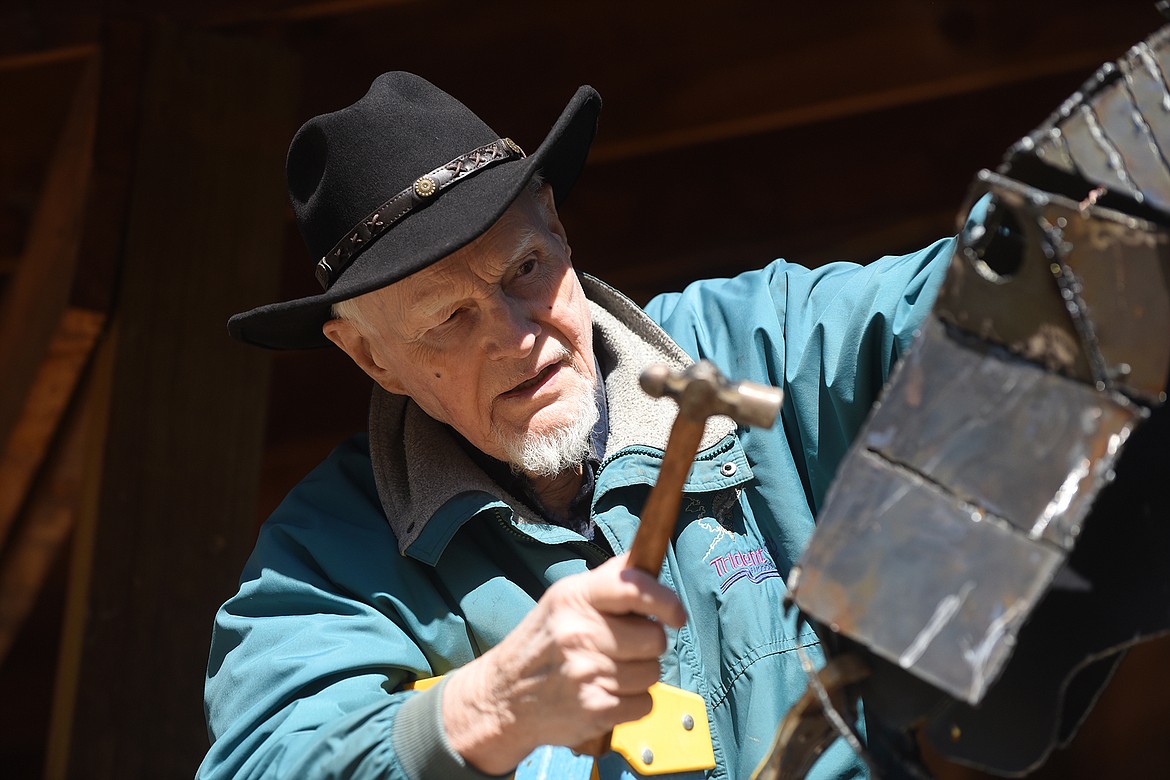 Plains artist Kenton Pies tinkers on a metal horse he is building.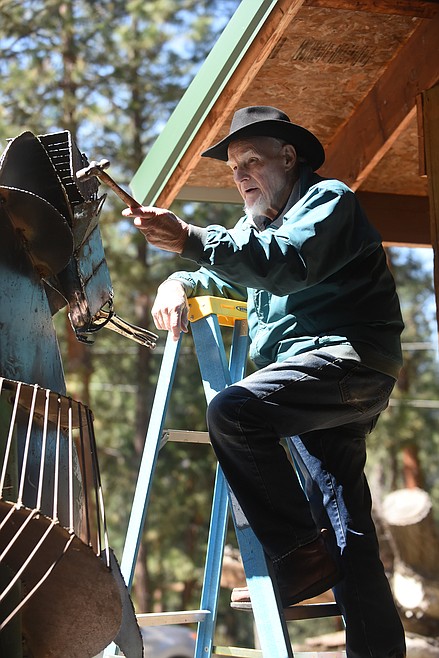 Plains artist Kenton Pies tinkers with a metal horse he is building. Pies has built two horses that are displayed in downtown Plains and he has plans for more. (Scott Shindledecker photos/Daily Inter Lake)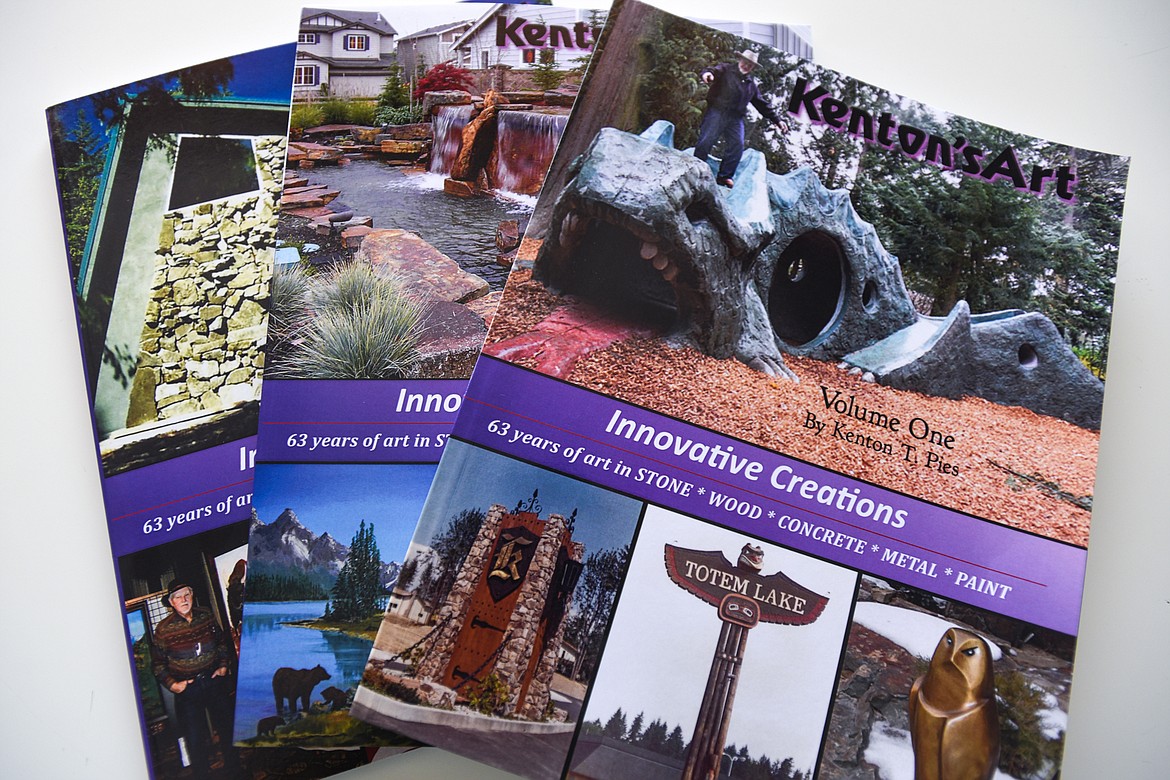 Kenton Pies has published three books about his art career. (Casey Kreider/Daily Inter Lake)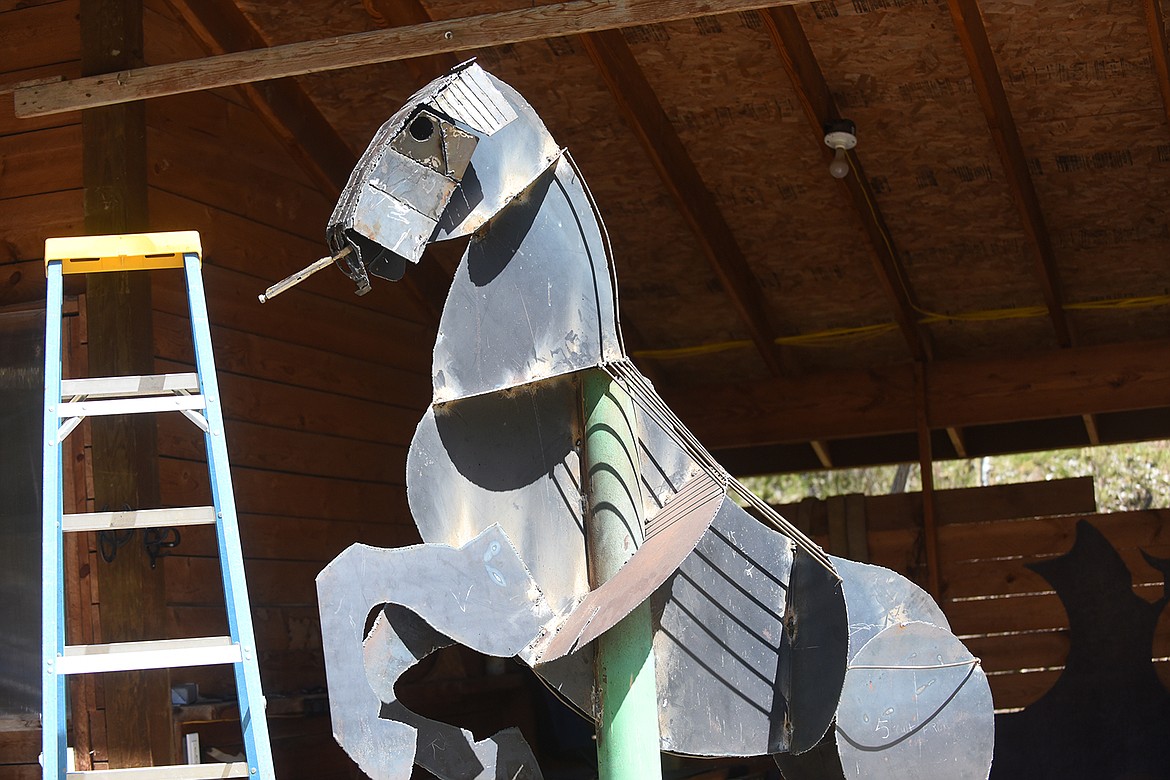 This metal horse Plains artist Kenton Pies is building is in its early stage. Pies has built two horses which are displayed in downtown Plains and he has plans for more. (Scott Shindledecker/Valley Press)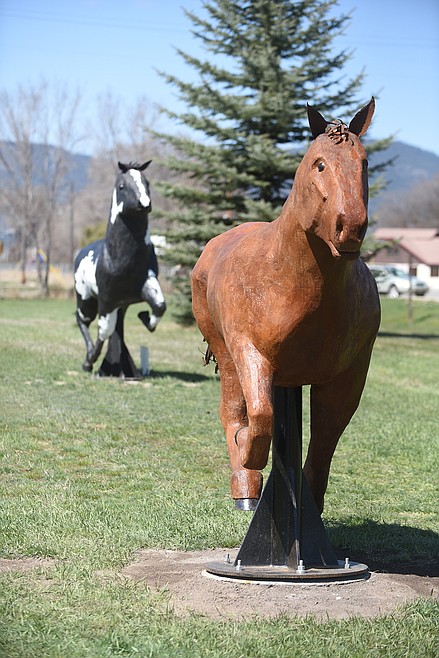 Plains artist Kenton Pies recently finished the second horse which is displayed in downtown Plains. He is currently working on a third. (Scott Shindledecker/Valley Press)
Previous
Next
by
Scott Shindledecker
Daily Inter Lake
|
May 2, 2020 4:57 PM
Longtime artist Kenton Pies' love for creating art and nurturing a love for art in others hasn't diminished with the passage of time.
Pies, 87, a Sanders County resident since 2005, has been making, creating and building art in several mediums since he was a child. He was first paid for his work as a teenager.
Pies was born in Illinois before spending his formative years in Wisconsin. He made many signs growing up in Wisconsin and painted several murals on vehicles for businesses looking to catch the eye of a prospective customer.
He decided to attend art school in Milwaukee, paying his way with his sign work.
In the early 1950s, upon hearing he may be drafted to serve in the Korean War, he and another friend enlisted in the U.S. Army. He attended code school, but his abilities in sign-making pushed him in that direction.
Pies was honorably discharged from military service in 1955 to the state of Washington, where he attended the University of Washington. He resumed his sign/art business there in Seattle, quickly gaining a following for his ability and work.
In 1965, a friend of Pies hired him to make a dragon sculpture in a children's park on Mercer Island. The 50-foot piece was hollow so kids could crawl inside it.
The dragon was a big hit for nearly half a century. But it deteriorated over time and in 2013, he and fellow artist Derek Vonheeder, worked eight weeks to build another 50-foot dragon to replace his original.
Amber Britton, the coordinator of cultural arts and events for Mercer Island, got in touch with Pies in Montana.
"This is really a sentimental piece of art with Mercer Island residents," Britton told komonews.com in 2013. "Multiple generations have played on it and have such a fond memory."
Pies said the new dragon was built with steel and rebar instead of fence wire.
"This one should last 100 years," Pies said.
AFTER MAKING a living in the Seattle area for many decades, Pies and his wife, Barbara, came to Sanders County 15 years ago.
The legend of Wild Horse Plains caught his attention and after seeing various horses made out of sheet metal in Western states, he thought some life-sized "wild" horses in downtown Plains could be a true attraction for visitors.
Pies had help from Chip Vonheeder, of Kalispell, who welded the bases for the horses. He also had help from Andy Gonzalez, who did some welding and helped with the installation.
The first one was completed and installed in 2018. Pies recently completed a second metal horse that now graces the grassy strip of land between Montana 200 and the railroad tracks in downtown Plains. Pies built the first horse that is erected there and he's not done.
While many would be content with the pair of horse statues, Pies is rarely content.
"I have to create, that's the way I'm made," he said.
Pies uses a few different sizes of sheet metal to create the horses. He also uses a plasma cutter and various other tools.
Sig Person of Paradise has also joined in Pies' efforts, doing some of the welding of the horses.
It begins with a full-size paper pattern that is transferred to a piece of metal Pies cuts with a plasma torch.
Pies spends a great deal of time checking his work.
"There's a lot of experimenting and I'm always checking on things," Pies said. "I've been reworking the head quite a bit. It's the hardest to do because of the eyes, making sure they are in the correct position."
After the welding is done, the structure is covered in concrete and painted.
Money is a major consideration in building future horses.
"The materials aren't cheap," Pies said. "I've got thousands tied up in the horses."
Pies isn't sure how many more horses he'll create after the third one he's making, but financially, I need some help to keep making them."
Donations can be made to "Wild Horse of Plains" at Rocky Mountain Bank in Plains or to Pies at P.O. Box 850, Plains, MT 59859. He may also be reached at 406-826-7788.
Those seeking more information about Pies can read about his work and story; he has published three volumes of "Kenton's Art."
Reporter Scott Shindledecker can be reached at 758-4441 or sshindledecker@dailyinterlake.com.
---