Hospitals in prep mode for 'extremely likely' onslaught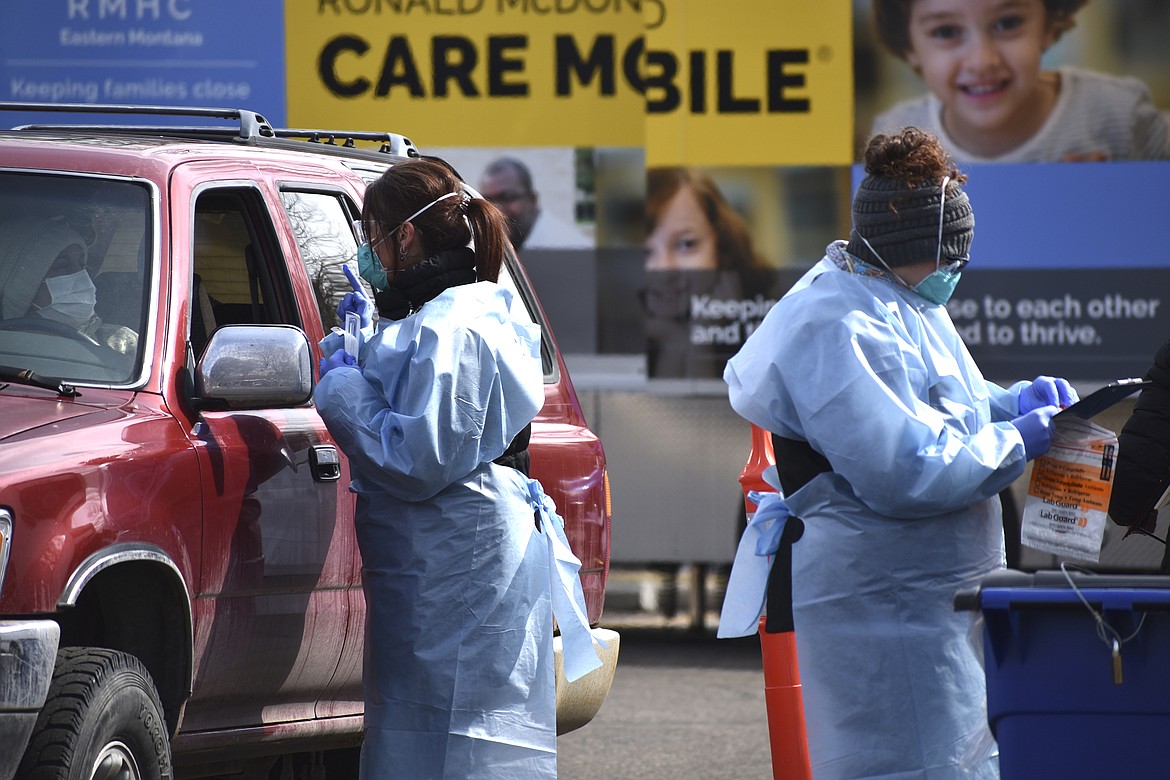 Critical care nurse Molly Spaeny, left, with St. Vincent Healthcare speaks with a patient after administering a coronavirus test in a drive-thru testing center outside the hospital in Billings, Mont. on March 20, 2020. For most people, the new coronavirus causes only mild or moderate symptoms, such as fever and cough. For some, especially older adults and people with existing health problems, it can cause more severe illness, including pneumonia.(AP Photo/Matthew Brown)
by
Kianna Gardner
Daily Inter Lake
|
March 21, 2020 1:00 AM
Extensive preparatory measures, including the temporary cancellation of elective surgeries, are underway at local hospitals as health-care workers brace for the "extremely likely" scenario that coronavirus spreads to the Flathead Valley.
It's been about one week since the first four positive cases of coronavirus in Montana were announced and since then, that number has quadrupled to 16. As of Friday afternoon, Flathead County had submitted a total of 79 specimens to the state for testing and 49 of those have come back negative with the rest still pending. Late Friday afternoon the City-County Health Department reported the first two confirmed cases of coronavirus in the county.
According to Doug Nelson, chief medical officer of Kalispell Regional Healthcare, the delay in positive cases has allowed hospital leaders to learn from other places where the virus has already hit and adjust their plans accordingly.
"This gives us a chance to learn from places that have the infection and we are able to take more widespread actions based on what we are seeing," Nelson said. "We have certainly looked internationally at what can be learned from areas like South Korea and Italy, but also in the United States we've been studying how places like Seattle and New York are handling it as well."
Leaders with Kalispell Regional Healthcare and the Flathead City-County Health Department have been collaborating on a daily basis since the coronavirus epidemic first took off. The health-care partners have also established an incident command structure to guarantee communication and actions involving COVID-19 are well-organized.
In preparation for what has the potential to be a sizable outbreak in the area, Nelson said all of Kalispell Regional Healthcare has halted elective surgeries as part of an effort to make sure there are enough beds, supplies and staff to accommodate an outbreak.
"We chose to cease these surgeries at all facilities so we can have those resources for when we experience a COVID-19 outbreak," Nelson said. "We are doing surgeries for people who need it now, or in other words they need this in order to save a life or reduce serious health complications. We are encouraging our providers to make decisions about what is necessary and what is not necessary at the moment."
Nelson said employees are also constantly taking inventory of items such as gloves, gowns, goggles, masks and more. He said while there is a decent supply on hand, hospitals across the nation — Kalispell Regional included — are experiencing a shortage of N-95 masks.
Aside from having a limited number of what Nelson describes as the "best type of mask for this situation," he also said another thing in short supply is the hospital's actual ability to test for COVID-19.
The main testing site for Montana is at the Department of Public Health and Human Services Lab in Helena, but because there are so few tests available, the facilities can only test those patients that meet several criteria.
These guidelines have been set forth by the Centers for Disease Control and Prevention and are the same testing guidelines countless hospitals are now following.
"The first thing we want to look at obviously is, do you have symptoms? Are you running a fever, do you have a cough?" Nelson said. "From there we want to know if you have traveled to an area where the disease is common, if you've been hospitalized recently and if you have had close contact with a case of COVID."
And finally, Nelson said, providers look at if someone falls into a high-risk group — namely an elderly individual or those with pre-existing conditions such as heart disease or respiratory complications.
"Since in Montana we are working with so few tests, we unfortunately are having to be really selective," Nelson said.
This sort of process of selection will also apply to resources and space at the hospital itself if and when coronavirus hits the valley.
Nelson said Kalispell Regional already has quite a few intensive-care unit beds available and the majority of these will remain reserved for some of the most severe coronavirus cases.
"These are for the people who need ventilator support, who need immediate intensive care," Nelson said. "And for those who aren't in need of that level of service, we have other actions in place so those who are experiencing maybe more mild symptoms can avoid the hospital area."
Hospital staff are already screening every patient, visitor and staff member. If they are showing any symptoms of the virus, Nelson said they are diverted elsewhere, such as one of Kalispell Regional's recently established respiratory screening stations, unless it is "absolutely necessary" they enter the facility.
"We don't want everyone who is exhibiting a mild symptom to show up to the hospital," Nelson said. "This is going to have to be a community effort. If you think you might be experiencing a symptom, stay at home, isolate and practice social distancing."
Nelson said if symptoms worsen, then it is best to go to one of the respiratory stations either at Family Health Care in Kalispell or at Flathead Valley Orthopedics in Whitefish. A third station will soon be established in Eureka as well.
If one is experiencing more severe symptoms such as shortness of breath, dehydration, or extreme weakness, then Nelson said a trip to an emergency room is necessary.
The hospital has set up a 24-hour call line to answer any questions about possible symptoms and how to respond accordingly. The number is 406-890-7272.
As a final suggestion for how every person can do their part to slow the spread of coronavirus, Nelson said if people had travel plans, they should seriously consider canceling them.
"We are very fortunate not to have positive cases here yet. I understand it's spring break and people may be getting restless, but my personal medical advice is to not travel. That's the best thing for individuals and our community," Nelson said.
Kianna Gardner may be reached at 758-4407 or kgardner@dailyinterlake.com.
---