Recreational vehicle franchise opens on U.S. 2 East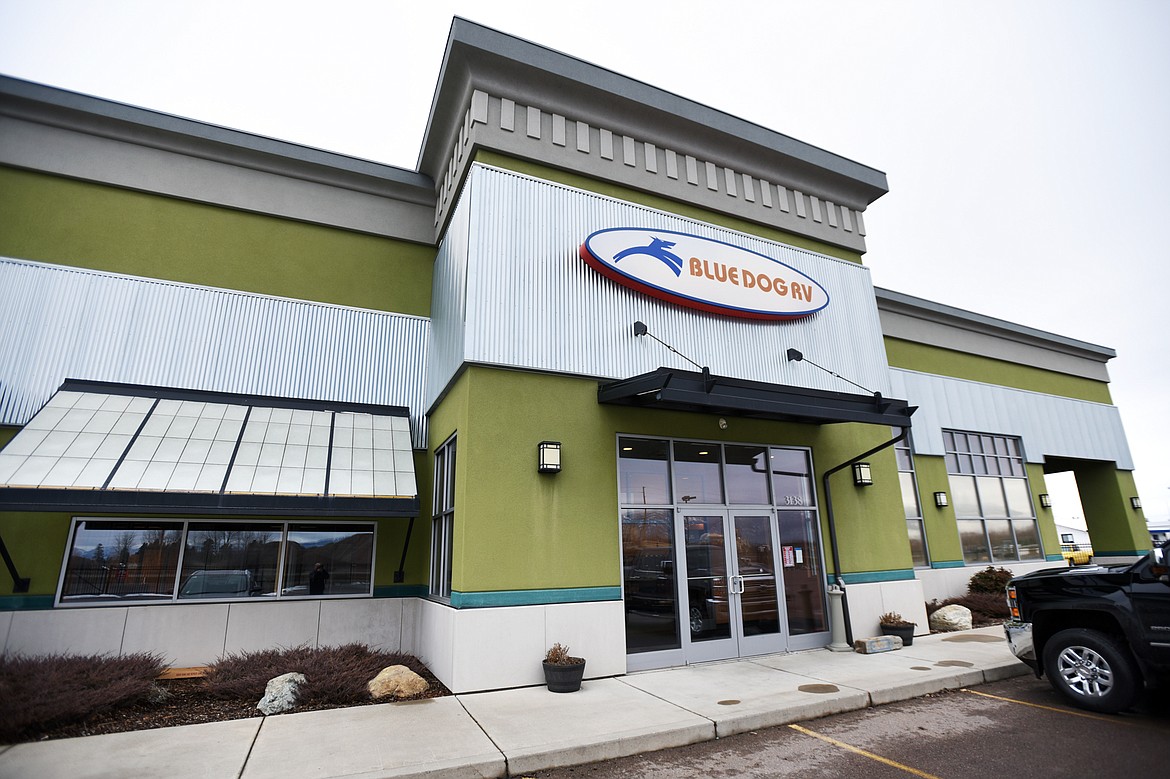 The Kalispell location of Blue Dog RV is the 16th dealership in the Western U.S. (Casey Kreider/Daily Inter Lake)
by
Bret Anne Serbin
Daily Inter Lake
|
March 1, 2020 1:00 AM
Blue Dog RV hopes to be the new top dog when it comes to recreational vehicle sales in Kalispell. The new dealership on U.S. 2 East opens Sunday (today) with a wide selection of vehicles and a full-service RV repair shop.
Blue Dog RV Parts and Service Director Pat Nagrone said the company is looking forward to adding Kalispell to the "Blue Dog family."
The Kalispell store is the 16th Blue Dog dealership in the Western U.S. and the first in Montana. The company also recently opened its first East Coast location in Fleetwood, Pennsylvania.
"We're always growing and expanding," Nagrone reported. The focus is on "helping people purchase their dream."
Each Blue Dog RV store carries a different selection of products, but in Kalispell Nagrone said they will offer travel trailers, fifth-wheels, toy haulers and motor homes, along with assorted parts and accessories. He elaborated the store will carry multiple different brands, including Forest River, Keystone and Thor, "as well as many other products."
The business is opening in the former home of Pierce RV to bring back this option in an area popular for recreational vehicle users and long-distance traveling visitors.
"We look at markets and where the need is," Nagrone said of the company, which has continually grown since getting its start in 2008. The company was originally founded in Post Falls, Idaho, by John and Rebecca Asplundh, who launched the enterprise using their motor home as their office.
Nearly 12 years later, Nagrone said the ever-expanding company was considering "where the best fit for us would be" for its newest expansion, and "Kalispell reached out and grabbed us."
Nagrone added that a lot of western Montana customers frequent their Idaho locations, and he said the teams there used to be asked on a weekly basis when the company was going to expand into Montana.
Blue Dog RV is an especially good fit for the Flathead Valley and its surplus of outdoor activity options because the company offers full-service RV repair, Nagrone noted. They plan on eventually adding a body shop at their Kalispell location as well. Nagrone said local RVers will have access to "everything that goes along with" an RV repair shop, although they won't offer mobile repair services.
This side of the business is part of Blue Dog RV's goal of "providing exceptional service and support to our customers and community," which is emblazoned in the company's mission statement at every location.
The business is hiring 15 to 20 local employees to carry out this mission in Kalispell, and Nagrone estimated that total might eventually climb to 30 or 40 people as the store gets more established. Two managers from other Blue Dog locations have been brought in to lead the staff.
With this strategy, Blue Dog RV hopes to make a lot of happy campers out of Flathead Valley customers.
Blue Dog RV is located at 3138 U.S. 2 East. Hours for sales are 9 a.m. to 7 p.m. Monday through Saturday, and for service 8 a.m. to 6 p.m. Monday through Saturday.
Reporter Bret Anne Serbin may be reached at bserbin@dailyinterlake.com or 758-4459.
---