A slice of life — Passionate Pizza Hut worker marks 25 years with company she loves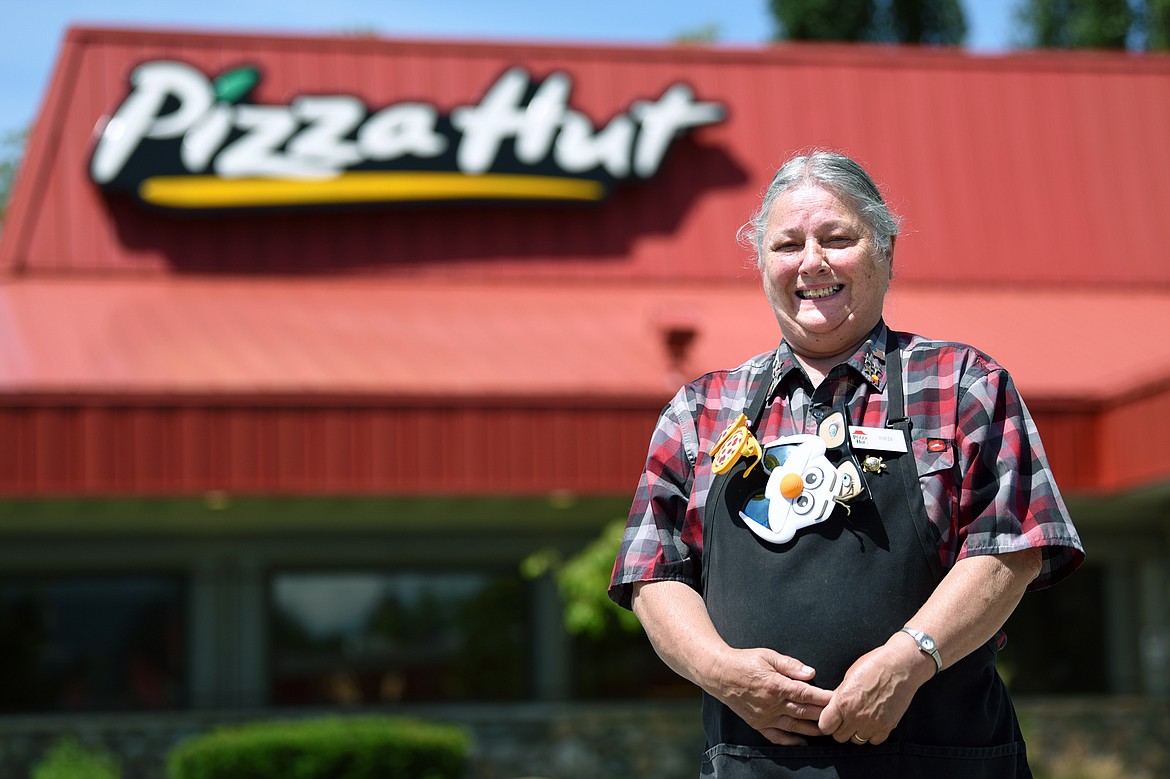 Robin Facteau-Murray outside the Pizza Hut in Columbia Falls on Thursday, June 25. (Casey Kreider/Daily Inter Lake)
by
Bret Anne Serbin
Daily Inter Lake
|
June 29, 2020 1:00 AM
Food service can sometimes seem like a thankless line of work, but you certainly wouldn't know it from chatting with veteran Columbia Falls Pizza Hut employee Robin Facteau-Murray.
As she celebrates her 25th anniversary at the chain restaurant this summer, Facteau-Murray still brings more enthusiasm to the restaurant than many of her hungry young customers exude when she pulls their fresh pizzas out of the oven.
"I work because I love to work," she said. Even after nearly a quarter-century in the business, Facteau-Murray has barely ever missed a shift or taken any of the vacation days she has earned over the years. "I have a job that I love. I have a company that would totally support me and I return that two-fold. I like to give 110%."
Anyone who has ever eaten at Pizza Hut during her shift can attest that Facteau-Murray's positive attitude is even more of a treat than the food itself.
"Everybody gets a hug on the way out," she said, even though she's had to hold herself back lately due to the COVID-19 pandemic.
At the Columbia Falls drive-thru, she usually surprises customers with a pair of wacky glasses from her collection, which number somewhere around 30 pairs of special shades. The assortment, which started with a pair of Groucho Marx glasses left behind by a guest 16 years ago, includes a pair with a bright blue mustache, another with an illusion of blinking eyes and, of course, a pair decorated to look like two pepperoni pizzas.
"My goal is when people leave the restaurant and they're driving home, they go 'wasn't that waitress funny?'" Facteau-Murray said. "What I like to do is make a child laugh, make a person smile. I want to go out of this world laughing."
Facteau-Murray has spent thousands of days waiting tables, answering phones and manning the drive-thru window, but she has never lost one shred of her friendly, energetic spirit or her commitment to the fast-casual pizza chain. "Why wouldn't I be happy? I have everything," she proclaimed.
She believes her cheery outlook is hereditary. "I come from a long line of people like myself," she reported. In particular, she credits her mother and her sister for inspiring her playful attitude. "They were always jokesters," she recalled.
Facteau-Murray hasn't seen any of these family members in person since she moved to the valley 25 years ago, but she certainly hasn't lost any of the family's characteristic good cheer. Originally from the Adirondack Mountains region of upstate New York, Facteau-Murray ended up traveling the country with her husband for many years before fortuitously settling in the Flathead Valley.
When they arrived in the summer of 1995, the couple planned to work summer jobs near their campsite in Whitefish and forge on north to Alaska after the tourist season. But Alaska still sits on their bucket list almost 25 years later, and Facteau-Murray's summer stint at the Whitefish Pizza Hut has evolved into an illustrious career.
Even when her beloved Whitefish Pizza Hut closed in December 2018, she remained committed to the company and made a smooth transition with the Columbia Falls restaurant. "My heart was broken," she remembered. "Where else am I going to go?"
But with her upbeat approach, she quickly settled into her new home. Her coworkers even built her a special drawer where she can stash her goofy glasses collection. "I love working for them. I'm such a lucky person that they let me be silly," she said of her Pizza Hut management team.
She explained this supportive environment is a big part of why she is so passionate about Pizza Hut. "They are the first to protect their employees," she said. Plus, she loves that Pizza Hut is "a good company with a good quality product at an affordable price."
She said she always tries every new pizza place that opens up in the area, but she has yet to find a place that compete with Pizza Hut when it comes to quality and value. And even after more than two decades, Facteau-Murray said she never gets sick of eating pizza. "I like all the pizza. There's not one of our pizzas that I don't like," she stated.
She said anchovies are the only ingredient she has ever turned down—a topping the chain has coincidentally stopped serving.
When she's not donning a pair of outrageous shades and passing out pizza boxes in the drive-thru, Facteau-Murray loves to garden and practice photography. She sends pictures of flowers home to her family in New York, so that they know she is happy and thriving out in Montana.
She's finally getting the chance to branch out into more activities lately, now that she's switched to working part time, about 15 hours a week. She never anticipated she would spend 25 years at Pizza Hut, practically nonstop, but now it's hard to imagine her any happier than she is in her plaid Pizza Hut shirt, silly shades and "I made a difference today" pin clipped to her apron.
It's not the life she had envisioned, "even in my wildest dreams," she admitted. But these days, her dreams are usually filled with images of Pizza Hut and ideas for how to continue to improve her work there.
"I'm always thinking about my job … I miss my work when I'm not doing it," she said, as usual, with a laugh.
Reporter Bret Anne Serbin may be reached at (406)-758-4459 or bserbin@dailyinterlake.com.
---