Town celebrates 100 years on shore of Flathead Lake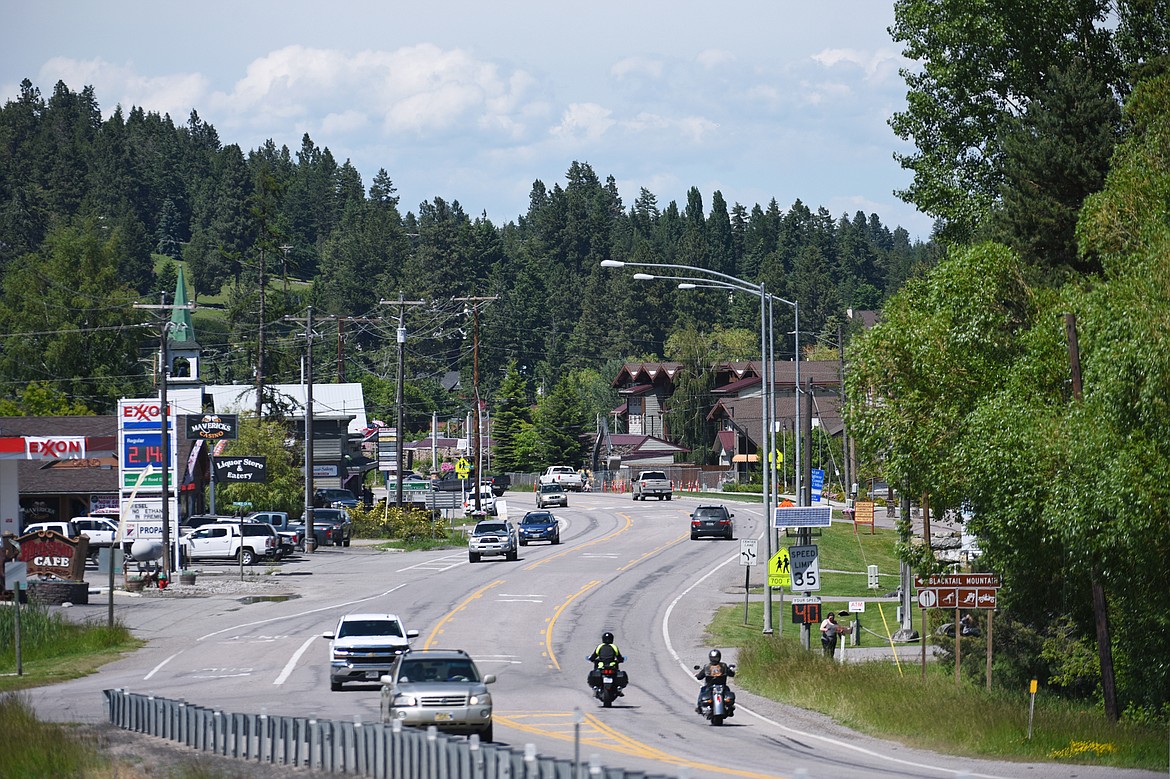 Traffic passes through Lakeside on U.S. 93 on Thursday, June 25. (Casey Kreider/Daily Inter Lake)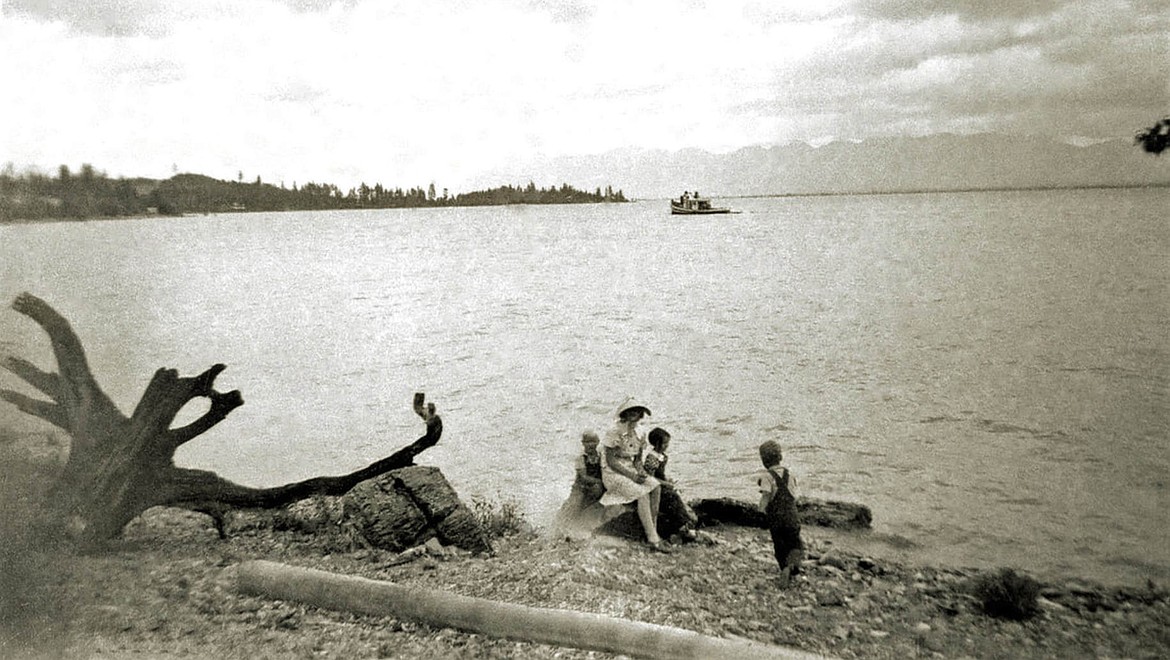 The Turner family spends time together on the shore of Flathead Lake near Lakeside in the late 1930s. (Courtesy of Turner Treks and Tales / www.turnertreks.net)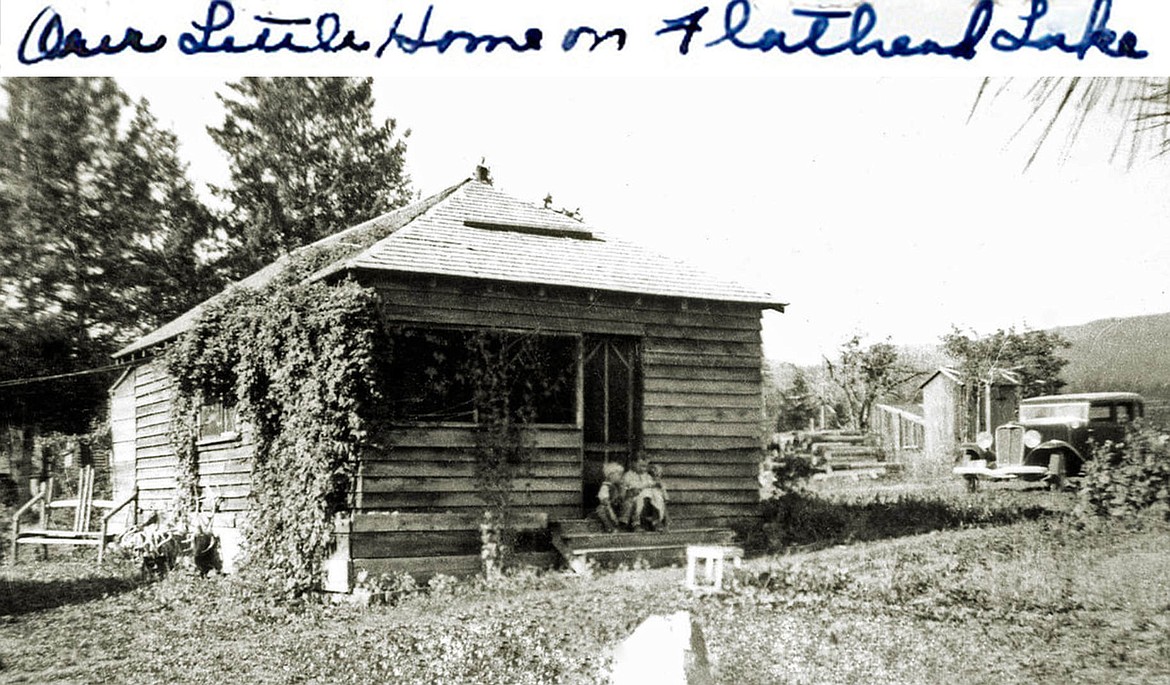 The home of the Turner family from 1937-38. (Courtesy of Turner Treks and Tales / www.turnertreks.net)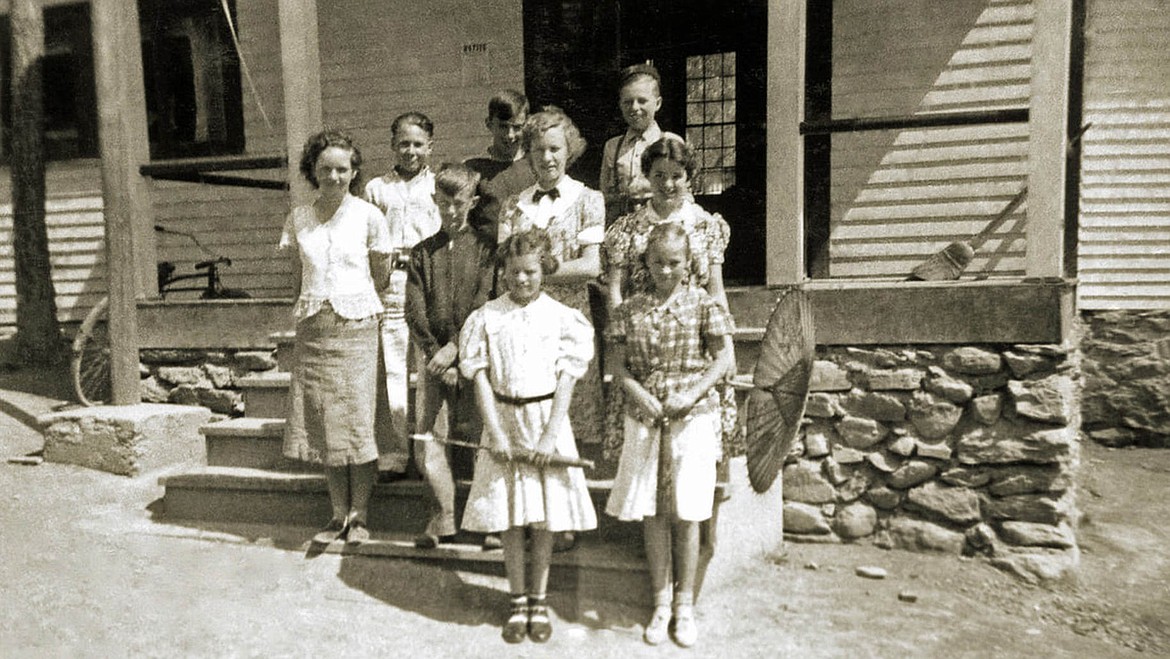 Helen Turner (center) poses with the rest of the eighth grade graduates in front of Lakeside School. (Courtesy of Turner Treks and Tales / www.turnertreks.net)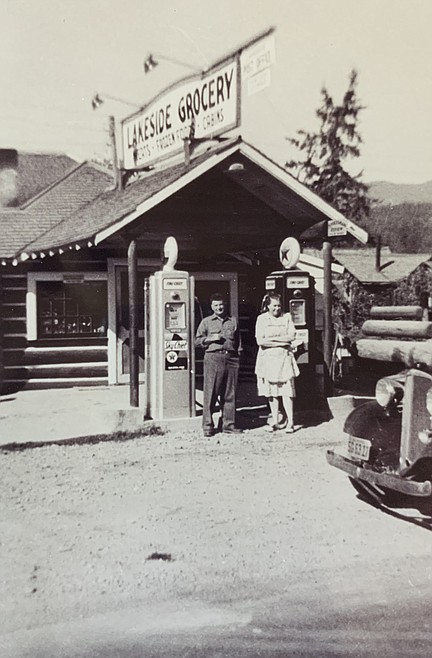 Raymond and Clara Evans are pictured in front of what would become the Lakeside Mercantile. (Courtesy Donny Granger)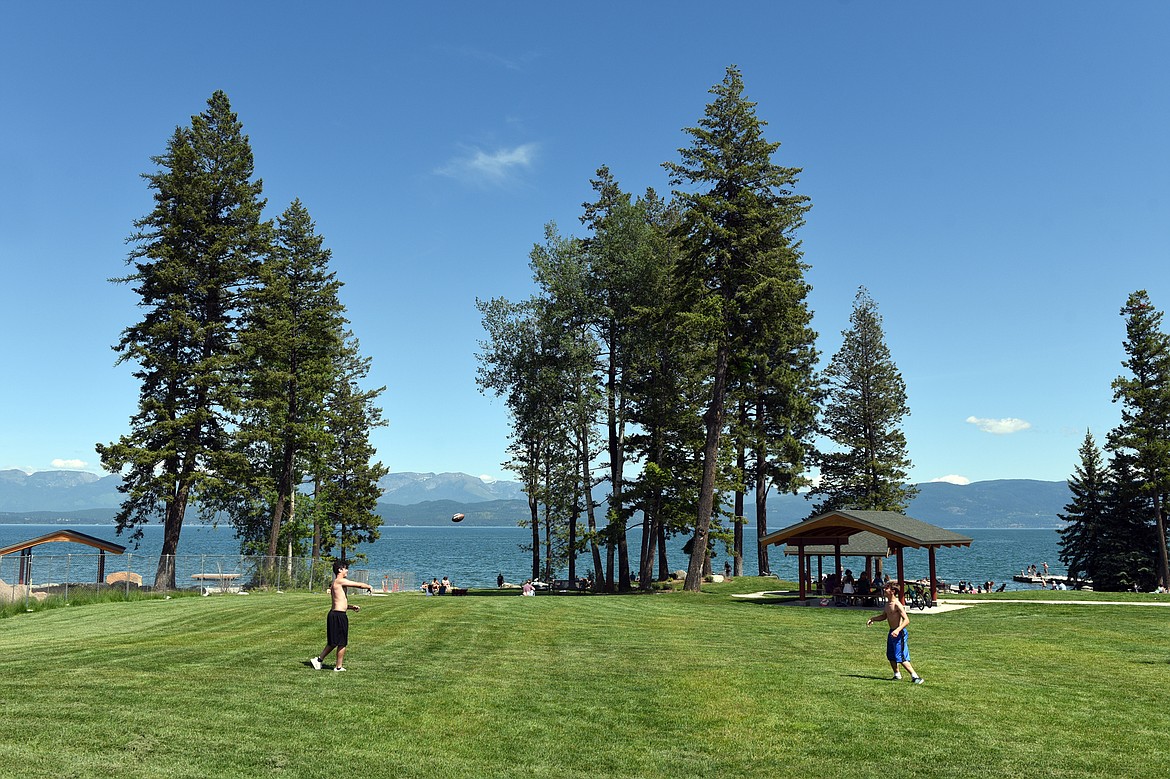 Volunteer Park in Lakeside on Thursday, June 25. (Casey Kreider/Daily Inter Lake)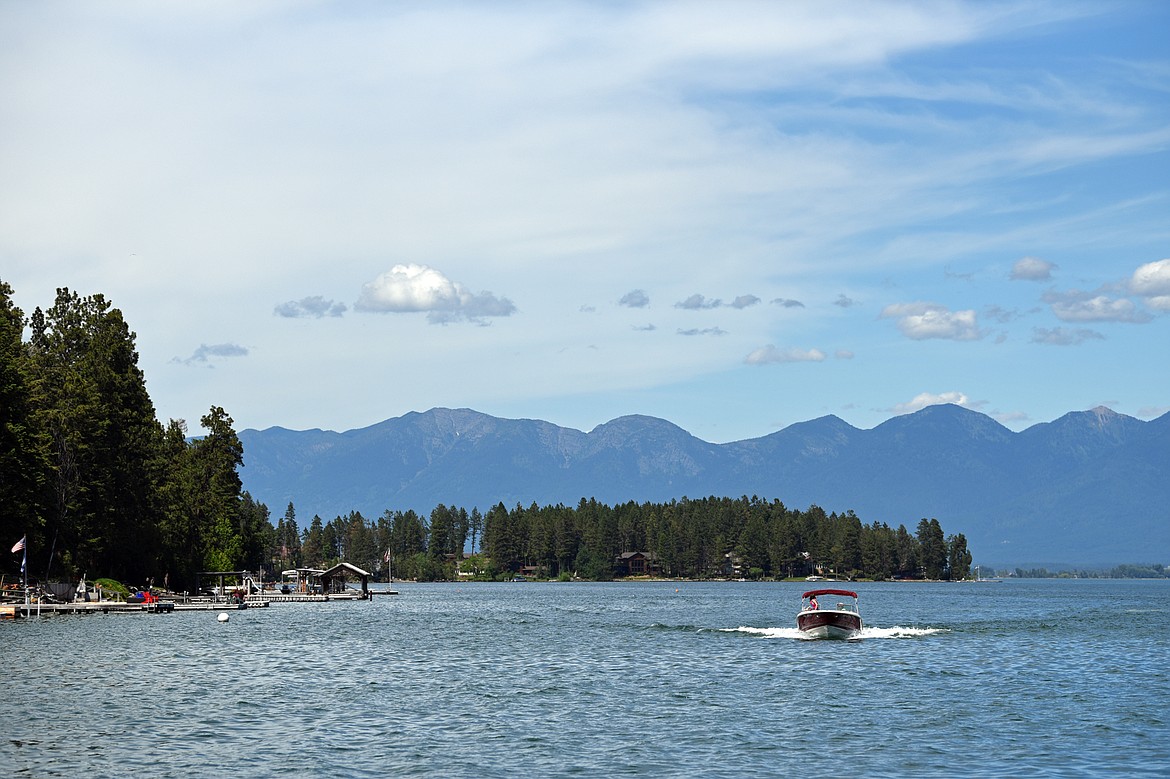 Flathead Harbor, formerly Lakeside Marina, is a popular spot for boating and water sports activities on Flathead Lake in Lakeside. (Casey Kreider/Daily Inter Lake)
Previous
Next
by
Mackenzie Reiss
Daily Inter Lake.
|
June 28, 2020 3:55 AM
In 1883, with the completion of the Great Northern Railroad, settlers began to arrive in Flathead County. They came with dreams of starting a new life, of homesteading the great and wild West, or had other destinations in mind, but stopped prematurely in the shadows of glacial mountains, enraptured by the beauty around them.
A few of these people found their way into the small, lakeshore community now known as Lakeside. Lakeside has been called many names in its 100-year history, but the first of these was Stoner, after hotelier John J. Stoner, who built a lodging establishment near the intersection of Stoner Creek and Flathead Lake.
According to Sylvia Murphy's "Stoner Creek and Beyond" — the word-of-mouth history of the area — the town was later renamed Chautauqua by a group of visionary Methodists from Kalispell. But their plans to establish a lasting religious outpost were short-lived, and so too, was the long and difficult-to-pronounce name. The community was briefly dubbed Lacon, but the locals preferred to call their town Lakeside, and at last, they'd landed on a name that stuck. A small hamlet in Roosevelt County bore the name, too, but when it disbanded in 1920, Lakeside, of Flathead County, was officially born.
This year marks the town's centennial anniversary, necessitating a reflection on Lakeside's storied, yet quietly kept history.
Lakeside's early residents were homesteaders, German and Norwegian immigrants, World War I veterans and businessmen from nearby Kalispell and the long defunct Demersville. Many of the roads that wind up and around this lakeshore hamlet bear their names and in some cases, the descendants of these pioneers still call Lakeside home today.
There is Adams Street, named after department store owner turned fruit farmer Gurdon H. Adams, and Stoner Creek after the town's founder and first postmaster. Other early settlers include the Nobles, Ourslands and the Evanses. There were homesteaders, like Walter Brown, who helped build school in Lakeside and the Clothiers, who traveled west by covered wagon, laying to rest three of their children along the way.
While not a founding family, Helen Mae Turner, recalled fondly her days in Lakeside in the late 1930s. Turner authored an extensive family history in her blog, "Turner Treks and Tales," and wrote of her time in Lakeside as "the happiest of my life." She was entranced by the beauty, by the peaceful sounds of the waves lapping against the shore, bereft of the jet boat motors that mar that serenity today. She, her mother and two brothers David and Donald often took breakfast on the beach, dining on homemade applesauce and buttered toast. Her father joined them on weekends when he came back from working the mines.
As one might expect, Helen and her brothers spent a great deal of time in Flathead Lake in their youth. She grew accustomed to the cold water and preferred to shampoo her hair in the chilly waters than take a proper bath inside. Even the family's cat, Kitty, developed a taste for swimming after a close brush with death.
Turner was among the students who attended school in Lakeside in the town's early years. The first school was constructed on an acre of land about a mile from the old red schoolhouse on Lakeside Boulevard, which is now a private residence. In 1903, School District 30 was established and a parcel of land along the shoreline was donated for the school, according to Murphy's book.
Volunteers built the school with donated materials and the community pooled together $42 to hire a teacher. But in just a few years time, the influx of settlers necessitated a new, larger building. Caesar Haverlandt built the school and it housed classes, along with community events, until 1957 when a new facility was constructed on Adams Street.
"Box socials, home talent plays, quilting parties and potluck suppers" were among the activities that took place within the schoolhouse walls, Murphy wrote. Saturday night dances were a highlight for community members and even children were in attendance as long as they could keep their eyes open. Anyone with a talent for music took turns playing, but Bruce and Ann Walker were considered "mainstays," she wrote.
The Lakeside Mercantile was also a central player in the town's development and grew from a simple market to an entire complex complete with an automotive service station, bar and restaurant and hardware department. Longtime local resident Donny Granger spent three decades as an employee there and observed the changing population from behind the counter.
"We didn't know how to spell camper or trailer like we do now … they didn't have any," Granger said. He remembers small cabins with no insulation being among the first lakeshore dwellings that were mostly inhabited by well-off farmers and business people from the eastern side of the state. Next came the West Coasters, followed by Canadians and finally, and infusion of former East Coast residents. Granger came to Lakeside in the late 1940s and some of his cherished memories of those days revolve around the outdoors or finding ways to make a buck. After school got out, he'd often walk the then-dirt road toward Blacktail Mountain to hunt grouse or dangle over the edge of a dock to catch perch. Another favorite pastime was can collecting along the highway. Granger and a friend would take gunny sacks and comb both sides of the road, starting at a cow pasture where Mission View is today and working their way toward the Spinnaker. The field was also home to a bar called the Hangover that would set up a screen and show movies on Saturday nights.
"They didn't charge you to see the movie, they just hoped you showed up and liked beer," he said.
Another anchor of the community is Lakeside Chapel, a timeless white church with a steeple and bell tower located in the center of town. The church, Methodist by doctrine, was established in 1947 and construction of the building itself began two years later.
"We used chairs brought in from homes and planks resting on nail cans for seats. We had wood-burning stoves for heat. It was a day of rejoicing," Murphy wrote of the inaugural Easter Sunday service in 1950. A new chapel was built in the late 1970s, but the original spire and bell was incorporated into the new design.
Other significant evolutions in the landscape of Lakeside included the addition of a U.S Air Force general surveillance radar installation, which was fully operational by 1960 and brought in an influx of young men to the area and an accompanying infusion of money into the local economy, Murphy wrote. The complex included more than two dozen homes, a commissary, dormitory at the base of Blacktail Mountain, with a radar tower at the summit. At one time, the base had 13 officers, 135 enlisted airmen and 28 civilian employees. But the Air Force closed down the station in 1978 and turned over the radar facilities to the Federal Aviation Administration, and it's now part of the atmospheric air defense organization, the Joint Surveillance System.
The ministry organization, Youth With a Mission, took over much of the old Air Force housing when they established a center in Lakeside in 1985.
As for the mountain itself, Blacktail Mountain Ski Area is a newer addition to the community, having been established in 1998 by four owners, including Manager Steve Spencer. The mountain was and still is today, a family-friendly ski hill dedicated to providing an affordable skiing experience for all levels with scenic lake views and fewer crowds.
Over the years, Lakeside has continued to grow, mature and reinvent itself, transitions that have often been hastened by the influx of regional tourism. Tourist accommodations and RV parks have popped up along the shore and many local restaurants, such as Maverick's and the Harbor Grille, have undergone significant renovations to appeal to locals and tourists alike.
The Lakeside 4th of July Fireworks Show and Lakeside Community Fair are among the enduring Lakeside celebrations.
Lakeside continues to change to this day — more and more housing developments are dotting the hillsides across the highway and public access is currently being expanded thanks to a generous donation of land from locals Bruce Ennis and Maggie Davis that has become the county-owned Volunteer Park.
While some longtime Lakeside locals long for the quieter days of old, the community itself seems poised for continued growth, much like the greater Flathead Valley. But that elusive stillness can still be found if you know when and where to look. It's there along the shoreline in the evenings when the sun hangs low in the sky and the mountains are mirrored in the glassy water, watching over Lakeside for whatever might come next.
Reporter Mackenzie Reiss may be reached at 758-4433 or mreiss@dailyinterlake.com.
---