Hungry Horse gas station is home away from home for longtime owner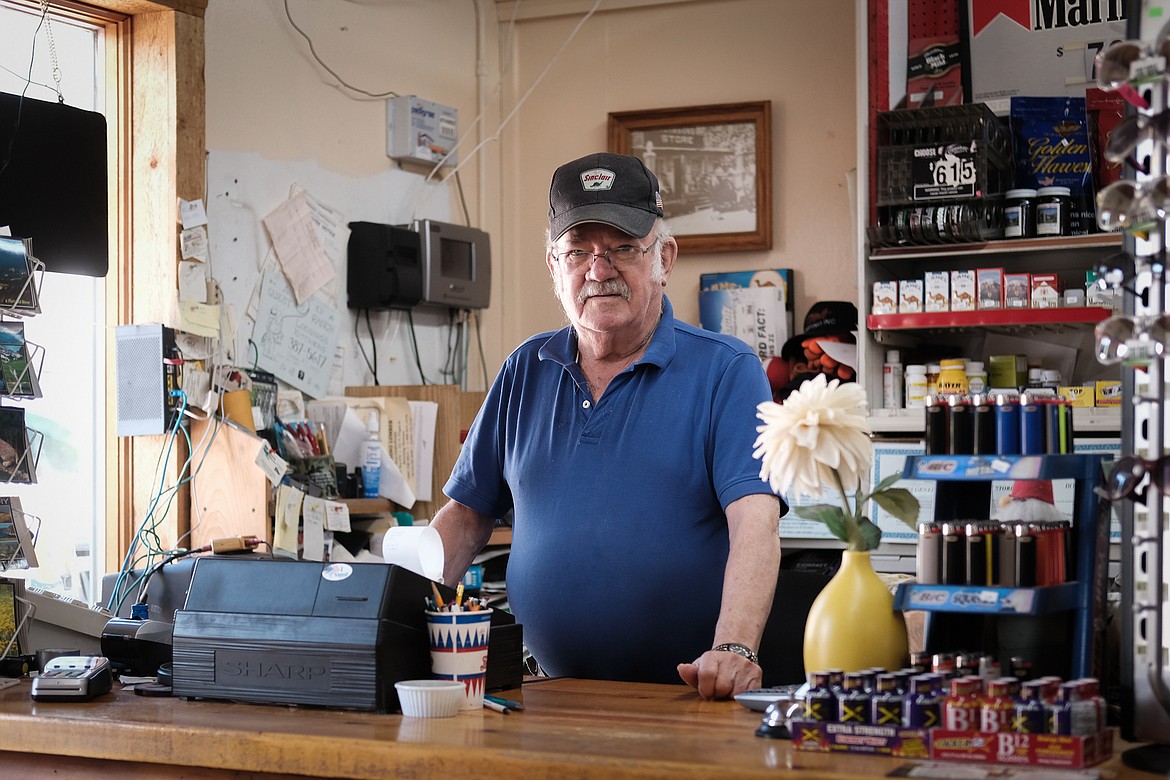 Bob Johnson, 87, has been running Bob's General Store in Hungry Horse since 1979. (Daniel McKay/Hungry Horse News)
by
Daniel McKay
Whitefish Pilot
|
June 28, 2020 1:00 AM
For 12 hours a day, seven days a week and 365 days a year, Bob Johnson takes his place behind the counter of Bob's General Store in Hungry Horse.
It's a lot of work, amounting to 84 hours a week, but at 87 years old, Johnson just laughs and says he's thankful he doesn't work the hours he used to.
"I get up and get down here at 5:30 in the morning, and I close at 5:30 at night. Twelve hours a day, that's long enough for me," he said. "I used to stay open until 11 at night. I don't know how I did it."
Johnson has run Bob's General Store, as well as its adjoining cafe and Sinclair Gas Station in Hungry Horse since 1979.
Originally from Wasau, Wisconsin, Johnson said it was an Army buddy from Kalispell who introduced him to the idea of Montana. When he was discharged in 1953, he looked up that old buddy, and he found paradise.
"After we were discharged I looked him up and I fell in love with these crazy mountains. I spent every year hunting here," he recalled. "Before I knew it, I said when I get 20 years at Weyerhaeuser, I'm going to retire and move out here. That's what I did."
Upon arrival, he opened up a similar general store in Coram called Johnson's Store, a picture of which hangs over his head opposite his customers.
"I had a store similar to this in Coram. When I first moved here gas was 25 cents a gallon," he said. "The highway took us out in 1978, so I bought this property here. All it was, was cottonwood trees, and my three boys and I built the store.
"Hungry Horse hasn't changed too much, because there's no land to be bought. So it's been about the same, really," he says. "When I built this I had the Forest Service, the dam and the railroad. I was new, and everything went well. The logging business was really great at that time. There wasn't the competition like we have now. Town Pump is big competition to me, now Smith's is moving in, that's more competition. All these bigger stores are more competition."
Johnson took a break from his store duties in 1987 when he battled cancer, and returned to business two years later. He sold his business again in 1990, but returned to the shop in 1992 with the Glacier Bed and Breakfast as well.
The shop itself can still feel like a living relic of the past. The shelves are stocked with modern snacks and treats, and behind the refrigerator doors sit beers you'd find anywhere else.
But around Johnson's chair, in which he relaxes between customers, the area is rife with history. A small television with a built in VCR deck sits next to an old telephone, and the credit card reader is accompanied by a pair of much larger and more antiquated cash registers. They still get the job done, he said, noting one of the registers was actually purchased just five years ago.
The biggest gains for his business in recent years have been the tourists, he says, who buy more gas than groceries.
"Last year was probably my biggest year for tourists with gas sales. I would average $3,000 a day just on gas sales. This year, it's changed. The tourists are cut right in half," he observed.
However, his cast of "regulars" still come by every morning to visit.
"The guys come in here in the morning, the coffee drinkers, and lie to each other about everything," he said with a chuckle. "It's more of a homecoming deal."
While his three sons, Clay, Jeff and Dion, still live and work in the Flathead Valley, Johnson said he has no plans for his own retirement or passing the torch.
"I've been a bachelor since '72, and this is my whole life. All my friends are here," he said.
"I think I'm going to die in this chair," he added with a laugh.
---