Local team advances to semifinals in tech challenge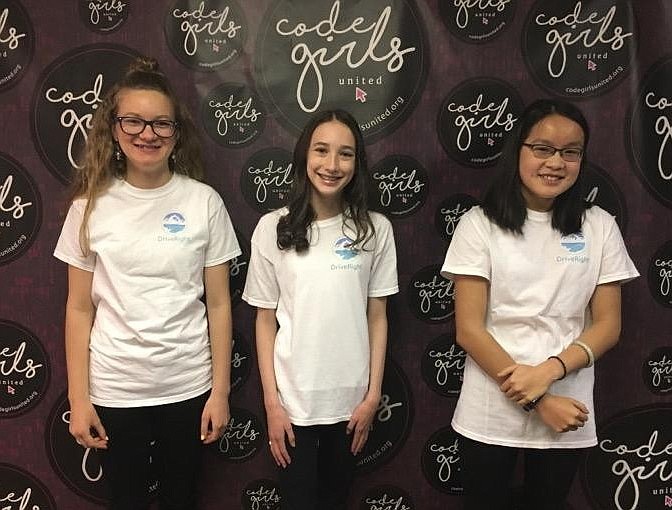 Left to right, Isabelle Ashley, Makayla Davenport, both home-schooled students, and Emma Anderson, a Stillwater Christian School student, make up the Code Girls United team Tech Trio. The team advances to the semifinals in the junior division of the International Technovation Challenge. (Photo provided by Marianne Smith)
by
Hilary Matheson
Daily Inter Lake
|
June 27, 2020 1:00 AM
The Code Girls United Tech Trio team recently advanced to the International Technovation Challenge semifinals in the junior division for their development of a new driving app.
For the competition, girls from all over the world work to solve real-world problems through technology, according to technovationchallenge.org.
The Kalispell team's app, "DriveRight," aims to improve people's understanding of Montana driving laws in a fun and interactive way.
The team, which includes Emma Anderson, Isabelle Ashley and Makayla Davenport, wanted to develop the driving app after the November 2019 tragedy when Olney-Bissell School student Jordana Hubble was hit by a car while trying to cross the highway after it failed to stop for a bus. Hubble continues recovering from a traumatic brain injury at Nexus Children's Hospital in Houston.
In developing the app, the girls conducted research with Montana Highway Patrol and Montana Department of Transportation.
The app includes: a flash card page with preloaded and user defined cards; a scenario game with commonly confused driving situations; a quiz page containing questions on the state driver exam; a Department of Motor Vehicles finder; Montana driving laws and helpful tips for drivers.
Code Girls United is an after-school program that teaches coding and business skills to girls in grades four through eight.
To view the team's video about the app visit https://www.youtube.com/watch?v=_NnNtGK5xrI.
For more information on Code Girls United visit https://codegirlsunited.org.
---