Inside or out: Tiana Johnson carving out career at Sac State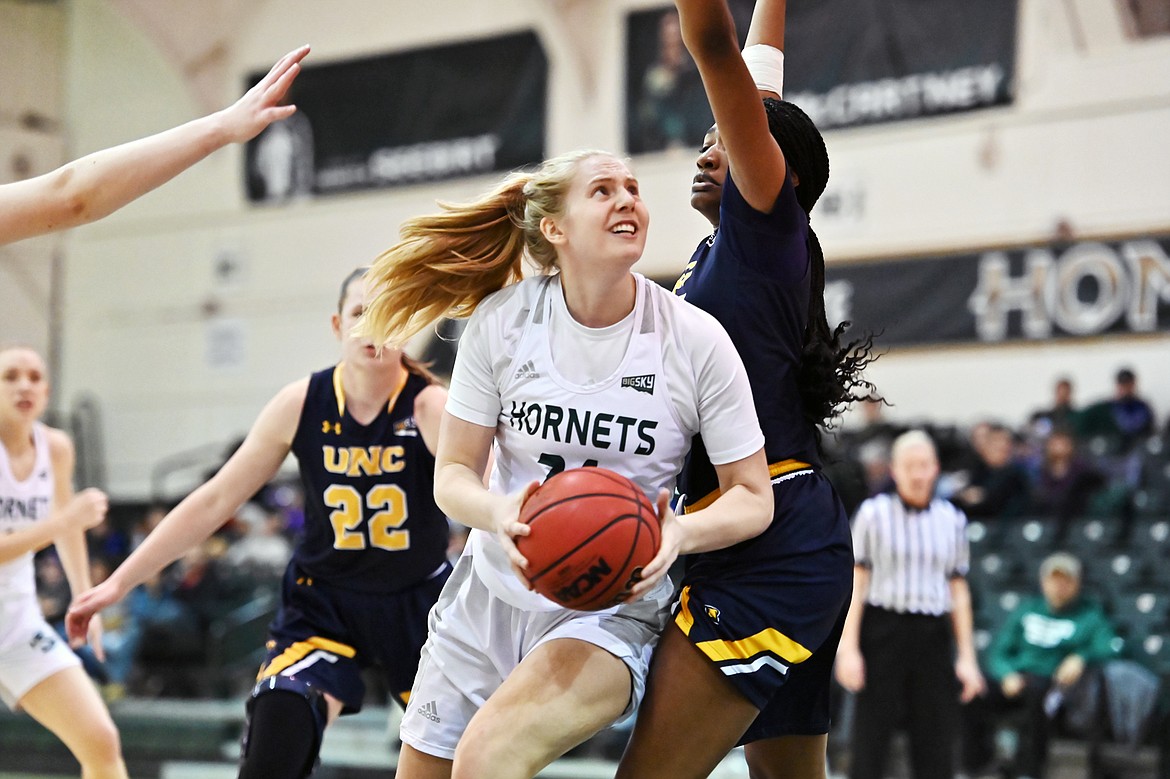 Flathead High School product Tiana Johnson has played in every game the last two seasons for Sacramento State and averaged 11.4 points in 2019-20. (Photo courtesy Sacramento State Sports Information)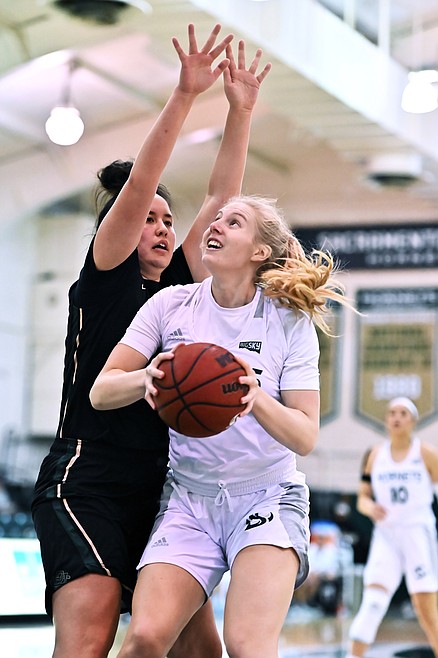 Tiana Johnson found herself playing the low post after injuries forced her off the perimeter. At 6-2, she was shooting over opposing guards. (Photo courtesy Sacramento State Sports Information)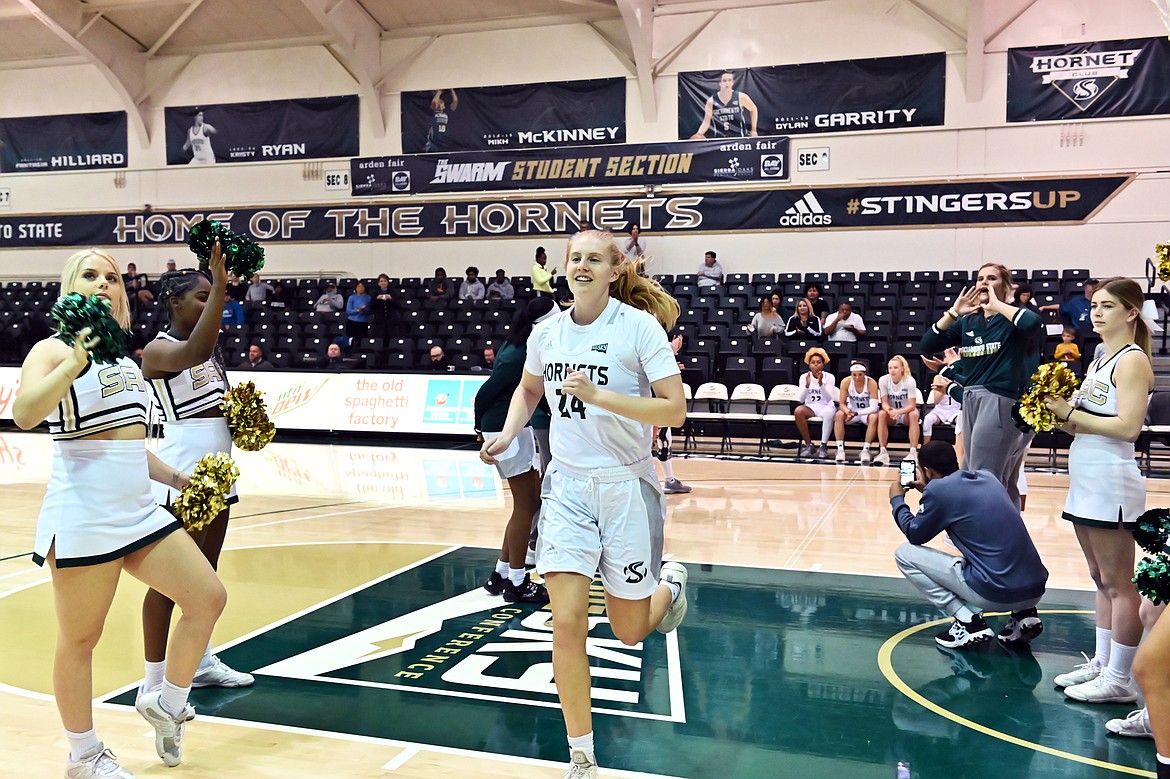 Tiana Johnson played in every game the last two seasons for Sacramento State. (Photo courtesy Sacramento State Sports Information)
Previous
Next
by
Fritz Neighbor
Daily Inter Lake
|
June 11, 2020 8:34 PM
As Tiana Johnson remembers it, she was in middle school and her sister Danika was toiling inside for the Flathead Bravettes' basketball team.
The art of the entry pass being what it is, it wasn't going too well.
"She was a post, and they just got really frustrated with how little she got the ball," Johnson, the last in a line of athletic kids born to Tryg and Lynette Johnson, remembered. "So I was told, 'You will not be a post. You will shoot the three. We're not going to have you just be a post player.'
"I went with it and I enjoyed it."
These days Tiana Johnson is 6-foot-2 and listed at guard for the Sacramento State women's basketball team. She's coming off a redshirt sophomore season in which she started 23 games and averaged 11.4 points and 5.4 rebounds.
She can shoot the three – she put up 96 of them last season, fourth-most on the high-tempo Hornets – but as it happened she ended up playing the dreaded low post when injuries piled up.
"Which I wasn't keen on at first," Johnson said this week. "But as the season progressed I really started to enjoy it. I learned and got better."
It should not surprise us that the daughter of a 6-foot-11 former Montana State center could hold her own inside. Veteran Hornets' coach Bunky Harkleroad knew there wasn't many options once all-Big Sky performer Kennedy Nicholas was sidelined.
"Last year she had to play inside by default," Harkleroad said. "We had a rough year with injuries and our starting center nagging back problems all year.
"Overall I think it's helped her game. She's definitely more versatile than she's been. She can definitely shoot it from three and has the green light."
The Johnson daughters have been flung far. Danika, the frustrated post player, went on to play hoops at North Idaho Junior College and then Division II Hawaii-Pacific. Kwyn Johnson played collegiate volleyball at Arizona State. Ariel played volleyball as well, at Dawson Community College in Glendive and then UM-Western.
Tiana might have had her sights on Montana State or Montana, but neither came through with a scholarship (she said Montana talked to her more, but was off and on). She visited Western Washington, Utah Valley State and Sacramento state.
"All three of my visits were really great," she said. "But I loved the idea of being in the Big Sky Conference. I'm an introvert and a home body, and was very excited about my parents being able to see a lot of games."
"TJ was on our radar, and she'd reached out to us," Harkleroad said of the Montanan, who averaged 17.1 points and 8.6 rebounds as a senior at Flathead, an All-State season that culminated with a spot in the Montana-Wyoming All-Stars series.
"We were able to see her a couple times over the summer. Specifically I remember (a select tournament in) San Diego was one of the times. We really liked what we saw and we are happy she ended up at Sac State. We needed what she has."
The idea was to have her play as a true freshman, but a hip injury two games into the season brought about a medical redshirt. Her redshirt freshman season of 2018-19 she averaged 4.1 points and 3.2 rebounds.
Carving out a spot on a Division I basketball team is encouraging. Less encouraging are the losses – the Hornets went 10-19 her first season and 8-22 this past winter. Harkleroad likes to pay 10 players, subbing wholesale every couple minutes to keep bodies fresh and the tempo up. But the fresh faces have been many: a handful of girls left in 2019 with eligibility remaining; six newcomers are on the roster for 2020-21.
Through it all Johnson has kept picking and popping – she's the lone Hornet to play in all 59 games over the past two seasons.
"My coach likes to play five-in and five-out, which I don't love as much – but that's part of the deal if you want to play," she said.
One positive is a hockey background – hello, Whitefish Stumptown – that made her familiar with line changes. One silver lining to the aforementioned injuries is they forced Harkleroad to sub less and play Johnson more.
"We haven't been able to do that as much the last couple of years," Harkleroad said of his preferred style. "Hopefully we can have the depth to do that, or condition players to play longer."
Sac State's season ended with a first-round loss at the Big Sky tournament in Boise, which was then scrapped because of the COVID-19 pandemic. Soon came the word that all classes would be online. Johnson made a beeline for Kalispell.
"I've had summer school the last three years," she said. "Now I get to be here all summer, and enjoy a Montana July."
Summer may last a while: The California State University system is calling for remote learning in the fall, and the NCAA doesn't want schools competing when students are not on campus. In a best-case scenario things will get squared away before the first day of basketball drills. And then...
"In a perfect world I'd be inside-out but I figure I'll be inside," Johnson, who is working on a degree in nutrition, said. "After one year I'm the primary post. I have the experience. I love the coach I work with down there (Derrick Florence), he's awesome.
"But hopefully I'll have the green light to shoot the three."
"She's a quick learner and picked it up well," Harkleroad said. "She kind of had to take a crash course. TJ is really close to being a really good all-around player. She gets a little meaner around the basket and a little quicker on the perimeter, she's going to be even more valuable than she is right now."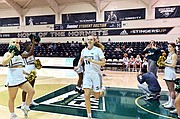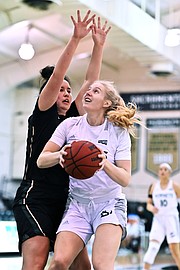 ---