COVID-19 and crowds: Cancellations largely up to event organizers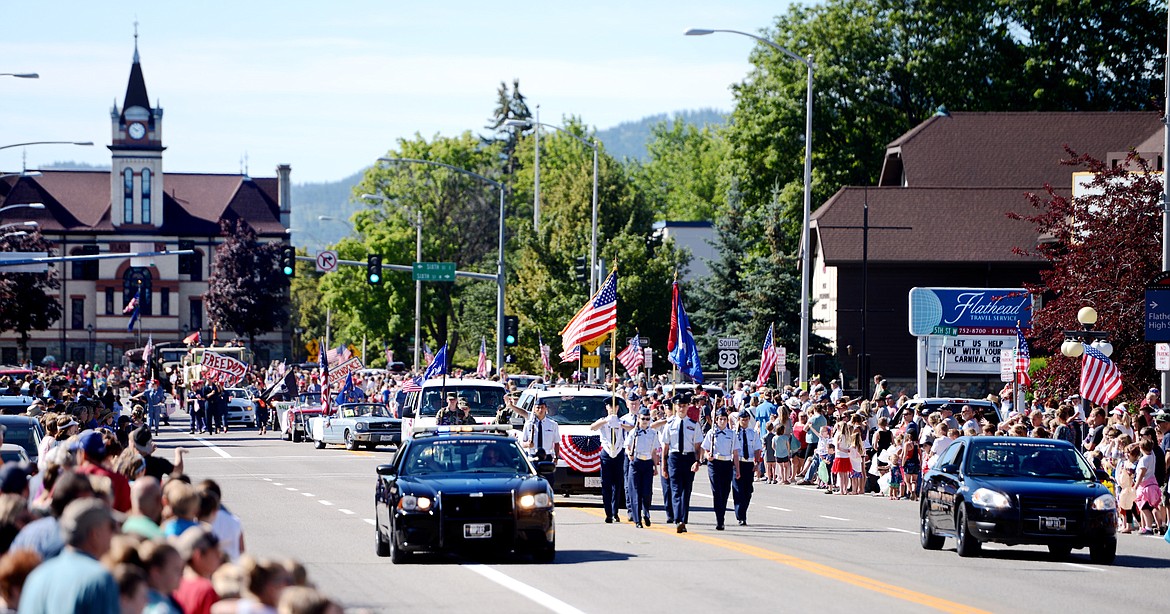 The Fourth of July parade on Main Street in downtown Kalispell. (Brenda Ahearn/Daily Inter Lake FILE)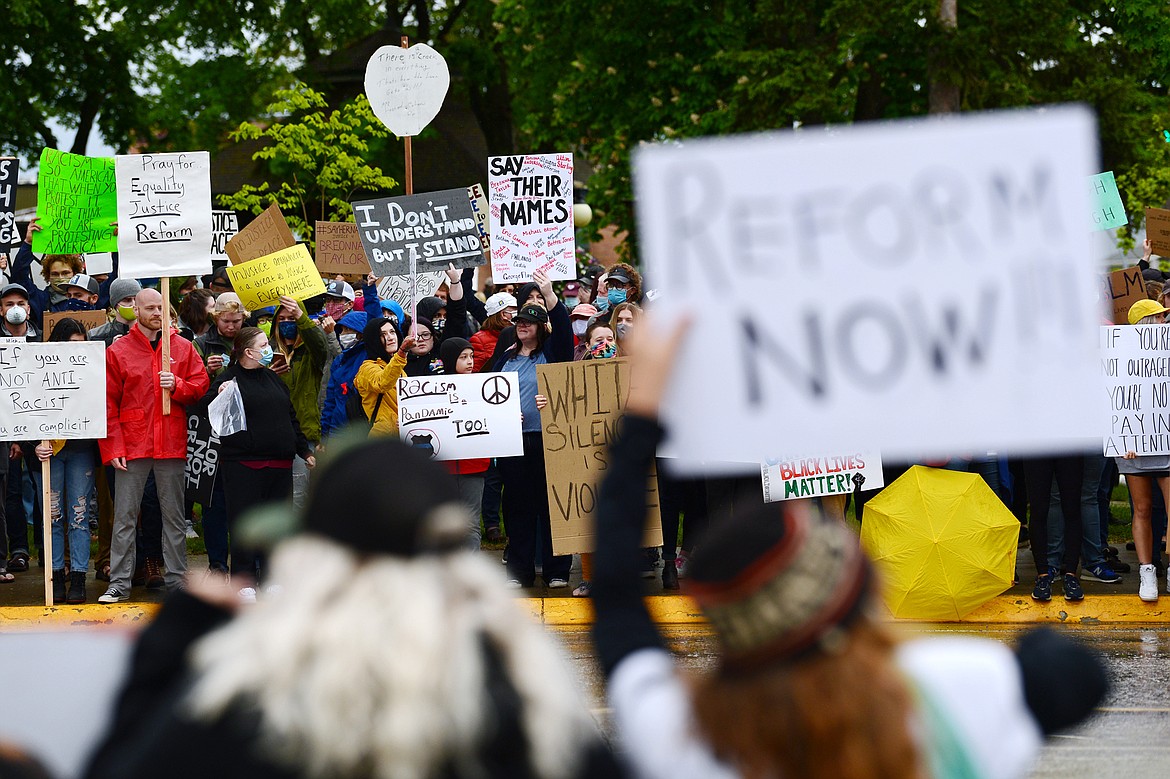 Protesters hold signs along both sides of North Main Street at Depot Park during a protest denouncing police violence against people of color in Kalispell on Saturday, June 6. (Casey Kreider/Daily Inter Lake)
Previous
Next
by
Kianna Gardner
Daily Inter Lake
|
June 10, 2020 1:00 AM
Questions surrounding guidelines and recommendations for the coronavirus outbreak have surfaced as large-scale gatherings, such as the recent Black Lives Matter demonstration in Kalispell, continue as planned while others, such as the 4th of July parade in Bigfork, are canceled.
Phase two of Gov. Steve Bullock's reopening plan was implemented on June 1. This phase lifted the 14-day travel quarantine for out-of-state travelers, increased possible capacity from 50% to 75% in spaces including bars and restaurants and it set new guidelines for social gatherings. The second phase allows gatherings to expand from 10 to 50 persons, but also states individuals should "avoid gathering in groups of more than 50 people in circumstances that do not readily allow for appropriate physical distancing. Groups larger than 50 people should be canceled unless physical distancing can be maintained."
The key words in Bullock's directive are "should be," meaning organizers can decide to still hold large events if they so choose.
In a document outlining Bullock's directives for phase two, he said "individual responsibility—such as good hygiene, frequent cleaning of highly touched surfaces, and strict adherence to social distancing—remains Montana's best tool in the fight against new infections. This Directive is not an invitation to forget the lessons that Montana has learned in its fight against COVID19 these past months."
According to Flathead County Public Health Officer Hillary Hanson, the directive "does not require that events over 50 receive approval from the Health Department, but suggests that event organizers work with their local health department." She said ultimately, "it is the responsibility of event organizers to follow the Governor's Directive regarding events."
She noted a number of organizers have been in contact with the health department and are "working hard to alter their event to meet the governor's directives."
There are multiple events still scheduled to occur in the coming months, but Hanson said many organizers recognize they may need to make changes to their plans based on any shifts in recommendations that may occur and they are "holding off canceling or making changes until they are closer to the event date."
However, while gatherings of 50 or more people do not require approval from the department, Montana law states the health officer does have authority to implement public health measures in order to "carry out the purpose of the public health system." Among other powers and duties, health officers, in collaboration with federal, state, and local partners, shall "establish and maintain quarantine and isolation measures as adopted by the local Board of Health" and shall "take steps to limit contact between people in order to protect the public health from imminent threats, including but not limited to ordering the closure of buildings or facilities where people congregate and canceling events."
But Hanson said the health department is monitoring multiple aspects of the coronavirus outbreak prior to making any authoritative decisions. Aside from monitoring new confirmed cases — something Flathead County has not had since April 13 — they are considering the availability of testing, personal protective equipment and more.
"As the health officer is it my job to be concerned about an uptick in positive cases. We have seen scenarios around the United States where events have been the source of an outbreak and we do not want that to happen in Flathead County," Hanson said. 'We are working hard to make sure that event organizers understand their role in minimizing risk but at the same time we encourage the community members to be making individual decisions about their own health and safety."
Hanson said the Flathead City-County Health Department has established an online form that people can fill out when planning an event or gathering. The department then reviews the information provided and offers recommendations on how the organizers and event attendees can further mitigate COVID-19 risk.
Aside from this new form for event organizers, the health department continues to recommend that individuals avoid close contact, wash their hands often and at least for 20 seconds and stay home if they are sick. Vulnerable populations including people 65 and older, those in long-term care facilities and immunocompromised individuals should stay home as much as possible. And finally, the department recommends wearing cloth face masks in public where distance is hard to maintain.
Several studies have shown people may be contagious before they show any signs or symptoms of COVID-19 and the Centers for Disease Control and Prevention recommends wearing a cloth face covering while in public to protect oneself and those around them.
Kalispell City Manager Doug Russell said the city also received several calls from individuals concerned that Saturday's protest and other events were in violation of city laws.
However, the city of Kalispell and other areas in the valley do not require that event organizers obtain a permit unless the gathering will require the use of city property or services such as streets or barricades. For example, the Black Lives Matter protest did not require a permit because organizers were mostly confined to Depot Park and to public sidewalks, Russell said.
Reporter Kianna Gardner can be reached at 758-4407 or kgardner@dailyinterlake.com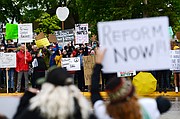 ---