Lakers beat Loggers in extra innings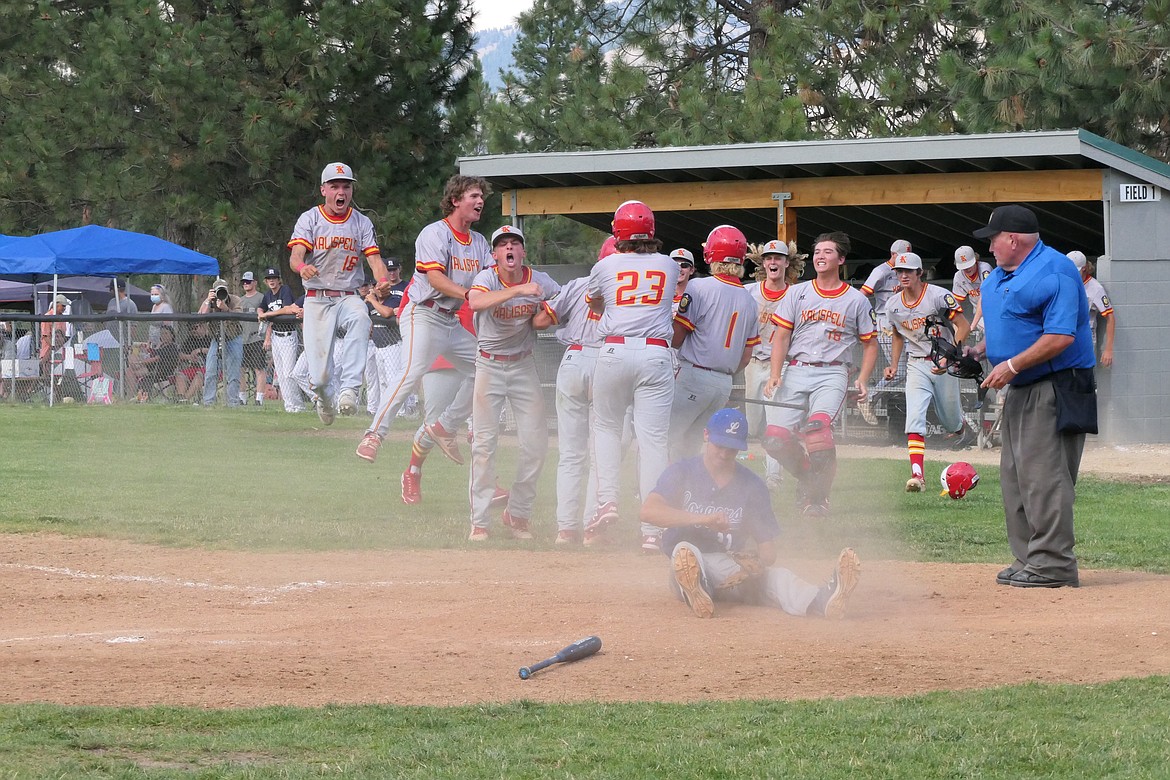 The Kalispell Lakers A celebrate after beating the Libby Loggers 6-5 in extra innings at the Western A District tournament. A wild pitch allowed Nic Gustavson (21) to score the winning run. (Whitney England/Daily Inter Lake)
by
Daily Inter Lake
|
July 30, 2020 6:45 PM
FLORENCE — The Kalispell Lakers A used a run late in the game to beat the Libby Loggers 6-5 in extra innings at the Western A district tournament in Florence on Thursday.
Tied at four, a wild pitch error by Libby in the top of the eighth inning allowed Nic Gustavson to score the winning run.
Libby scored three runs in the fifth inning.
Charlie Hinchey was the winning pitcher, going five and two-thirds innings with five hits and three runs and four strikeouts.
Quade Anderson took the loss for Libby. He played six and one-third innings, allowing four runs on eight hits and one strikeout.
Kalispell's Carver Van Aiken and Caleb Morgan each had two hits.
The Lakers will play No. 1 seed Glacier Twins today at 2:30 p.m.
Libby moves to the loser out bracket and an opponent is yet to be determined.
Libby Loggers 000 030 110 — 5 7 7
Kalispell Lakers A 000 022 011 — 6 9 4
Quade Anderson, Caden Williams (7) and Jeff Offenbecher (7). Charlie Hinchey, Blake Franklin (6), Caleb Morgan (6), and Max Holden (6). WP — Hinchey. LP — Anderson.
LOGGERS — Tripp Zhang 1-3, Tucker Masters 2-4, Caden Williams 1-5, Trey Thompson 1-5, Ayden Williamson 1-3, Chandler Bower 0-1, Moxley Roesler-Begalke 0-3, Quade Anderson 0-4, Alex Svendsbye 0-2, Jeff Offenbecher 1-4.
LAKERS — Carver Van Aken 2-4, Caleb Morgan 2-5, Elijah Owens 1-3, Nic Gustavson 0-1, Max Holden 1-4, Gabe LaCroix 1-3, Hayden Bunyea 0-1, Grady Drish 0-3, Wyatt Freund 0-3, Devon Wallack 1-4, Blake Franklin 0-3, Aidan Wilcox 1-1, Drew L. 0-0.
RBI — Offenbecher, Zhang, Williams, Thompson, Masters 2, Williamson; Owens 2, Williamson.
---