Campfire-caused fire jumps river, grows in acreage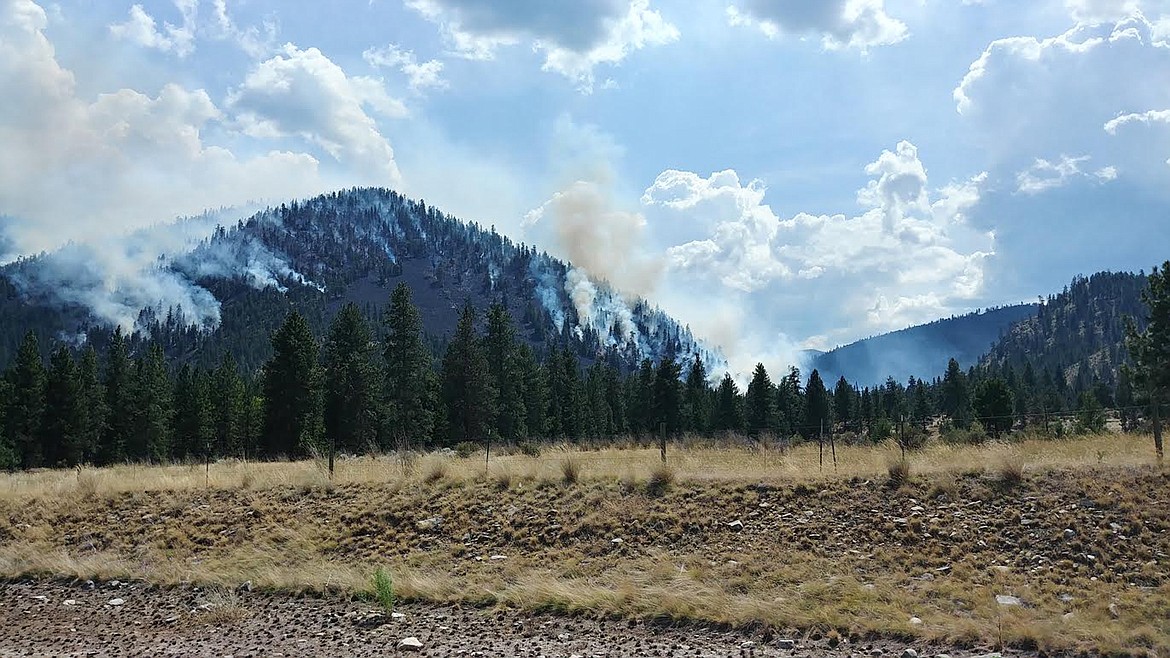 Smoke pours from the Magpie Rock Fire Wednesday afternoon in Sanders County. The fire had reached nearly 2,000 acres and was burning between Dixon and Paradise. (Chuck Bandel/Clark Fork Valley Press)
by
Scott Shindledecker
Daily Inter Lake
|
July 30, 2020 4:13 PM
Fueled by hot, dry and windy conditions, two wildfires continue to burn in Western Montana on tribal land.
According to the Confederated Salish & Kootenai Tribe Division of Fire, the Horseshoe Fire, burning in Ponderosa pine and juniper stand along the banks of the Flathead River, jumped from the west side of the river to the east on Wednesday.
The fire is located 10 miles southwest of Polson and is 140 acres in size with 20% containment.
Investigators determined the fire was the result of an unattended campfire. The fire is not threatening any structures and no evacuations have been ordered.
A total of 49 personnel are fighting the fire, including a 20-person attack crew, three engines and three helicopters. The copters were busy dumping water on hot spots.
Fire officials reported firefighters will continue to mop up hotspots and use air resources where they are needed.
The National Weather Service forecast calls for continued hot and dry conditions with temperatures from 90 to 100 degrees in the valleys and 75 to 80 along ridges. Humidity readings are also very low, ranging from 11 to 19%. Wind speeds are expected to be in the single digits.
The Weather Service is calling for cooler temperatures by Tuesday with daytime highs in the lower 80s.
The Magpie Rock Fire in Sanders County grew to 2,500 acres with no containment. It's located 8 miles west of Dixon.
The lightning-caused fire is burning in steep, rocky terrain with dense brush and timber.
Fire officials said the blaze burned at extreme levels Wednesday as it moved east/southeast toward Revais Creek.
Nearly 300 firefighters were assigned to the fire. They were successful with a burnout operation on the northeast flank. Firefighters planned to continue working on building containment lines Thursday.
Heavy air tankers dropped retardant on the fire, along with other aviation resources. There are no evacuations and no structures threatened.
Road closures continue on Revais 6000 road between Revais and Magpie and Magpie 5000 road.
Fire officials ask people to stay out of the area and adhere to all road closures.
A small blaze in the Flathead National Forest, the Lemonade Fire, grew minimally from 2 to 3.25 acres Wednesday. It is in protection status now.
In the Lolo National Forest, officials there said more than 300 lightning strikes occurred last weekend. Some have now turned into small wildfires.
Wednesday night, firefighters responded to and rapidly contained two small lightning-caused fires on the Missoula and Ninemile ranger districts. Although firefighters were able to effectively contain and control these fires, fire officials remind the public to remain vigilant and cautious with the persistent hot and dry weather forecasted over the weekend.
The Bestwick Fire, burning in grass and shrub in the Bestwick Creek drainage on the Ninemile Ranger District north of Interstate 90 and Alberton, is at 1.8 acres and the fire spread has stopped. Firefighter plans for Thursday included contain, control and extinguish the remaining smoldering hots spots.
The Granite Fire, less than 1 acre, is located near the top of Lolo Pass north of Highway 12. An engine and firefighters were on scene Thursday to contain and control this fire. No structures or recreation areas are threatened at this time.
On Thursday, detection flights were planned over the Missoula and Ninemile ranger districts, focusing on areas where known lightning activity has occurred.
In addition to aerial detection flights, the Lolo National Forest is currently staffing five fire lookouts on the Ninemile, Superior, Plains-Thompson Falls, and Seeley Lake ranger districts.
Fire officials ask that if anyone sees smoke rising from the forest, that they report it right away either to 911 or to the Missoula Interagency Dispatch Center at 406-829-7070.
The Flathead, Kootenai and Lolo national forests remain in high fire danger. To date, there have been 44 small wildfires on the Lolo; 38 human-caused and six lighting strikes for a total of 15.8 acres burned.
Although no campfire fire restrictions are currently in place; officials urge visitors and locals to remain cautious with campfires in the Forest. Avoid idling hot vehicles near grass and follow campfire best practices, which include:
• Campfires in Montana cannot exceed 3-feet high and 3-feet wide
• Campfires are best lit in metal rings; rock rings with 2 feet of soil cleared of flammable vegetation are a second-best choice. If a rock ring is your only option, try to locate your camp where a rock ring already exists to lighten your impact.
• Campfires should never be left unattended. This is especially dangerous in the heat of the day, when winds pick up and light fuels dry out.
A campfire isn't dead-out until it is cold to the touch. Drown the campfire with water, stir the coals in the water with a shovel, and feel the coals with the back of your hand to ensure they're out. They are the same procedures firefighters us during the "mop-up" phase of firefighting.
Visit www.BeOutdoorSafe.org for more information.
According to Montana Department of Environmental Quality, lingering smoke from fires in California and the Pacific Northwest is causing moderate air quality in several locations. Fires in Western Montana are also causing more localized air-quality impacts.
Residents near active fires and under plumes aloft need to remain aware of current conditions and use the visibility guidelines to guide their activity decisions as the situation changes. Keep track of hourly concentrations at TodaysAir.mt.gov.
Reporter Scott Shindledecker may be reached at 758-4441 or sshindledecker@dailyinterlake.com
---