Local drone company taps into film industry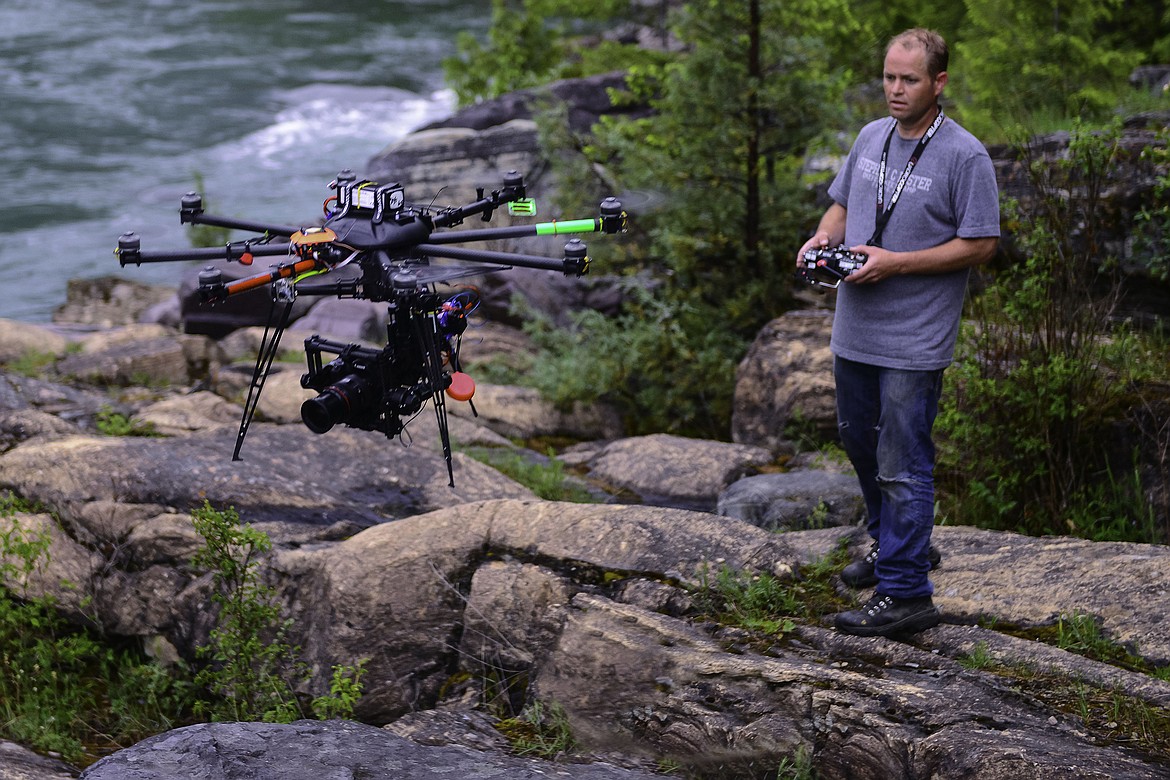 Birds Eye of Big Sky owner Matt Ragan operates a drone during work with the film "The Revenant." (Photo provided)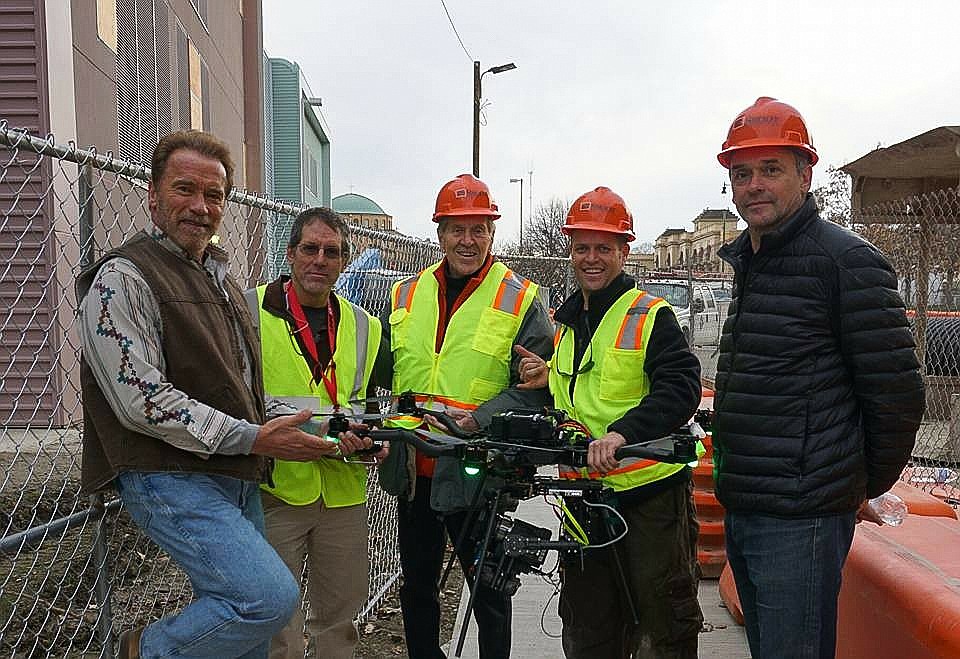 Birds Eye of Big Sky owner Matt Ragan (second from right) on the set of "Aftermath" with Arnold Schwarzenegger. (photo provided)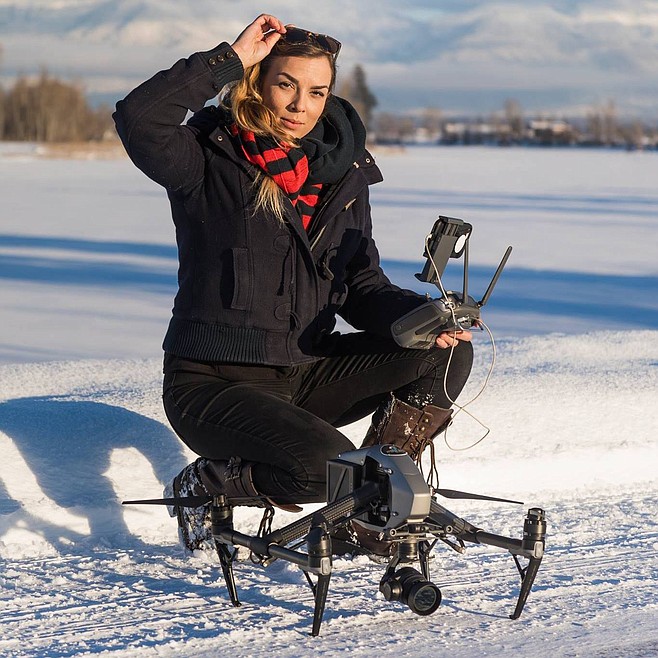 Danielle de Leon with one of Birds Eye of Big Sky's drones. (Photo provided)
Previous
Next
by
Jeremy Weber
Daily Inter Lake
|
July 19, 2020 1:00 AM
Matt Ragan is finally living his dream of working in the movies, just not quite in the way he always expected to.
The owner of Birds Eye of Big Sky, a drone operating company based in Kalispell, Ragan gets to spend his days flying his drones over high-budget projects for clients such as National Geographic, 20th Century Fox, HBO, Marvel Studios and more. He's worked on "The Revenant" starring Leonardo DiCaprio, as well as projects with Arnold Schwarzenegger and Bruce Willis. He's filmed all over the world, but Ragan once felt his future was in front of the camera, not behind it.
"Sure, it's not what I was chasing when I was younger, but here I am, working on movie sets. What more could I ask for?" Ragan said. "I'm talking with Arnold Schwarzenegger or standing there with 'The Rock' 10 feet away. I really do find myself pinching myself sometimes to make sure it is all real."
Ragan's silver screen dreams were always there driving him. When he started his own excavating company right out of high school at age 19, the goal was to earn enough money for acting classes so he could find his big break. He had some promising auditions and was considering a move to New York to pursue his movie dream, but life had other ideas. When Ragan met a girl and had a child, he put his Hollywood dreams aside, but he never truly gave up on them.
It was time to find a new dream as, between 2008 and 2012, Ragan slowly sold all of his excavating equipment. It was during this time that some shaky video taken by a GoPro strapped to a drone caught his attention. The video was extremely low quality, but Ragan instantly saw the future in those bouncing pixels.
A fascination with flying had already led Ragan to begin pursuing his pilot's license, but he figured flying drones could be just as fun, and more profitable.
The problem for Ragan in those early days was that drones were not easy to come by. Unlike today, where fully assembled drones can be bought nearly anywhere, Ragan was having to source kits and parts from overseas and put the drones together himself.
Undaunted, he put together his quadcopter drones and started Birds Eye of Big Sky in 2013.
The company's first job, photographing properties for a local real estate agent, did not end well.
On the last scheduled flight of the job, Ragan's client noted how lopsided the images were. Realizing that one of the drone's four propellers had stopped working, Ragan tried to guide the rig back to their location, but could only watch as it slowly spiraled downward into Swan Lake.
Luckily, the client had plenty of footage from the day's previous flights, but it would be a long time before Ragan trusted camera equipment on quadcopters again.
"At the beginning, the technology was so stressful. It didn't work nearly as well as it does today, but we have pushed through and now it is a lot more fun," he said. "It was always fun, but now we don't have to worry so much."
Ragan soon found that one of the top helicopter drone manufacturers in the country was less than 30 miles away in Columbia Falls, and he began a relationship with Quadrocopter.
"I had no idea that Quadrocopter was just 25 miles down the road. Here I had been buying all these crappy drone parts from China for six months and they never worked the way they were advertised," he said. "After spending a lot of money with them and bugging them with a ton of questions, they asked me to come work for them."
With his Birds Eye company subcontracted with Quadrocopter, Ragan began working with the research and development division while also serving as a flight instructor. It was during his time teaching others how to fly drones that he began to spend a lot of time with those working in the film industry.
Ragan continued to improve his flying skills, but did not know much about film editing. When he brought on Danielle de Leon to help out in 2014, it was a perfect fit.
"I could physically get the shots, but I was pretty stuck on the creative portion of it. So, it was a real natural fit to bring Danielle on board to do my editing," Ragan said. "She has such a good eye. She threw so much of my stuff on the editing floor. I would drive and hike to places to get shots I thought were amazing and she would tell me why it was not usable. She taught me a lot and made me better."
It wasn't long until the duo started receiving filming requests.
When the FAA started requiring drone operators to have a pilot's license in 2015, Ragan quickly finished the work to get his and Birds Eye of Big Sky was just the 648th drone operating company in the country to receive its license (there are more than 200,000 today).
With many film companies wanting drone footage and very few licensed drone pilots, work came quickly. In 2016, among other projects, the company was involved with the filming of "The Revenant," Bruce Willis in "Marauders," a music video with Chance the Rapper and 19 episodes of Montana Department of Tourism's television series.
Work began slowing down after August 2016, when the FAA eased restrictions for drone pilots (flooding the market with licensed pilots), but there were still big-budget productions like "Aftermath" (starring Arnold Schwarzenegger) and an episode of the PBS and BBC Earth series "Kingdoms of the Sky."
Not one to just sit in the editing bay, de Leon worked diligently and soon acquired her own drone operator's license. Her artistic eye and skills brought their own set of jobs to the company, including working with National Geographic to film a glaciologist in Iceland.
As one of very few female heavy lift drone operators in the world, de Leon was also contacted by Google to do a project with United Nations Women that featured an all-female crew doing traditional and virtual reality filming. The four-part series was shot in Tennessee, Mexico, Africa and India over two months.
While the film jobs keep coming in, de Leon has also used her psychology degree to help develop a pilot training program that simulates difficulties pilots may encounter and evaluates performance. The Pilot EQ training system assigns each pilot a grade from 1 to 6, allowing clients to know what kind of skills to expect and how much they will have to pay.
"As I started to learn more about these aircraft and how to fly them, I realized that most of the problems that come up are not technologically related. Most mistakes happen because of the decision making of the pilot," de Leon said. "I would say that 99.5 percent of drone crashes these days are caused by pilot error. This training allows drone pilots to draw from a pool of knowledge learned by others instead of having to stumble through situations as they come across them."
"Yes, we are training our own competition, but we are also creating relationships with those people who are just now coming into the market," Ragan added. "The current test is a written test over the FAA rules. It has nothing to do with flying, finishing and delivering a project or how you interact with customers. All it does is show that you know what the rules are. Everyone today knows how easy it is to get a license, our rating system lets people know what they can expect from a pilot."
While the COVID-19 pandemic has shut down much of the film industry across the country, Ragan is hopeful he will be back in Atlanta continuing his work filming for several of the upcoming Marvel Studios television shows, but as it is with the rest of his company, the future is up in the air.
Reporter Jeremy Weber may be reached at 758-4446 or jweber@dailyinterlake.com.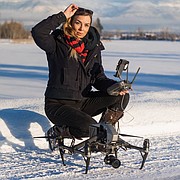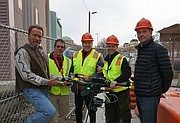 ---