Kalispell native returns to shoot movie in the Flathead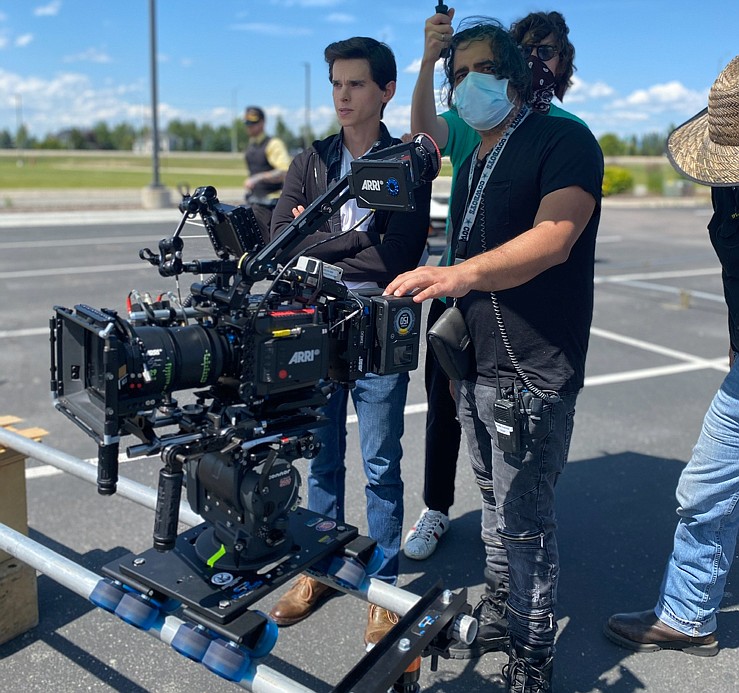 Director Chance Sanchez, left, and cinematographer Mark David, right, film a scene for the upcoming movie "Zero Road" in Kalispell Monday. (photo provided)
by
Jeremy Weber
Daily Inter Lake
|
July 8, 2020 1:00 AM
The cast and crew of "Zero Road" are bringing the magic of movie making to the Flathead Valley. For the next three weeks, the film's camera operators, actors, sound producers and more will be roaming downtown Kalispell and a number of area locations as they put together the film with a cast that includes Jackson Rathbone (Jasper from the "Twilight" movies), Brandon Thomas Lee, Zac Garred, Cornelia Guest and newcomer Olivia Rouyre.
For producer Colin Floom, the chance to film in Kalispell is a welcome opportunity to return to his hometown after 25 years. Born here, Floom and his family lived in Kalispell until he was 8, before moving to Colorado. After living in Los Angeles for a time, Floom once again makes his home in Colorado but is excited to make his return to his first home.
"The Flathead Valley is just such a beautiful area that when we were coming up with shooting locations, coming back here just made sense. It's kind of surreal to be back here, but it is fun as well. Everyone has welcomed us with open arms and it has been great," he said. "We have shot in other towns that have been very standoffish, places that really didn't seem to want to have a movie shot in their town. Kalispell has been amazing so far and it has been a wonderful experience."
The tale of a gifted teen struggling to survive in poverty while supporting a mom suffering from a meth addiction, "Zero Road" is the semi-autobiographical story of writer and first-time director/producer Chance Sanchez.
Born in Butte, Sanchez spent his youth moving around Montana before spending most of high school years in Wyoming. It was during this time that his mother "fell in with the wrong crowd" and developed a drug addiction, leading a homeless Sanchez to spend his nights bouncing from house to house among his friends.
Despite his hardships, Sanchez graduated as valedictorian of his high school class and accepted admission to The Wharton School of the University of Pennsylvania, a private Ivy League university in Philadelphia that is the world's oldest collegiate school of business.
It was during his time at Wharton that Sanchez began to find himself feeling out of sorts.
"I was wanting to become an investment banker, but once I got to college I felt lost," he said. "My grades began slipping, I was down all the time and I had no energy. I had never been in a funk like that before and I had no idea what was causing it."
Sanchez was soon diagnosed with clinical depression, but found himself in denial.
"After some self-reflection, I discovered I had pushed myself into the school and to succeed because I felt unworthy as a person. I was attempting to compensate for my background and upbringing. It just wasn't me."
In an attempt to earn an easy A and take a bit of a break, Sanchez enrolled in an acting class. The decision would change his life.
Sanchez became excited about learning again. So much so that he began getting As in all of his classes. With his business degree in hand, he made the decision to pursue acting, writing and directing, giving him the chance to share his story with the world.
"By embracing the kinds of obstacles and challenges I have faced, I've shown how you can overcome them. It is a way to empower others," he said. "It's a way to show others that are having to deal with situations similar to mine that they are not alone. I felt alone many times and I want others to know that you are never alone in your struggles."
Sanchez originally planned to film "Zero Road" in Wyoming, but decided to make the move to Montana, where he said the film culture is more inviting.
"I wanted to shoot in Wyoming, but the film structure in that state is not great, whereas Montana's is phenomenal," he said. "Kalispell really captures that Mountain West aesthetic that I was looking for while still maintaining that authenticity of the type of people I grew up around. Filming here just seemed like a no-brainer."
While the film commission in Montana was inviting, Sanchez and his crew had other concerns about filming here.
"We were worried about what resources would be available to us here, but then we talked to people and everyone wanted to help us out. People were telling us about great locations to shoot at helping us get everything we need. It has been amazing," he said. "If I shot in L.A., where there are all kinds of resources, I would just be a small fish in a big ocean while in Montana everyone wants to be involved in any way they can and really go the extra mile to help us out."
With help from locals, Sanchez and his crew have secured filming locations in Somers and Kalispell, but he said no one was more helpful than Auto Solutions owner Darin Mower, who is supplying both classic cars and a filming location for the movie.
While large films can take months to shoot, Sanchez and his cinematographer Mark David say they plan to finish their work in Kalispell in just three weeks. With such a short window and many scenes taking place at night, David says the crew will have to work around Montana's long summer daylight hours by filming through the night while also dealing with stringent COVID-19 precautions.
"We have to follow union guidelines, so it is imperative that our crew members wear all the proper personal protective equipment at all times," he said. "That means wearing masks on set, when we are in common areas at the hotel and when we are out in town. Everyone is tested before they leave to come here and again when they arrive. Safety is a big responsibility and we are taking it very seriously."
With a total footprint of as many as 35 cast and crew at any given time, locals are sure to see the film crew at work in town over the next few weeks.
"If you see people in masks carrying big cameras with them, that is probably us," David said.
Reporter Jeremy Weber may be reached at 758-4446 or jweber@dailyinterlake.com.
---