Local company gives back to troops
by
Bret Anne Serbin
Daily Inter Lake
|
February 23, 2020 1:00 AM
A nondescript building on U.S. 2 East, behind the standalone CFN gas station, is home to all the operations of a local nutrition company with a worldwide reach: 1Mission Nutrition.
The supplement company started by two Kalispell natives, Greg Riska and Jesse Corbett, and TV personality Keaton "The Muscle" Hoskins from the Discovery Channel's show "Diesel Brothers," ships its products from Kalispell to customers all across the country. Even more importantly, the company uses contributions from buyers to send supplies to U.S. troops serving around the globe.
"It's a really small footprint for a pretty big reach," noted Riska of the company's modest Kalispell base.
Since starting the company in 2018, Corbett said 1Mission has completed about 5,000 orders per year from their website and donated $348,000 in free supplements and other gear to deployed troops. "Every purchase from 1Mission Nutrition helps create a strength pack for a deployed service member," Corbett explained.
"We had to do something where we gave back," he said.
1Mission is the second supplement company for the two local businessmen, who have been friends since starting to work out together in high school. But it's the first whose main goal is to provide support to troops serving overseas.
"We wanted to do something with a purpose," Corbett elaborated. "We wanted a tangible impact. We wanted to make sure none of it got lost in the shuffle."
After creating their previous supplement company, ENVI*, and selling it to a buyer in Pittsburgh, Pennsylvania, the duo became disillusioned with what they saw as the egotistical and self-centered tendencies in the fitness industry. With their second enterprise, they wanted to make their business more intentional.
Even though the business owners aren't veterans themselves, they expressed deep appreciation for service members and personal connections to many people who have served—including those who have taken their own lives after returning home.
They said they hope increased support for the troops during their service might help combat these struggles once their service has ended. From this idea, they created what is currently the only supplement company designed specifically to give products to deployed service members.
"The most important thing about our brand is what we do for our troops," Corbett stressed.
But the company also focuses on creating quality nutrition products for athletes. Their products, such as 1Fury and 1 Fuel pre-workout and recovery supplements, are "designed for everybody, from the novice to the hardcore gym guy," Riska said.
"They cover everything from weight loss, to muscle gain to health and wellness," he added, and the products are designed to be more digestible and better-tasting than most supplements.
Corbett said most feedback on their products has been "amazing." He said a lot of customers tell them: "It tastes good and it actually works."
1Mission Nutrition has about 600 athletes in its program who promote the brand through social media, and they run regular Transformation Challenges that reward participants for losing weight or gaining muscle.
One of the most recent winners of one of these challenges was Kalispell resident Savannah Riggles, who is currently serving in the U.S. Navy.
They hope to increase their popularity, and their impact, by developing even more products.
"We have lots of products in the works," Corbett promised. They recently released protein pancakes and a multivitamin, and they have additional new nutrition ideas and plans to expand their gear as well.
It helps that their business partner, "The Muscle," is on one of the most popular Discovery Channel TV shows. Riska and Corbett said the TV star—who started as an athlete in their previous nutrition program—is a big contributor to popularizing the brand. His show, "Diesel Brothers," is already filming another season, which will provide even more opportunity to spread the word about 1Mission.
"It's a simple concept: we want to be the biggest company that gives back to troops," Corbett stated.
1Mission Nutrition products can be found online at: http://1missionnutrition.com
Reporter Bret Anne Serbin may be reached at bserbin@dailyinterlake.com or 758-4459.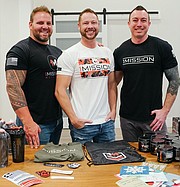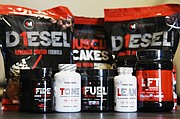 ---