Kalispell tech company 'hiring like crazy'
by
Bret Anne Serbin
Daily Inter Lake
|
February 16, 2020 1:00 AM
This year, WaterStreet Company is celebrating its 20th year of business in the Flathead Valley. The Kalispell technology company has quietly grown to include 80 local employees and software clients across the country.
In 2020, they expect to eclipse the 100 employee mark.
"We're hiring like crazy," said WaterStreet's Vice President of Marketing Erica Schatte. "Software is growing here…I think that's changing in the valley."
WaterStreet provides "cloud property and casualty management software and services," which Schatte described as software and services to help insurance agents determine rates for property and casualty insurance. They don't work with life or health insurance, however.
When Chief Executive Officer Gregg Barrett started the company in Bigfork in 2000, Schatte said the Flathead Valley seemed like a much more unconventional location for a technology company.
WaterStreet moved to Kalispell in 2014 and never expected to fill its large office building there. But six years later, Schatte said the company is looking to expand into a larger space as the staff continues to grow.
She said the tech industry—across the state and throughout the valley—has blossomed in recent years. Now, WaterStreet brings in a mix of local and out-of-state employees looking for high-tech jobs outside the traditional big-city setting.
"We invite people out from city life," Schatte said. "It's really refreshing. It's great to be able to offer those different jobs and career paths in addition to opportunities [for outdoor activities]."
Schatte said the attractive location has been a big reason for the company's recent growth. She also said the insurance landscape is generally expanding, bringing more and more clients to WaterStreet, and the company strives to always stay on top of developments and continually refine its software.
"We always have to keep improving and keep growing," she insisted. "We don't want to get complacent."
Waterstreet's product essentially brings together all the information a person provides when filling out an insurance claim for something such as buying a house and "crunches the numbers" to give insurance carriers a competitive rate. The software uses actuarial science to account for the minutiae that figure into these investments, like a house's proximity to a fire hydrant.
"There's a lot behind it," Schatte explained.
In addition to the innovative software, Schatte said the company's focus on customer service also has set them apart. A lot of companies focus on just the software or services side, she said, but WaterStreet is dedicated to providing a comprehensive experience for clients.
"There's a big service component of insurance as well," she pointed out.
This component is especially important for WaterStreet, because the company focuses on working with "small and mid-tier clients" in states as far-flung as Tennessee, New Jersey and Pennsylvania.
Although the insurance industry seems dominated by massive corporations, Schatte emphasized the insurance environment still includes a lot of "mom-and-pop, smaller- and medium-sized insurance carriers.
"They want to be competitive," she pointed out, and WaterStreet's product and services are designed to help with this goal.
To continue providing these services and growing the company, WaterStreet has big plans for its 20th anniversary. The main focus is the fourth generation of its software, which is currently being developed.
"Over the next year, we'll be making a lot of headway," Schatte said, adding that the company is also looking to expand its technology department and services as it brings on more employees, both locally and remotely across the country.
"Insurance is a notoriously slow-moving industry," she acknowledged. "It's just now innovating," and Waterstreet is clearly at the forefront of this innovation.
Reporter Bret Anne Serbin may be reached at bserbin@dailyinterlake.com or 758-4459.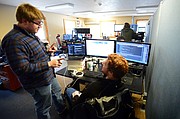 ---