Rangers push for preparedness amid spike in emergency calls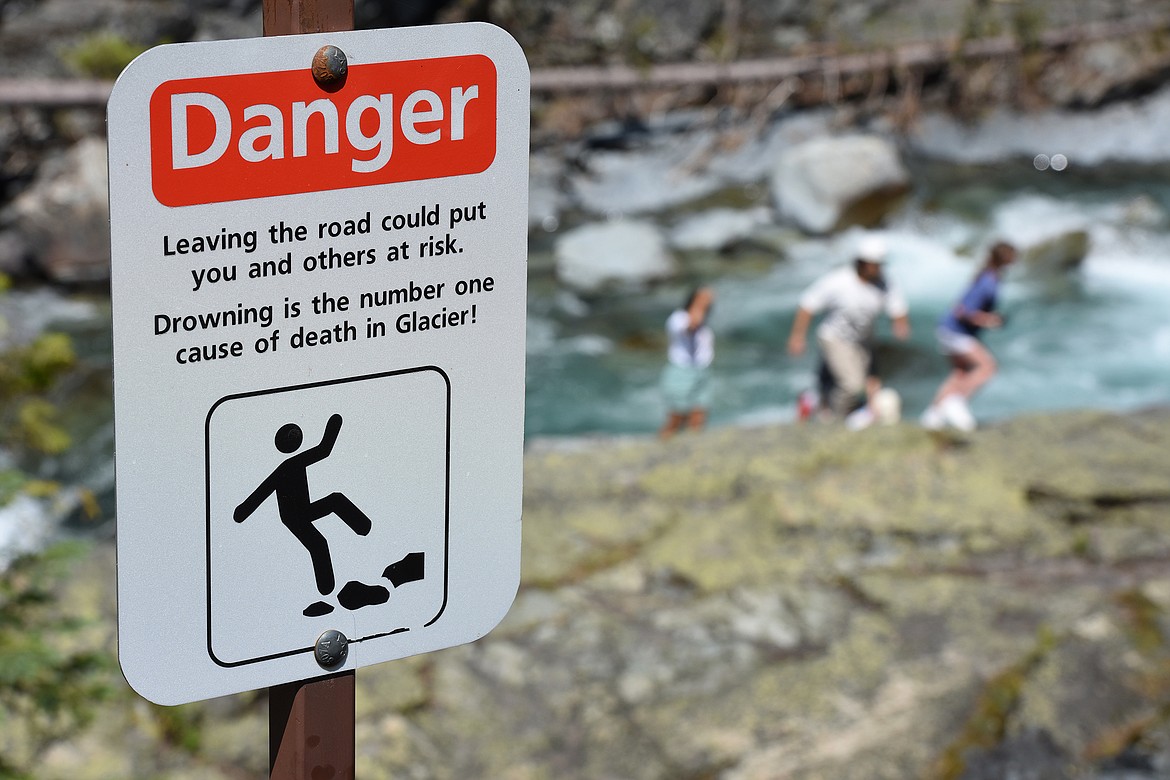 Visitors in Glacier National Park frequently spend time near McDonald Creek. It has proven to be perilous for some as park statistics say drowning is the top cause of death inside its borders. (Jeremy Weber/Daily Inter Lake)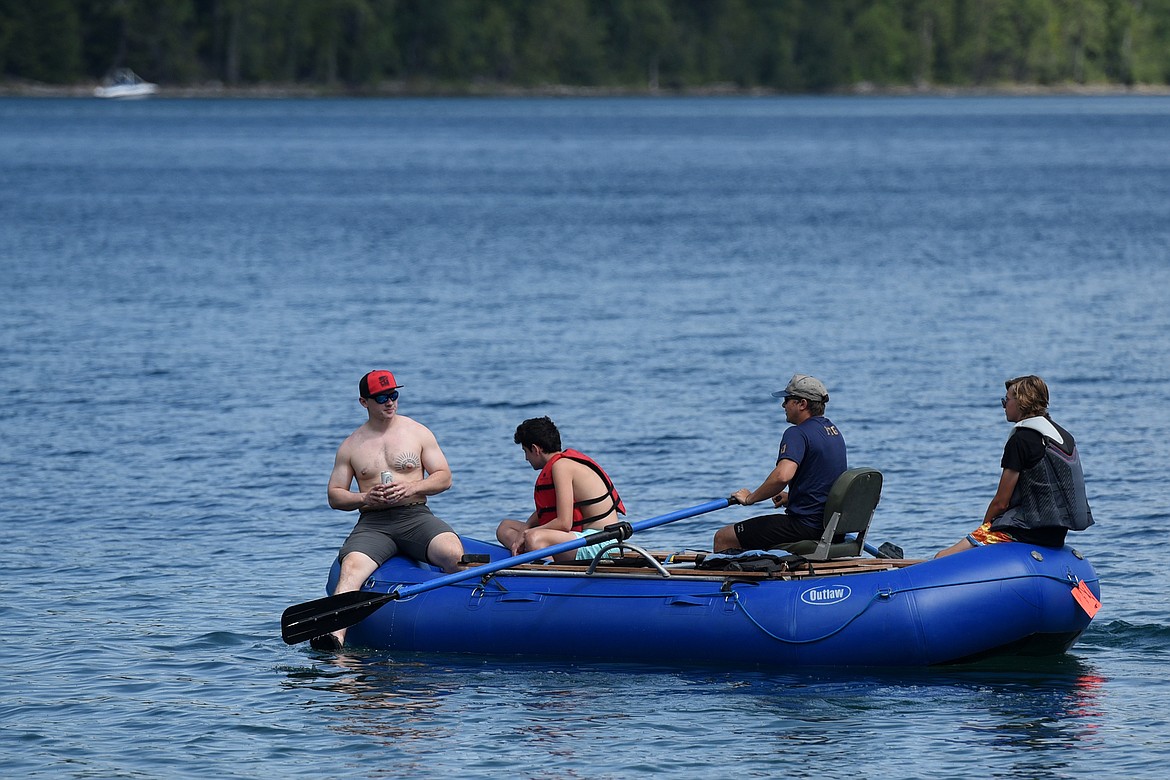 Time in a boat on Glacier National Park's Lake McDonald is enjoyed by countless visitors every summer. But the waterway has also been the sight of seven drowning deaths from 1913-2015. (Jeremy Weber/Daily Inter Lake)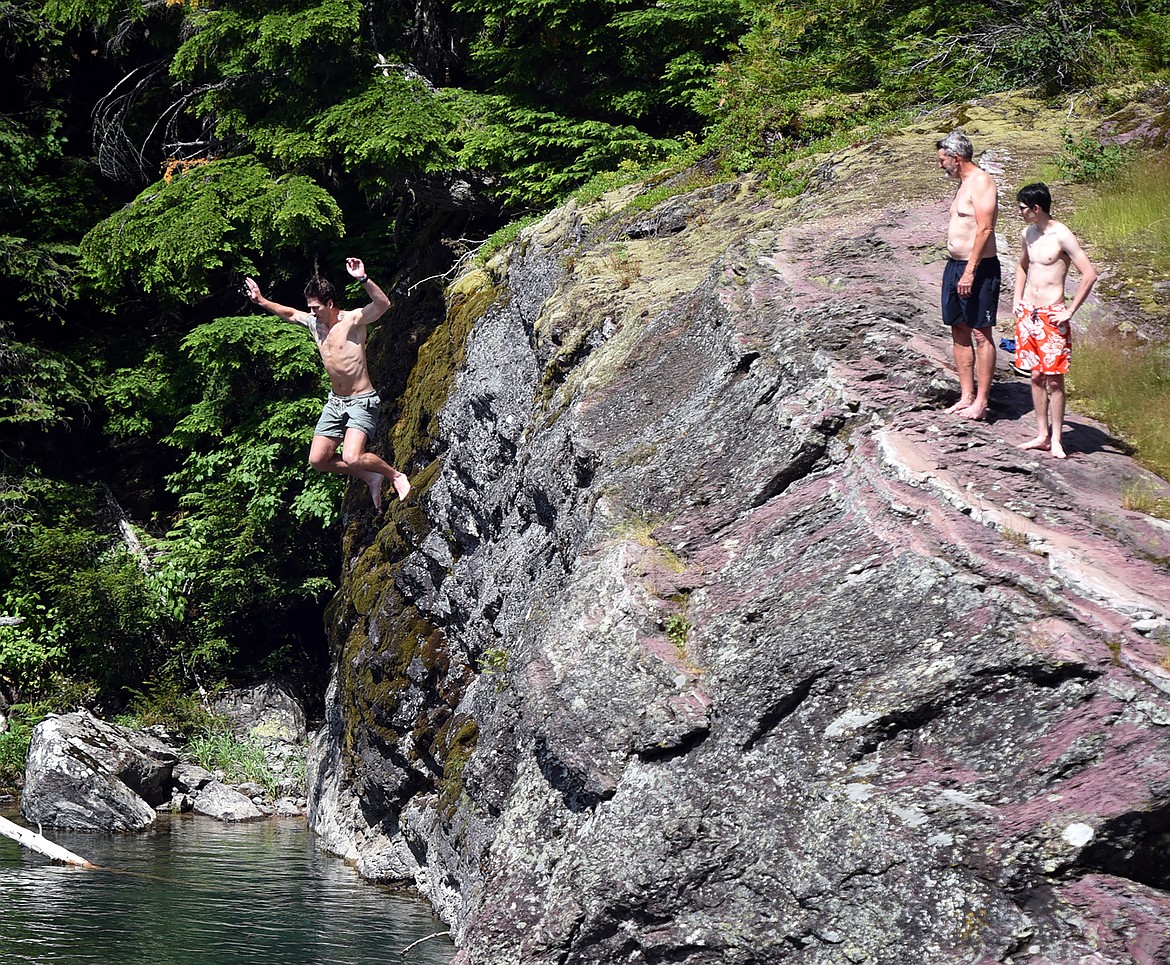 A man jumps into McDonald Creek in Glacier National Park July 23. The creek is a favored place for summer visitors trying to beat the heat, but it has also been the sight of several drowning deaths over the years. (Jeremy Weber/Daily Inter Lake)
Previous
Next
by
Scott Shindledecker
Daily Inter Lake
|
August 1, 2020 1:00 AM
Call it near "death by selfie" situations, or not understanding the risks of recreating in the outdoors, or not being prepared for various situations in the mountains, but Glacier National Park rangers are dealing with an alarming increase in emergencies and calls for service.
According to Glacier Park statistics, rangers issued 3,469 warnings in 2019, 863 more than the previous year. They also wrote 1,151 citations in 2019, 266 more than in 2018.
Answering calls for helping park visitors also rose dramatically, up 225 to 1,021 in 2019. Those calls may include helping people who have locked their keys in their car or visitors who became separated from their group.
Emergency calls also increased from 229 in 2018 to 246 while search-and-rescue efforts totaled 96, 15 more than in 2018.
While some understand the risks of traveling and recreating in a park where Going-to-the-Sun Road crosses the Continental Divide at an elevation of 6,646 feet and mountain peaks top out on Mount Cleveland 10,466 feet, many have little idea of some of the risks they may encounter.
Glacier officials are trying to do more to provide information to visitors in the hope of preventing more search-and-rescue incidents.
"The concept of providing information to visitors is not new, but we're trying to do more," Glacier Deputy Chief Ranger Ed Visnovskie said. "We're seeing a different level of visitor here not prepared for some of the situations they may encounter.
"Preventing some of these incidents is much better than rescuing," he added.
In the summer of 2017, the Highline and Loop Trail saw an unprecedented number of search-and-rescue and emergency medical services incidents due to hyperthermia and dehydration.
The call volume exceeded the response capability of Glacier's emergency services personnel. To address the increased call volume, a grassroots preventative search-and-rescue initiative was implemented at the Highline trailhead.
Through informal interactions, park staff encouraged visitors to assess their preparedness for hiking on the trail. As a result, park staff noticed a decrease in emergency incidents.
Visnovskie said, however, it has been more difficult to do such work due to COVID-19.
The park has already experienced three deaths inside its border while another occurred at the edge of the park boundary.
The first occurred in early July when searchers found the body of a 77-year-old man from Idaho off the Hidden Meadow Trail in the North Fork.
Visnovskie said the man was a photographer and it appeared he was very focused on taking photographs when he left the trail.
"He had an existing medical condition and he was by himself and he began his hike later in the day, after 3 p.m., so it's very possible he was so focused on capturing images he got off the trail and possibly became disoriented," Visnovskie said.
The ranger said park staff had to carry the man out the day before he went missing after he twisted his knee while hiking on the Sperry Chalet Trail. While the carryout was short, Visnovskie said park staff asked him if he wanted to be checked out by a doctor, but he declined.
Visnovskie believes the man chose his next hike — Hidden Meadows Trail — due to its relative ease.
"We think it's why he chose the Hidden Meadows Trail; it's a very easy hike," Visnovskie said.
While there is no official cause of death, it's believed the man died of a heart attack, which is the No. 2 cause of death in Glacier's history.
The No. 1 cause of death in the park is drowning; a total of 59 people have succumbed to the park's waters through the years. The park's glacier-fed waterways create ice-cold water and its smooth sedimentary rocks are very slippery when wet. The conditions have led to the demise of many visitors.
"With water temperatures what they are in this region, hypothermia sets in fast," Visnovski said.
While the death of a Missouri man July 12 in the Middle Fork of the Flathead River was at the edge of the park boundary, it's indicative of what can happen when one ventures into Northwest Montana's waters without a life vest.
The 40-year-old man was trying to move gear in a small raft from one side of the river to the other when he fell and drowned.
Visnovskie recalled the story of a Canadian man who drowned in Pray Lake in the Two Medicine area of the park in August 2019.
"He was either giving his dog a bath or teaching it how to swim," Visnovskie said. "The dog was in the inlet where the current picked up and the man went into the water when the dog struggled."
Pray Lake is not large, about 700 feet long and 400 feet wide, but the water depth at the inlet is 20 feet, according to the ranger.
Random weather events can also produce tragic endings if certain precautions aren't taken.
Visnovskie shared a story about two kayakers who were paddling on Lake McDonald a few weeks before the Middle Fork drowning.
"The weather was good, but a small squall kicked up and swamped both boats," he said. "The one boater righted himself, but the other we had to rescue.
"They did a lot of things right. They were boating together, but I don't know if they were wearing vests. It just shows how unpredictable things can be," he said.
The No. 3 cause of death in the park is due to falls — 36 Glacier visitors have fallen to their death.
On July 21, a 20-year-old man from Kansas was climbing off-trail in an area known as the Dragon's Tail, just southwest of Mount Reynolds. According to the park, he was attempting to retrieve a fallen backpack when he fell about 500 feet.
The incident was the second rescue mission in the Logan Pass area within the past week. On July 16 a climber was injured after sliding down a snowfield near the saddle on Mount Oberlin.
A third death in the park, which occurred Monday afternoon on Siyeh Pass Trail, may be attributed to the No. 2 cause of death - heart attack.
A 43-year-old man from Waupun, Wisconsin, was hiking with his family when he collapsed and died.
The Glacier County Coroner indicates the death appears to be due to natural causes. His name has not been released.
Other hikers, including the man's stepson, were performing CPR when National Park Service staff arrived.
Rangers also used an automatic external defibrillator to attempt to resuscitate the victim, but these efforts were unsuccessful.
While some events aren't preventable, Visnovskie said what he and other rangers are seeing more of, are fewer people not recognizing risks.
"There seems to be a shift in general, with the desensitizing of knowing the risks," he said.
"We don't want to restrict people from where they go, but we want people to recognize their limitations and realize the consequences."
Scott Shindledecker may be reached at 758-4441 or sshindledecker@dailyinterlake.com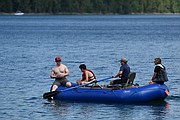 ---