Hospital prepares beds, ventilators as officials point to late April peak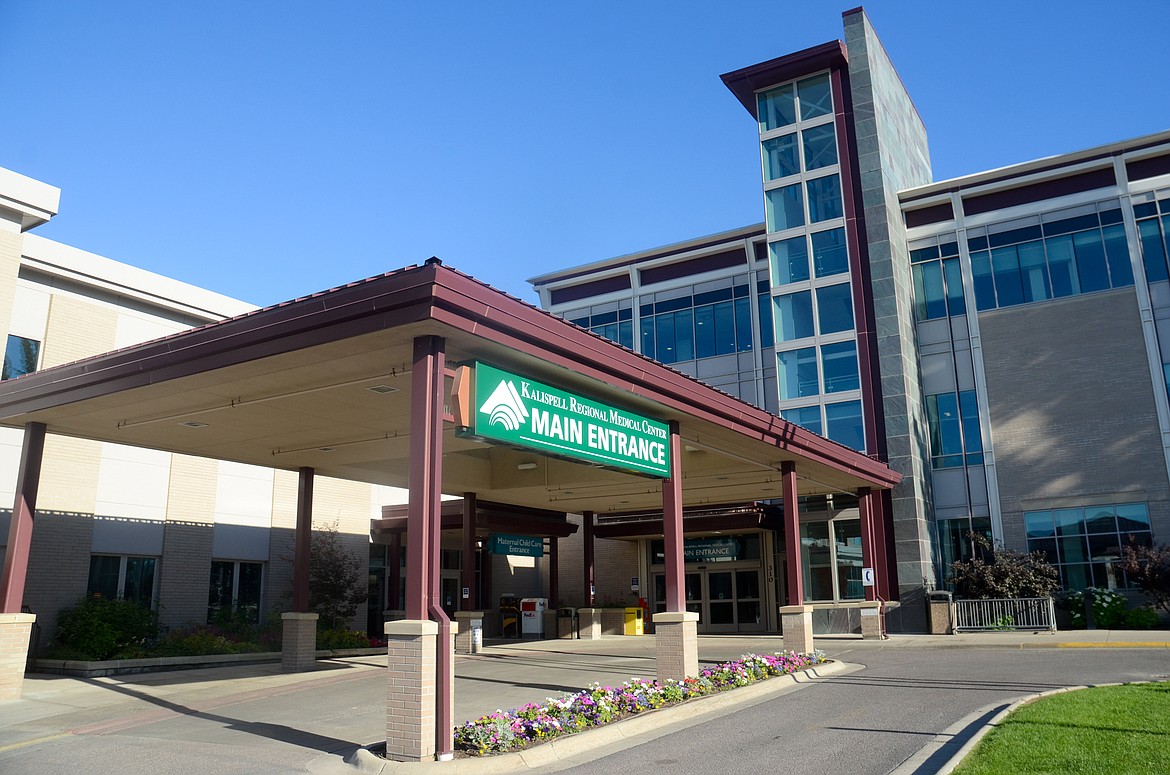 The main entrance to Kalispell Regional Medical Center. (Matt Baldwin/Daily Inter Lake)
by
Kianna Gardner
Daily Inter Lake
|
April 1, 2020 3:45 PM
Kalispell Regional Healthcare officials said Wednesday current medical research suggests Montana's coronavirus outbreak most likely won't peak until late April. To further prepare for that reality, local health-care leaders have ordered additional ventilators and are exploring the hospital's ability to expand bed capacity.
According to Doug Nelson, Chief Medical Officer for Kalispell Regional Healthcare, none of Flathead County's COVID-positive patients are hospitalized at this time and are quarantining and recovering in their residences and elsewhere. But hospital officials continue to prepare for what they have said will likely be a large wave of more severe patients in need of intensive-care beds, ventilators and other supplies.
The hospital system currently has 38 ventilators, 32 anesthesia machines that can be used for ventilators and 19 BiPaP units that typically are prescribed to sleep apnea patients. On top of this, Nelson said officials have placed an order for 42 temporary ventilators.
"The vendor confirmed the order and we are pretty confident they are going to come in a timely manner," Nelson said. "Generally speaking, our hospital is well-stocked on ventilator supplies."
As far as space and beds for patients, Kalispell Regional Medical Center, The HealthCenter and North Valley Hospital collectively have 193 acute-care beds and 30 intensive-care unit beds. Six additional intensive-care beds are located in Montana Children's. However, if push comes to shove, Nelson said more room can be made for those who will need to be hospitalized.
"We have the ability and specific plans in place to flex upward if needed," Nelson said. "We have the staff to care for just about anyone who comes our way."
WHILE FLATHEAD County's positive case numbers appear manageable for the time being, Nelson said providers are also bracing for an expected influx of patients from other areas. Hospital officials are "keeping a close eye" on neighboring counties, including Lake, Lincoln and Toole, where positive cases also continue to increase.
"We are Kalispell Regional Healthcare and the 'Regional' in our name means we do serve our greater region, not just the Flathead," Nelson said. "We have more supplies and staff than most clinics in our part of the state and we are here to assist if we are needed."
As of Wednesday evening, the Montana Department of Public Health and Human Services reported Flathead County has 17 positives. Lincoln County has six, Lake has three and Toole has six, while Sanders and Glacier counties are showing no positives.
According to Nelson and officials with the Flathead City-County Health Department, individual investigations into the Flathead's cases show there is still no evidence of community spread, or person-to-person positives. He added that community spread can be hard to detect and is made more difficult when there is a shortage of testing capabilities as there currently is in Montana and other states.
"When we can't test those patients that might have it but are asymptomatic, it's a challenge because we may have people wandering around who don't know they have it," Nelson said. "When looking at all of our cases, we see that all of these individuals have participated in out-of-state travel or have come in contact with someone who has."
Nelson said because community spread has yet to be detected and Montana's numbers are still fairly low compared to other states, he and others hope residents will continue to take self-isolation and social distancing seriously.
"This isn't New York City where the cow has already left the barn. We have the opportunity to get ahead of this and stay ahead of this," Nelson said. "If the public really complies with mandates from the governor, it can really have an impact."
Reporter Kianna Gardner can be reached 758-4407 or kgardner@dailyinterlake.com
---